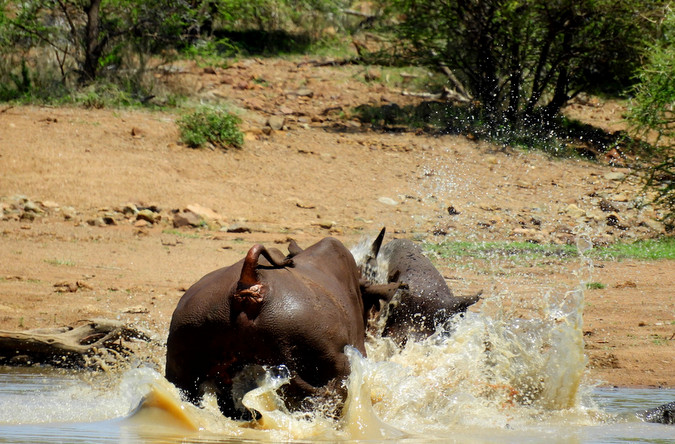 Written, photographs, and video, by Margaret Maciver
I live in Cape Town and have been fortunate enough over the past 20 years to have two sons who lived and worked near to Pilanesberg Game Reserve, northwest of Johannesburg. As a passionate birder, I was able to borrow a bakkie (pick-up truck) a number of times from them and spend my days driving around Pilanesberg in search of amazing photographic opportunities.
It was in November 2017, on my second last day before returning to Cape Town, where I found myself in my son's Ford Ranger, taking a few hours out to explore the reserve.
I always seem to follow the same route, heading through the gate and straight for my favourite hide and waterhole – my ultimate viewing spot where I have had some wonderful sightings in the past, such as servals, bathing brown hyenas, and a leopard!
As I drove down to the parking area I noticed a hive of activity and excitement amongst a group of people crowded around the entrance. After enquiring about what was going on it turned out that there had been a battle between a pair of black rhino bulls, but they had apparently moved off.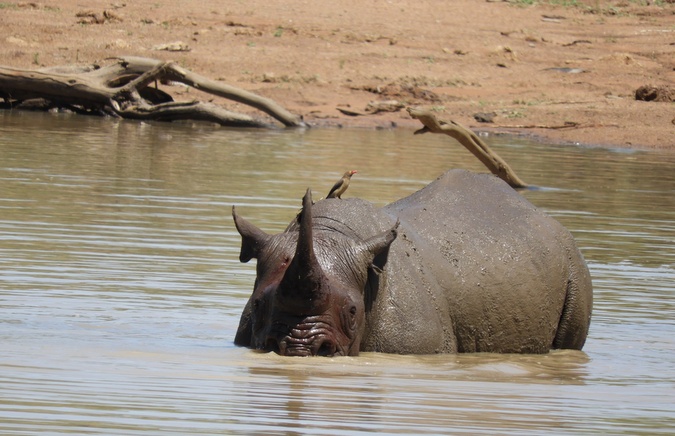 I decided to head towards the hide, along with some other visitors and someone who could have been a wildlife researcher. I know this hide well and sat on the bench on the right-hand side (the best seat!) as we all became transfixed by the sight on a black rhino bull slowly making his way through the bushes towards the waterhole. He appeared exhausted, dusty and blood-stained. He entered the water and went about a quarter of the way in and then just stood still – blood running down his face, his eyes half closed and ignoring the red-billed oxpecker that had landed on his back.
The researcher told us that she had been trying to follow this pair of fighting bulls for some days now, but was restricted by the dense foliage that would make her lose track of them. Now she felt that this one had had enough and was trying to cool down and soak his injuries in the water.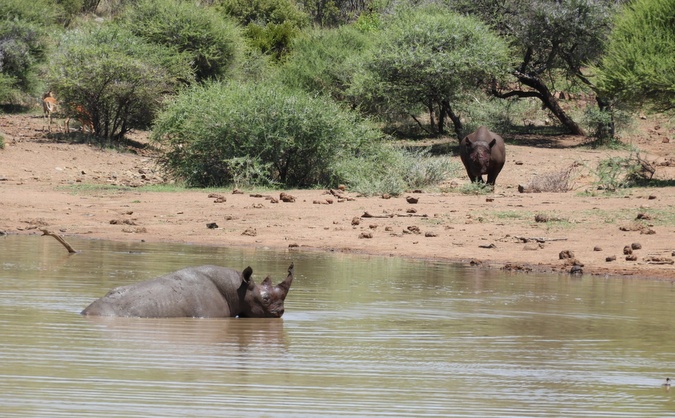 As questions were being fired at her by other visitors, I heard a commotion to the right of the hide. Suddenly, another black rhino bull appeared and came towards the water's edge.
He was quicker than the first bull and walked straight into the water. The first bull tiredly turned to face his opponent and the battle in the water began…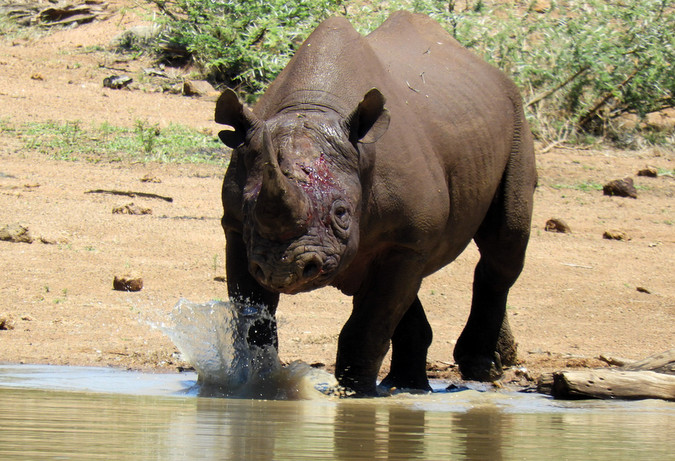 The water hampered their movements, making their battle appear much slower than it actually was. They stood face-to-face, horns almost touching, when suddenly one would shove and the other would push back.
This pattern of pushing and shoving seemed to go on forever. I watched them for an hour and it became clear that the first bull was definitely weaker and could only manage enough energy to resist being pushed back further into the water. Though every now and again he managed a good push back and even turned the stronger bull around a few times, pushing him to the edge of the water.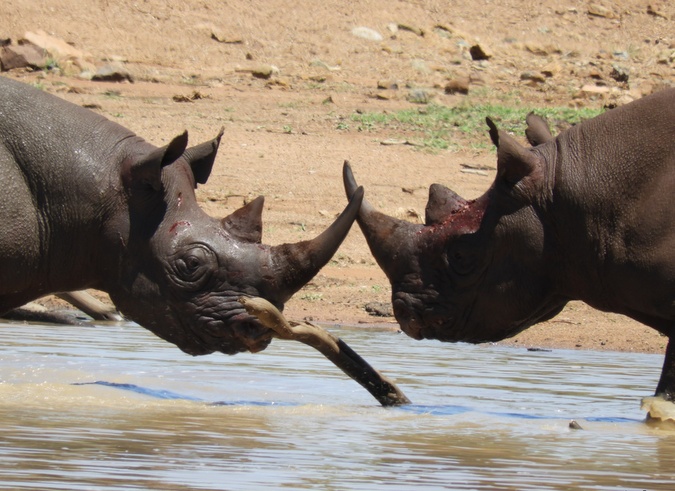 Halfway through this epic battle the stronger bull was able to push his opponent into much deeper water. The water level was now halfway up the weaker bull and he seemed to be treading water. Soon the stronger bull also got caught in the deeper water, and now both were almost submerged by the water! It looked too difficult to continue pushing and shoving so all they could do now was frantic foot pedalling to try and keep their balance.
Yet every time there was an escape to slightly shallower water levels, the pushing began again. At one stage the pair were so close to the hide we could hear their heaving and grunting as the water churned around them.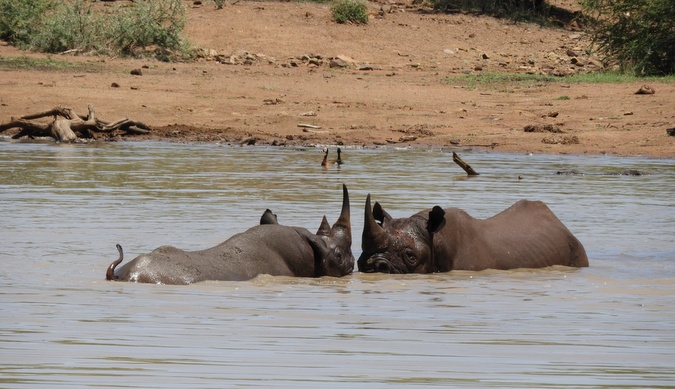 Unfortunately it got to the point where I couldn't stay any longer as my son needed the bakkie back in time for an important appointment. I was almost relieved to leave as the researcher had told us that black rhino bulls fight to the death. They can carry on for days and don't stop to eat – they just keep fighting!
She knew this pair had been fighting for two days and she expected that one would probably die soon – perhaps by drowning. The hour had been somewhat traumatic as it wasn't exactly the easiest thing to watch (knowing the possible outcome), though it was very moving and even exciting at times. I realised that even though rhinos are being poached and are scarcer than ever, they would still go to the length of killing each other!
Sadly, I never found out whether one, or both of the rhino bulls died. Though not knowing gives me hope that maybe, just maybe, at least one of them came out of the fight alive.
Watch the video below that Margaret Maciver took of this epic battle