If you watched Hitchcock's, The Birds, from behind a cushion, then stop reading now!
Sera Conservancy, in northern Kenya, is home to many species of wildlife and birdlife, including the endangered black rhino protected within the parameters of the 54,000 hectares-large sanctuary.
Gerenuk, oryx, elephants, buffaloes, greater and lesser kudu – to name but a few… but even the less enthusiastic birders amongst us can appreciate what simply has to be seen (and heard!) to be believed.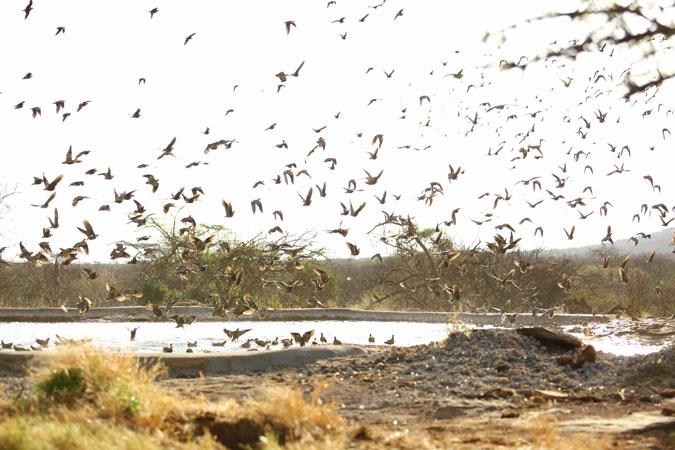 Visitors to Sera Conservancy are treated to a daily spectacular not seen easily elsewhere.
Each day, before dawn and after dusk at various waterholes throughout the conservancy, you can watch with delight thousands upon thousands, swarms upon swarms of the nomadic and mostly nocturnal Lichtenstein's sandgrouse swoop in to take water and refresh themselves.
Move over Lewis Hamilton. The sound of thousands of flapping wings, the circling and re-circling above your head before landing quickly and taking off again, makes this experience more exciting than any F1 pit stop!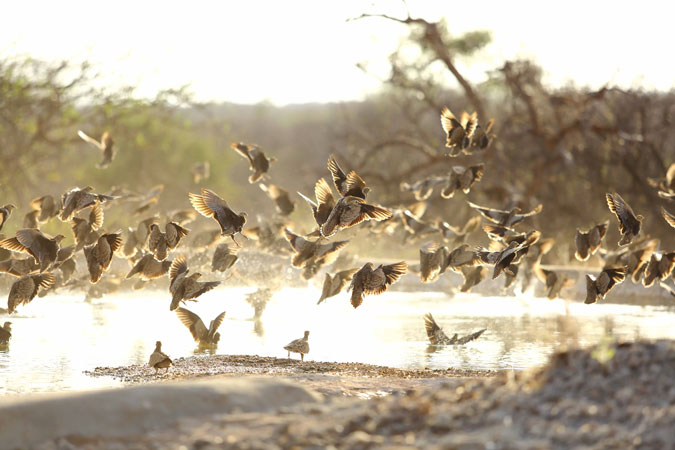 But don't just take our word for it. A recent visitor to Saruni Samburu and the smaller Saruni Rhino camp, Simon Beck of Orbital Communications, captured the moment perfectly on video.
Can't see it for yourself in person any time soon? Simon shares his experience below – let him take you there!
"After the thrill of tracking black rhino on foot and getting so close to them, seeing incredible Samburu cultural experiences up close and personal and watching elephants come in so regularly into the Saruni camp, I was continually amazed by all the different experiences in this special part of northern Kenya that so few tourists have ever ventured into.
Watching the wild sandgrouse was quite surreal. Every morning this natural phenomenon takes place. The silence is deafening as you wait at the waterhole at 07:30. At exactly the same time every morning you hear the chirping come, the skies fill with thousands and thousands of sandgrouse circling above you and then they start descending from the skies by the thousands to come and drink and collect water. This spectacle last 45 minutes and is fascinating to watch. Suddenly they all stop circling and begin to fly off, leaving the sky empty and the deafening silence.
Watching nature act so orderly and so beautifully is something I will always remember – all very remarkable and another incredible experience available at Saruni.
httpv://www.youtube.com/watch?v=DyshyQzFUHI&feature=youtu.be