Written by: Jessica White
"I never found the companion that was so companionable as solitude." – Henry David Thoreau
The ability to be comfortable and happy when spending time with oneself is a complex yet deeply satisfying experience. Embarking on a solo journey awards you the opportunity to immerse yourself in your own thoughts and emotions, revive your inner peace, shed the labels life has cloaked you in and invest in your own interests as opposed to those of others. Disengage from the rigmarole of your daily duties, step out of tedious routine and listen to the whispers of Africa as you rediscover how much you enjoy spending time with yourself.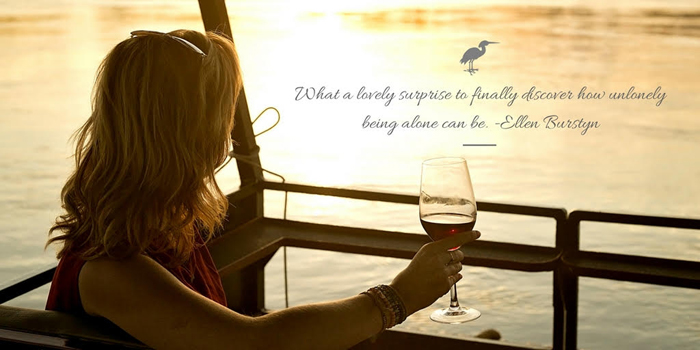 Be the traveller that you have always envied:
When you travel with yourself, you gift yourself the chance of self-discovery and self-experimentation. The people that cross your path while you travel have no predisposed assumptions of any role you should fill, and you are free to be whoever you want with no obligations to please anyone other than you.
Regardless of whether all your friends and family know that you are terrified of heights, or nervous of water, if your inner adventurer comes out to play during your explorations, no one is going to bat an eye. Dive with abandon into the 111 metres of open air below the Victoria Falls bridge, scream with exhilaration as you bounce through the rapids of the mighty Zambezi. The expert guides who supervise each activity ensure your safety while you venture down the passage of self-fulfilment.
If you decide that you actually find game drives painfully boring and would much rather stretch out by the pool with a book, no one is going to judge you or tell you that you need to make the most of this opportunity. It is your holiday, and yours alone, do with it what you like. Leave behind your know-all friend (we all have one) and talk to the guides. Let them enrich your mind with their stories of how the camp came to be, and the exciting events that have unfolded since they have worked there. Drink in the new knowledge and let it roam through your mind as you move from place to place.
"Being solitary is being alone well: being alone luxuriously immersed in doings of your own choice, aware of the fullness of your own presence rather than of the absence of others. Because solitude is an achievement." – Alice Koller
Capitalise on this time to yourself:
Solitude is a treat that we seldom indulge in. Let yourself be pampered, massaged, and taken care of. Take your time getting ready, eating, walking, reading or examining your surroundings, no one is waiting for you so there is no need to rush or skim over any detail of your holiday. Eat lunch with the characters of your favourite novel, and stare at the stars for luxurious uninterrupted periods of time. Wake up in the morning and let the only thing on your mind be whatever you feel like doing that day.
"Language… has created the word 'loneliness' to express the pain of being alone. And it has created the word 'solitude' to express the glory of being alone." – Paul Johannes Tillich
Master the art of packing light:
Read this blog to to find out all you need to know about backpack essentials. Make a trip baggage free by choosing a camp that is equipped with a laundromat, library and views so exquisite that they keep you captivated for hours on end. Packing a small holdall will make it easier to keep track of your belongings, and also eliminate the need to wait for luggage at the airport if you manage to take your bag as a carry on. Let yourself be pleasantly surprised by how little clutter you actually need to have an enjoyable experience.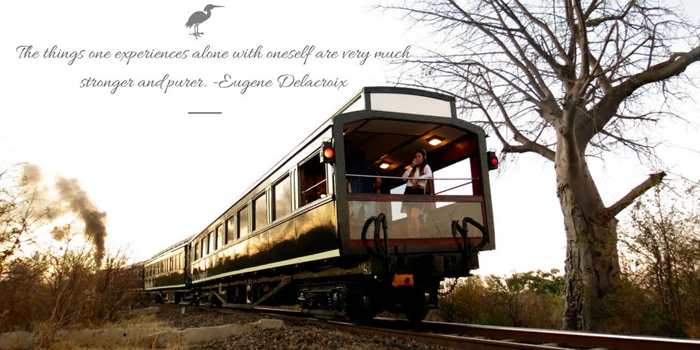 Don't confuse solitude with loneliness:
When in Africa, one is never truly alone. All of the things about loneliness that scare people are softened by her touch. The wildlife calls fill any unwanted silence, nights can't be lonely when millions of stars spill across the sky above you, the gentle breeze warmly embraces you and the atmosphere is so tranquil that stress and anxieties are banished into the abyss. When you spend time with yourself you truly discover what you like and what you want out of each experience. The decisions you make are not coerced by other people's opinions or beliefs, they are yours to realise and explore.
"Children love to be alone because alone is where they know themselves, and where they dream." –Roger Rosenblatt
Familiarise yourself with local cultural etiquette:
One of the main advantages of travelling by yourself is that you open yourself up to meeting new people. Different destinations create different characters, some of which you will have the privilege of befriending on your travels. In order to avoid any incidental offence, it is important to remain culturally aware at all times. 
Travelling alone fosters self-discovery and self-worth, you deserve to give it a try. We will foster your own "Eat, Pray, Love" experience.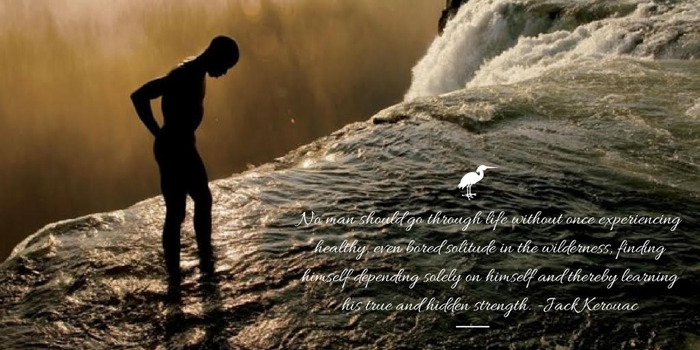 Go on a solo adventure of a lifetime at one of Bushtracks' unforgettable destinations.
Subscribe to our newsletter.