Madagascar's biodiversity faces a number of significant threats but most of all, it struggles with increasing deforestation due to local agricultural work and slash-and-burn techniques for firewood and charcoal. Shockingly, 90% of Madagascar's forests have been destroyed. And, as a result, the livelihood of Madagascar's most iconic species – lemurs – is seriously threatened.
The Madagascar Biodiversity Partnership works to protect the country's precious habitats through research, education and outreach. Their grassroots conservation project in Kianjavato not only monitors several lemur species but also works tirelessly on the reforestation effort. Their aim is to inspire and empower the community to become trailblazers of sustainable protection of Kianjavato's natural resources.
So what has the Kianjavato conservation project been up to lately?
Reforestation
The Madagascar Biodiversity Partnership with the generous support of the Arbor Day Foundation amongst other organisations, are planting corridors of trees to restore habitat for the lemurs and other animals in Kianjavato, Madagascar. Recent updates from the field report that 5,500 trees were planted just last week while 170,000 trees have been planted this year so far.
Participants of the "Conservation Reward Credit" programme earn credits for every tree planted, and these credits are then redeemed for sustainable items like solar panels, fuel-efficient stoves and water rollers for water transport. Close to 100 participants have already earned enough credits to redeem a small solar panel that will power a light in their homes.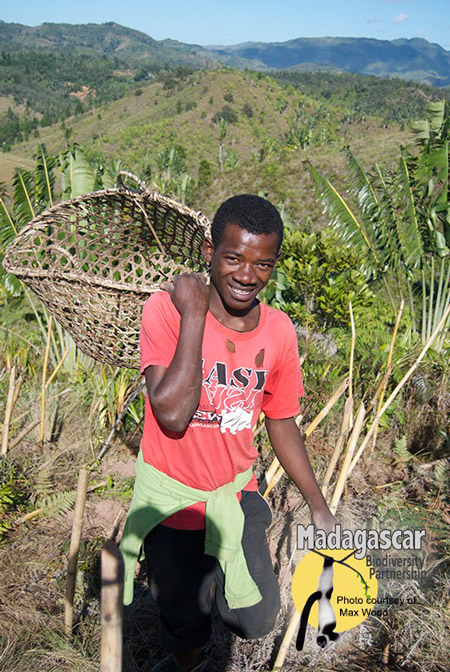 Greater bamboo lemur
Kianjavato is home to a monitored population of the Critically Endangered greater bamboo lemur (Prolemur simus) and is a top priority site for their conservation. The Madagascar Biodiversity Partnership is conducting a comprehensive study of the greater bamboo lemur, which includes collecting important ecological and population genetic data, which is key in developing effective in situ conservation for the species. Encouraging communities to sustain themselves by conserving their resources rather than exploiting them will be a long-term process, but it is the most effective way of steering Madagascar onto a healthier, more prosperous course.
Aye-aye
Since 2008, the Madagascar Biodiversity Partnership has been studying aye-ayes in the forests surrounding Kianjavato.
This year the offspring of a female aye-aye that the Madagascar Biodiversity Partnership has been studying, left the nest to go off on his own. A few months later, the partnership was happy to discover that she was pregnant again and she has recently given birth. Since this female was clever enough to build her nest high up in a tree, the field team has yet to catch a glimpse of the newborn but will continue to monitor the nest on a daily basis.
It is fantastic to hear about recent success stories from the Kianjavato conservation project and we hope that they continue to thrive in their conservation efforts. Natural World Safaris support a number of grass-roots conservation projects and we are proud to raise awareness of this important programme to protect Madagascar's wildlife.
Subscribe to our newsletter.