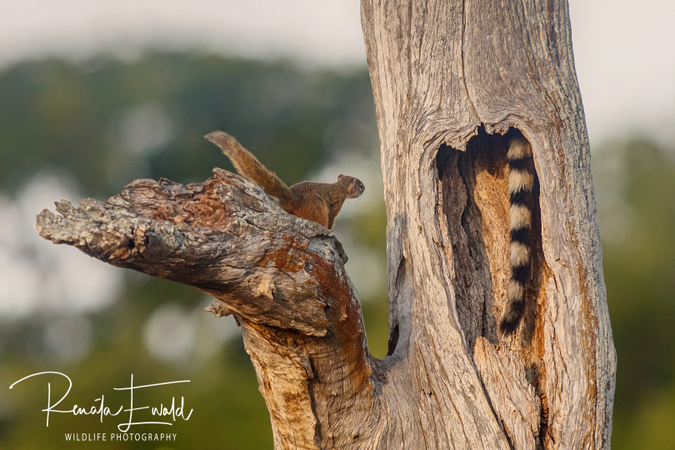 Written, and photographs, by Renata Ewald 
This is Mr and Mrs Smith, the tree squirrel couple of the dry leadwood tree about 14km down the H14 turn of in the Phalaborwa area of the Kruger National Park. They are a resident couple – their family owns this tree. They are part of a dynasty of thoroughbred tree squirrel's living in the Kruger.
So often challenges come their way, as to be expected of life, and it seems that protecting your home is just as big an issue in the animal kingdom as it is in our human lives.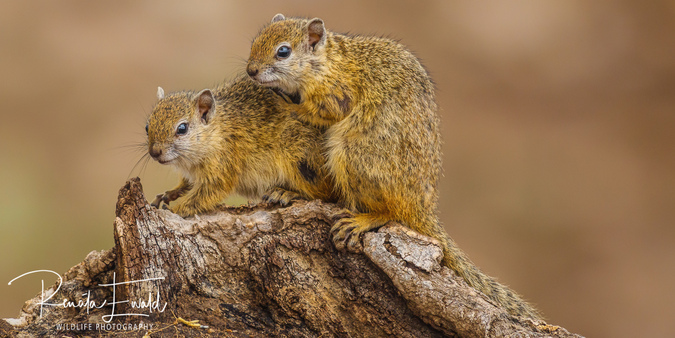 So on a relaxed, peaceful Sunday afternoon chaos hit their home when an intruder was discovered in their humble abode. The intruder was a small-spotted genet, fast asleep inside the dry leadwood tree, with his tail basking in the afternoon sun. Genets do prey on tree squirrels, so this intruder was definitely not welcome.
The squirrels were going nuts! What to do now? He is so big and they are so small! The brave Mr Smith went closer to the genet, making alarm calls to scare off the intruder, but with no success. He even peeked into the hole of their home to get a closer look.
Maybe Mr Smith even thought to pull at the genet's tail? Though wisely decided against it.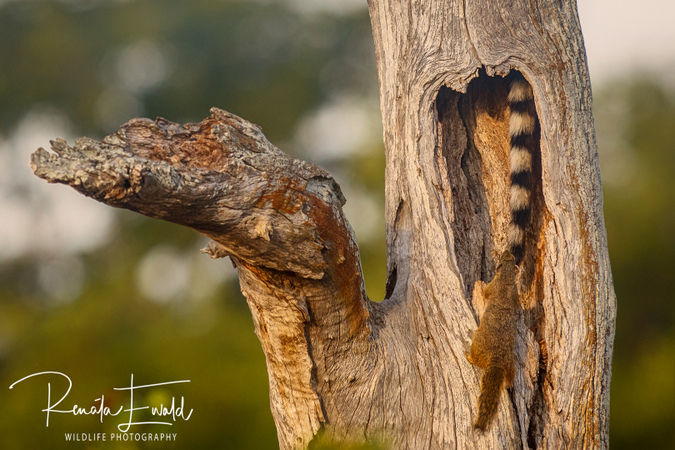 In the end we didn't find out when the genet eventually left, as we had to leave for the gate. But I am, however, happy to say that Mr and Mrs Smith were back in their home the next morning enjoying the sunrise together.
This is not the first time the squirrels have had to deal with unwanted guests. Only a few months before this problem with the genet, I saw them defending their home against a green wood-hoopoe.
These squirrels are nifty little animals, and have clearly shown us how brave they can be!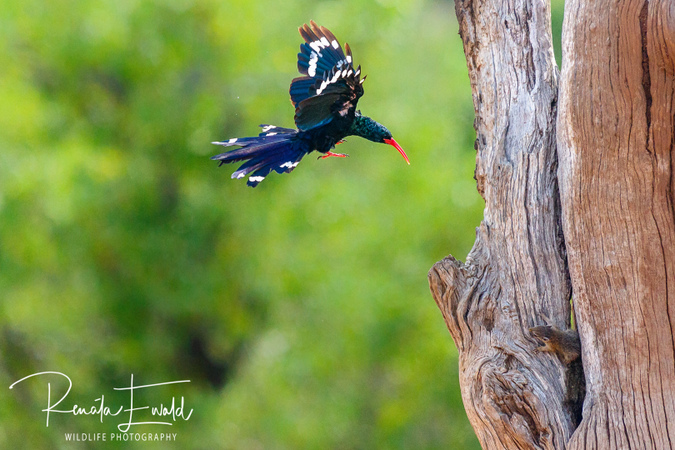 Mr and Mrs Smith have proven that the challenges in life can be hard, but through thick and thin they will stick together and not back down to protect their home. Even though they are tiny tree squirrels, they play a vital role in the Kruger's ecosystem, and we really admire them for their tenacity!