Written by: Patricia Mawire
It was surreal to believe I had arrived in Entebbe, Uganda – a true bucket list destination for many adventurous travellers. I'm here with a group of travel professionals from around the world, on a trip hosted by Wild Frontiers. The chance to experience this breathtaking country firsthand is a welcomed perk of my job.
Uganda is vast and full of contrasting landscapes – from climbing the snow covered peaks of the Rwenzoris, commonly known as the "Mountains of the Moon"; to fishing the mighty Nile or birdwatching in the Rift Valley, home to 28 endemic birds found nowhere else in the world. Adventure seekers can even go white water rafting or bungee jumping in Jinga. This "Pearl of Africa" is also world-renowned for providing the rare opportunity to see some of the world's last remaining chimpanzees and mountain gorillas.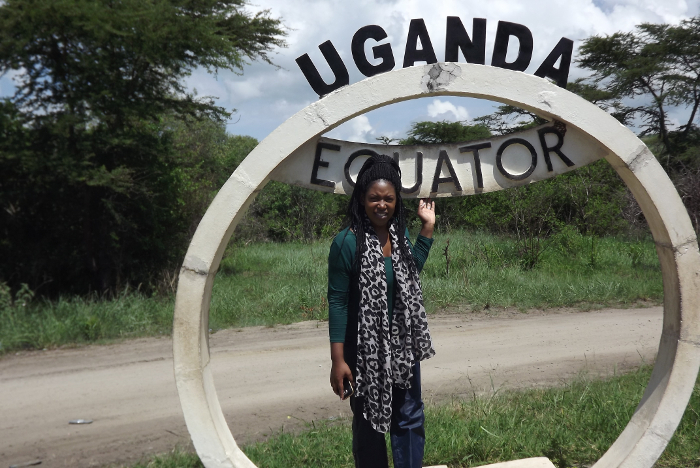 Kibale National Park
Once we arrived at Kibale National Park there was no time to waste, chimp trekking permits in hand we headed eagerly into the forest – some of our party were so keen to get going that they failed to gear up adequately! The forest was foreboding and somewhat eerie as ominous clouds started gathering above, and the chimps were clearly looking for shelter, rather than freely swinging through the branches overhead.
We could hear them screeching in the distance as the bleak weather closed in and raindrops plopped down around us. Although the chances of spotting the chimps and gorillas here are extremely high, with wildlife nothing is guaranteed.
As I trudged through the mud, crossing slippery rocks and flowing streams, I was grateful that I listened to the suggestion to wear a waterproof jacket and closed, sturdy hiking shoes. Chimps are the most sought after primate by those visiting the park, but one might also spot black and white colobus, red tailed monkeys or the grey cheeked mangabey!
And then, amongst the dark shadows overhead, something darted past, before dropping to the ground ahead of us. Yes!! I grabbed my camera to capture the moment, but these chimps move so quickly it ruins any chance of a clear photo. Clearly agitated by the lurking storm, they swung so quickly and noisily through the treetops it was hard to make out how many there were, and they disappeared quickly in search of shelter. I may not have the selfie with a chimp to prove I was there, but I can tick chimp trekking off my 'Adventures in Africa' list!
There are a few places in Uganda where you can see chimps, including Budongo Forest in Murchison Falls, and Kyambura – also called Chambura – Gorge in Queen Elizabeth National Park. We would try our luck again in Kyambura, but for now we headed out on safari into Queen Elizabeth National Park – an area in the western arm of the Great East Rift Valley.
Queen Elizabeth National Park
Its savanna and riverine habitats are home to elephant, lion, hippo, leopard, buffalo, Uganda kob, baboon, and over 600 species of birds. Ishasha Wilderness Camp, an idyllic retreat for those who truly enjoy the wilderness, is an intimate camp that has excellent tented accommodation and exceptional service. Set on the banks of the Ntungwe River, Ishasha is located in an unspoilt and remote sector of Queen Elizabeth National Park and on our late afternoon game drive we are almost completely alone.
Chimp trekking in Kyambura Gorge – also known as "Valley of the Apes" – is a lot more physically challenging than Kibale Forest. The gorge stretches 11km and is 100m deep and at its broadest point a kilometre wide. The tropical jungle resonates with the screech of chimps and everyone (this time) was fully prepared with protective clothes to combat stinging nettles and pesky ants.
Armed with sunscreen, water and our flash-free cameras, we felt like experts setting off on our quest to trek down these lively, noisy chimps. As they swung through the trees, it was hard to capture a good shot, and in hindsight I'd suggest you rather just soak up the moment with your own two eyes, than through the lens of your camera. This is a rare moment and passes all too quickly, so immerse yourself fully as you connect with these fascinating creatures.
Bwindi Impenetrable Forest
Chimp trekking was incredible, but next we headed south to Bwindi Impenetrable Forest and I could hardly contain my excitement at the prospect of seeing the world's largest primate – ever since watching "Gorillas in the Mist" I have been fascinated by these gentle giants.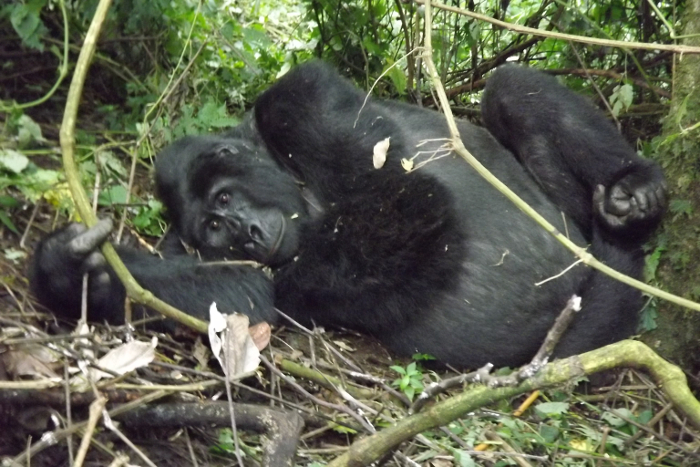 At Buhoma Lodge, with its uninterrupted views over the forest and situated within the national park, we were just steps away from the meeting point for gorilla tracking. Whether the eerie mists of the forest envelope you, or your views are crisp and bright, Buhoma offers its own special magic. After a hearty dinner and nightcaps around the fireplace, I headed off to bed hoping to get some sleep, despite my excited anticipation of the big trek!
We were up early, our spirits lighter and brighter than the weather. Gorilla trekking can be strenuous, and I have to admit I am not that fit! The trackers had gone ahead, and the less fit guests were allocated to those gorilla families close by, making their trek shorter. I got a full day hiking experience, with no short cuts. As we climbed up into the jungled mountains, and minutes stretch into hours, I was grateful for the porter I hired to carry my backpack.
Once you've located your gorilla family, you are allowed to spend a maximum of an hour with them, and as lunchtime came and went, and the already weak sun faded even further, I hoped that all the sweat and now aching muscles would not be in vain! Suddenly our guide backtracked down the mountain and there, in a clearing before us, lazed our family, complete with the most adorable baby imaginable.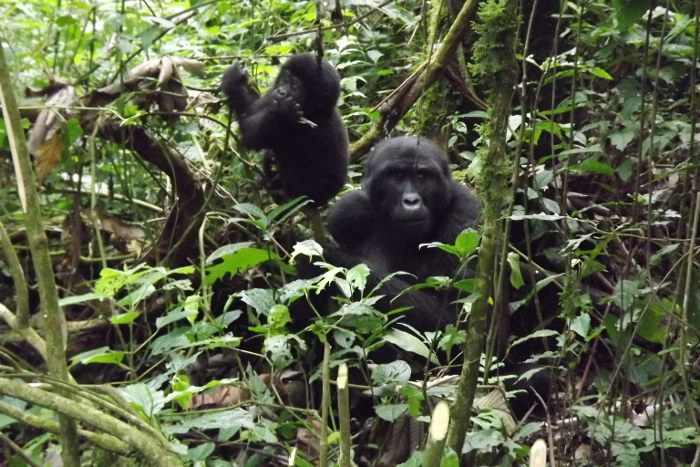 Whilst chimps swing like gymnasts through the trees, gorillas eat and move along the forest floor, making the whole encounter far calmer and more peaceful, despite the far more strenuous hike! Words fail me as I search to share what it feels like to come face to face, mere metres away from a silverback gorilla. I was humbled, amazed, intrigued, blessed. Our hour with these Endangered primates passed way too quickly, and as if joining in our disappointment that time was up, the heavens opened and torrential rain cried down on us as we scrambled back down to the warmth and comfort of Buhoma Lodge.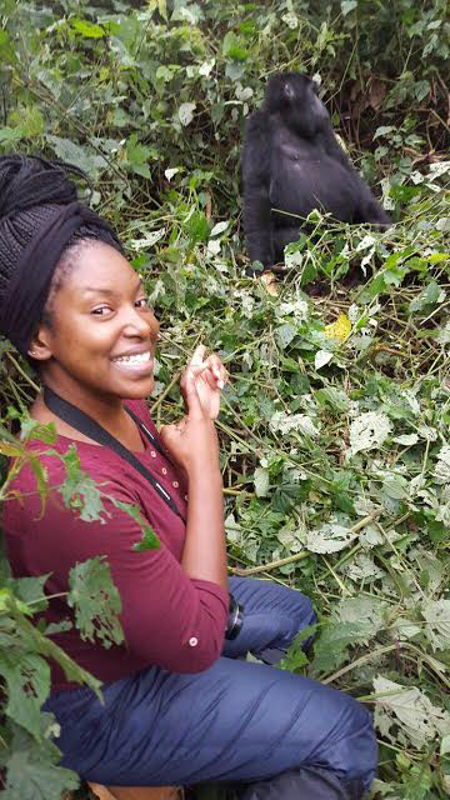 There is nothing worse than planning a trip, and arriving with great anticipation and preconceived ideas of what experiences await you, only to leave disappointed that what you found was less than what you hoped for. Uganda proved the polar opposite – I had no idea how magically beautiful and soul changing my encounter with this incredible country would be.
No picture could ever capture how Uganda touched me. I'd always thought of the country as being a once in a lifetime, bucket list trip – which it truly is – and yet I know that I simply cannot wait to return, to taste even more of the endless treats this East African gem has to offer.