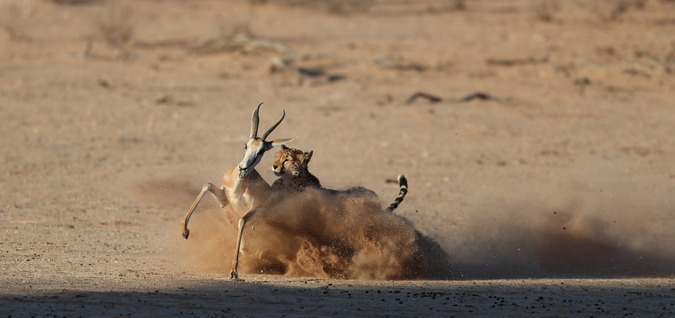 There is only a month to go until our Photographer of the Year 2018 closes for entries! We have received some incredible photos so far and a lot of them do more than just show wildlife doing what they do best – they also tell a story.
Coenie Fick entered in a photo of a female cheetah taking down a springbok – which was chosen as part of the Weekly Selection gallery. He now shares with us more photos that he took of this incredible wildlife encounter.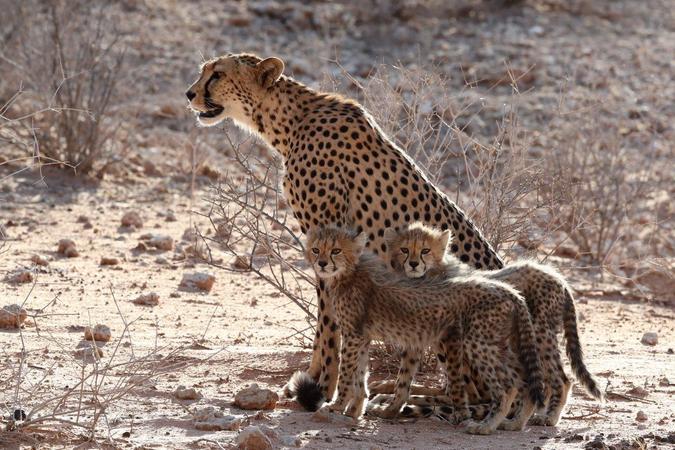 Written, and photographs, by Coenie Fick
So often we need only to look to nature to see valuable life lessons, and as the events of the cheetah kill unfolded, the discussion in the car was how we need to be more patient (hence the title). As a family, we love spending time in the Kgalagadi Transfrontier Park, and one morning we spotted a cheetah mother with her two cubs. They were curled up together and it was clearly family bonding time, with gentle licking and nudging the order of the day.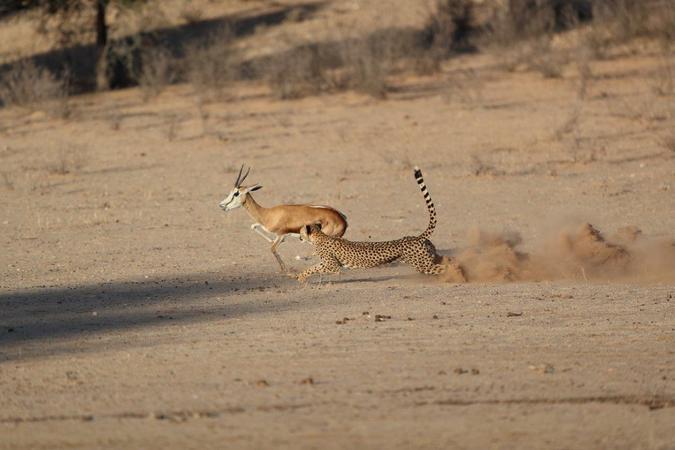 Mom fussed over her cubs, but it was evident that she had other things on her mind, as periodically she would focus on the dry riverbed, scanning to see if she could spot dinner. We sat and watched, thrilled at being so close to this interaction.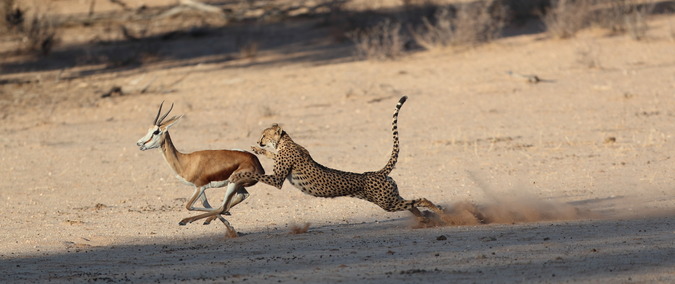 Mom got up and softly called her cubs. Obediently they followed, stopping every now and then to have a play. We were surprised at how much distance the mom covered, especially considering that she had two small cubs in tow. Eventually, she found a shady spot under a camel thorn tree and the little family curled up for their afternoon 'siesta'.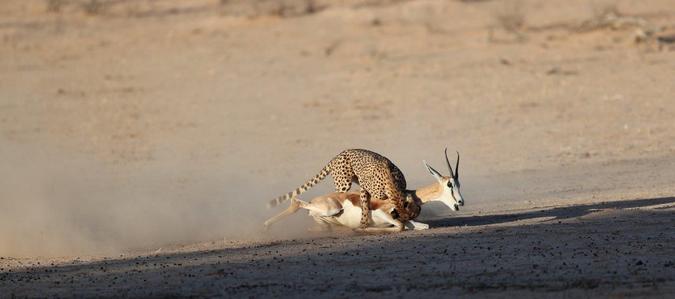 By early evening she was on the move again, but this time with much more intent. The cubs had no time for play as mom meant business and they couldn't lag behind.
A small herd of springbok ambled up the dry riverbed, and one was clearly limping. Mom quickly honed in on the buck and her body language now portrayed only one thing – a hunt!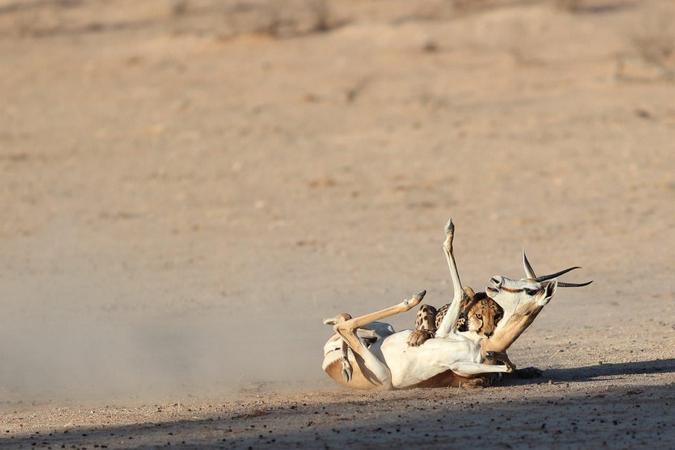 To our surprise she tucked in behind our car, a tactic she has obviously used many a time. The unsuspecting buck moved towards us, not realising that behind our back wheel lay its worst fear.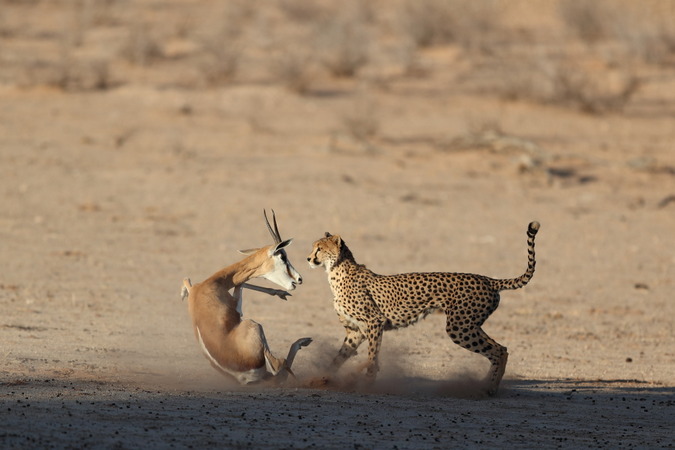 She shot out like a bullet and it was clear that the limping buck had already been selected for dinner. The air was filled with dust, bleating and our own excitement of what we were witnessing.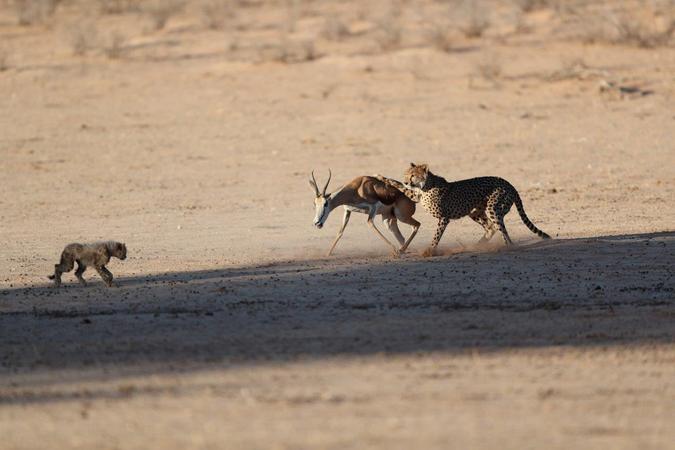 To our surprise, the mom let go and scanned for her cubs. They had disobeyed her and were no longer in their safe place, but charging down the river embankment with a black-backed jackal in hot pursuit.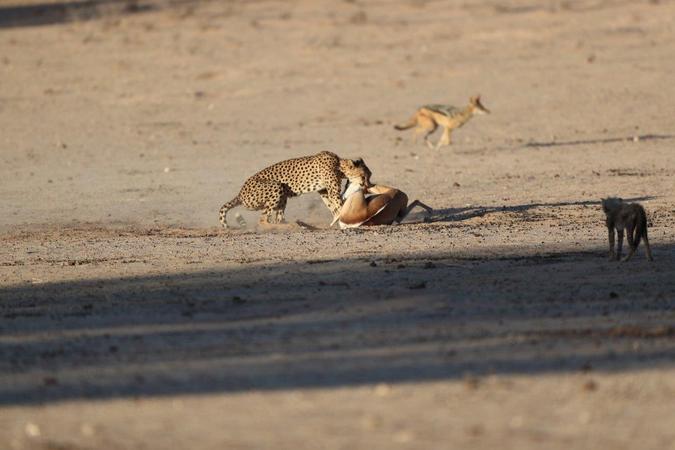 Reassured that they were in no immediate danger, she gathered in her prey once again.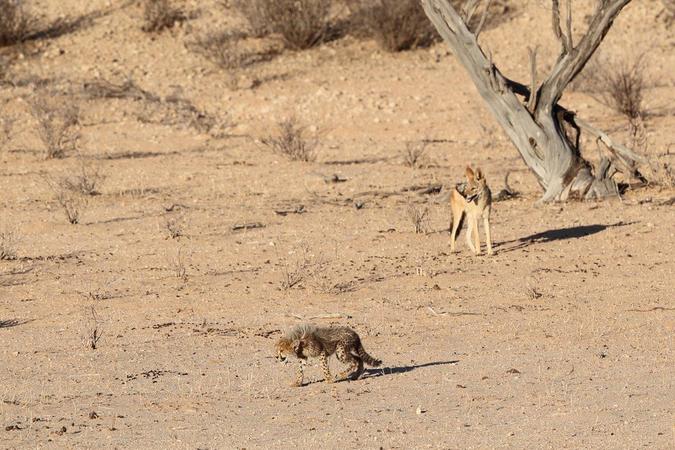 Then for a second time she let go, but seeing all was well with her cubs she decided that she was going to make sure that this time they kept their dinner. At this point we all commented on how she was willing to sacrifice her prey for the safety of her cubs.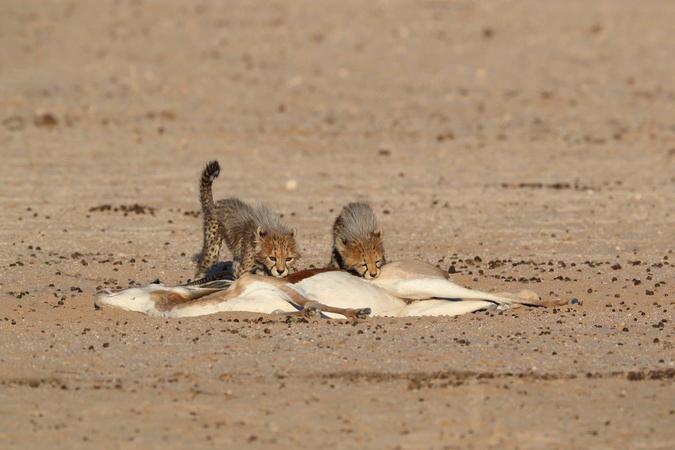 The cubs slinked passed the jackal, hissing and hair raised while they made their way to mom. Reunited, they all moved to assemble round the feast. Mom lay down catching her breath, her patience paid off – job well done.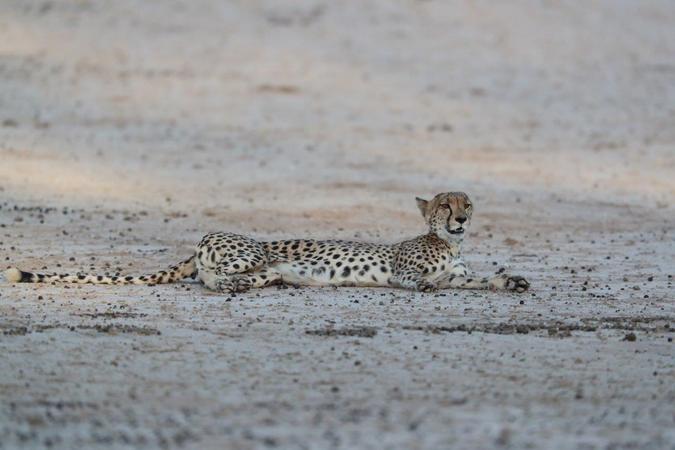 So it is here that I pause, as once again the bush had spoken: slow down so as not to miss the opportunities that come your way… and there is no greater love than that of a mother.