In this week's news wrap a lion pride has killed over 250 livestock in Namibia in the last week; Tanzania terminates hunting deal with Dubai royal family; a top anti-poaching cop is fired; and two tragic cases where elephants have killed tourists – one occurring in the Okavango Delta in Botswana, and the other in Livingstone in Zambia.
Lion pride kills over 250 livestock in Namibia in one week (full story: AG News Desk)
Over 250 goats, sheep and donkeys have been killed by the same pride of 10-15 desert-adapted lions in Namibia's Kunene region.
News just breaking, is that 171 goats and sheep were killed last night, with eight missing, just south of the first incident of last week (detailed below). The pride of desert-adapted lions (estimated 10-15 in number) roam the Etendeka Klipriver, Khoadi Hoas areas in arid north-western Namibia. Conservationist Izak Smit reported that these livestock were kept in old kraals that are not lion-proof. Smit lamented to Africa Geographic that attempts are being made to supply building material to make livestock safe from predators, but that lack of funds and feet on the ground is frustrating efforts. Smit noted that these losses are devastating for livestock framers, who lose their entire livelihoods to lions, and that a solution has to be found to protect farmers and lions.
The first incident occurred on Wednesday last week, when a total of 86 goats and sheep, worth about N$150,000, were killed by the lions in a kraal belonging to one communal farmer.
Tanzania ends hunting deal with Dubai royal family (full story: The EastAfrican)
Tanzania has terminated a 25-year-old hunting concession with a United Arab Emirates royal family-owned company as it launches investigations into the dealings of the company and former tourism ministers.
Newly appointed Natural Resources Minister Hamisi Kigwangalla has ordered the Prevention and Combating of Corruption Bureau (PCCB) to arrest and investigate Isaac Mollel, executive director of the Ortelo Business Corporation (OBC), which is a game-hunting outfit owned by a Dubai leader, for trying to bribe him and his predecessors. Dr Kigwangalla also called for the investigation of former ministers.
The termination of the concession marks the end of the controversial agreement. Activists, MPs and Maasai people who live in the Loliondo area in northern Tanzania have been involved in the battle against the takeover of the 4,000-square-kilometre block.
Dr Kigwangalla said the company will never be awarded another hunting licence, and suspended director of wildlife Alexander Songorwa for allegedly creating a syndicate of government officials in the ministry who have been compromised.
Top anti-poaching cop fired (full story: AG News Desk)
One of South Africa's top anti-rhino poaching cops has been fired on allegedly "trumped-up charges" and is now unemployed and looking for a job.
After 29 years in the police force, the latter 10 years in the Endangered Species Investigation Section of the Hawks, most of it as a "team leader" working undercover in game reserves in KwaZulu-Natal, Van Zyl-Roux will pack up his office on Monday.
He declined to comment on Sunday, but a colleague said: "He is devastated. He cannot believe this has happened to him after all his hard work and dedication. He knows that in a perfect world he would never have been convicted on this rubbish."
 Van Zyl-Roux and his team have been responsible for nabbing more than 70 rhino poachers – including alleged poaching kingpin Dumisani Gwala – for which they have received local and international recognition. He was pulled from the beat two years ago, and since then rhino poaching in the province has spiked from 116 that year to 162 last year, and this year, to date, 205.
Elephant tramples tourists to death in Zambia (full story: AG News Desk)
Two tourists were trampled to death in Zambia on Saturday while trying to take photos close to a wild elephant.
According to AFP, a 64-year-old Dutch man and a 57-year-old Belgium woman were on safari at Maramba River Lodge in Livingstone. They were trying to get close to the animal to take pictures, which led to the elephant charging the woman.
Police spokesperson Danny Mwale said they found the bodies lying on the ground with multiple injuries.
The Senior Wildlife Warden for the southern region Lewis Daka told the Zambian National Broadcasting Corporation (ZNBC) that the man tried to save the woman but also got trampled. His department is urging lodge owners to provide guides to visitors to make sure that tourists don't get so close to the animals.
Tourist dies after elephant attack in Okavango Delta (full story: AG News Desk)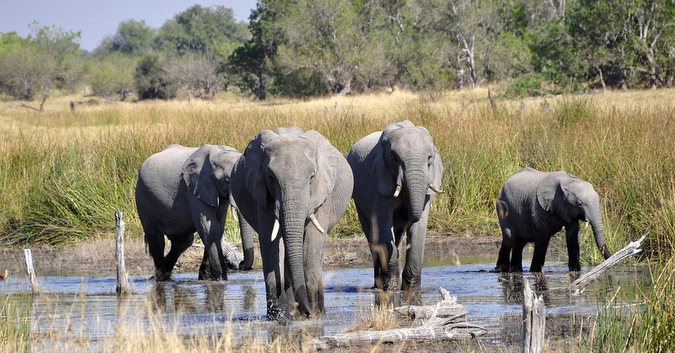 And in another tragic news story, a guest at a horse riding safari camp in the Okavango Delta, Botswana, died after being attacked by an elephant cow. She was not horse riding at the time of her death.
Okavango Horse Safaris released this statement:
It is with great sadness that Okavango Horse Safaris announces the death of a guest due to an attack from an elephant cow. The incident occurred before riding activities commenced at about 06h00 on 14th November 2017 in Kujwana Camp, Okavango Delta, Botswana.
Okavango Air Rescue and the relevant authorities were called immediately. Our sincere and heartfelt sympathies go to her family and friends.
Subscribe to our newsletter.