Mountain gorillas are one of the most endangered animals in the world. They are one of the two gorilla subspecies that can only be found in two regions of Africa.
The first region is Bwindi Forest National Park in Uganda and the other is the Virunga Conservation Area, which includes three national parks: Mgahinga National Park in south-west Uganda, Volcanoes National Park in north-west Rwanda, and Virunga National Park in the eastern DR Congo.
Western lowland gorillas have a large population of approximately 100,000, and eastern lowland gorillas have a population of about 5,000 in the wild. This is unlike mountain gorillas whose population is estimated to be only 880 in total.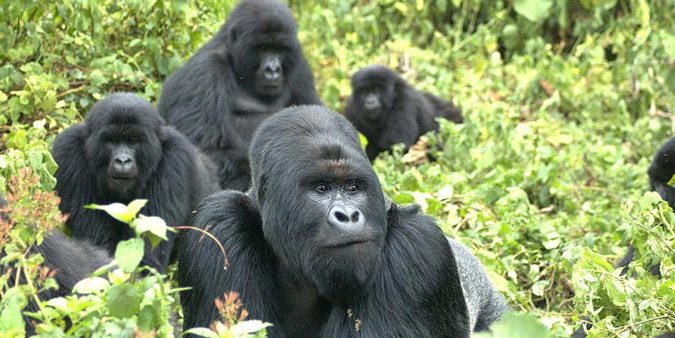 Mountain gorillas are endangered animals because of the threats they face that are harmful to their well-being and habitat. Here are some of the threats they face.
Habitat loss
Mountain gorillas live in the cool and moist climate of the Virunga Mountains. They are herbivores, feeding on plants like wild celery, thistle, and nettle, as well tree species like bamboo, and one of the reasons that they are endangered is due to human encroachment as the forests they occupy are being cleared and degraded for the growing human population.
In addition, the conversion of land for agriculture, livestock, and competition for limited resources like firewood, lead to varying levels of deforestation. This can be seen around Virunga National Park in DR Congo where illegal settlers cleared 3,700 acres of forest. Inside the park, charcoal is harvested as a fuel source in cooking and heating.
Disease
Mountain gorillas are closely related to human beings, making them vulnerable to human diseases. With the already existing burden of diseases that these mountain gorillas suffer from, visiting tourists pose a further threat of infecting them with illnesses such as the flu and even the common cold (which can prove fatal to gorillas).
First time exposure to an illness, that is relatively innocuous to humans, may devastate an entire gorilla population. As gorillas live in family groups, they may not be able to recover from a sudden fall in numbers brought on by diseases passed on from humans.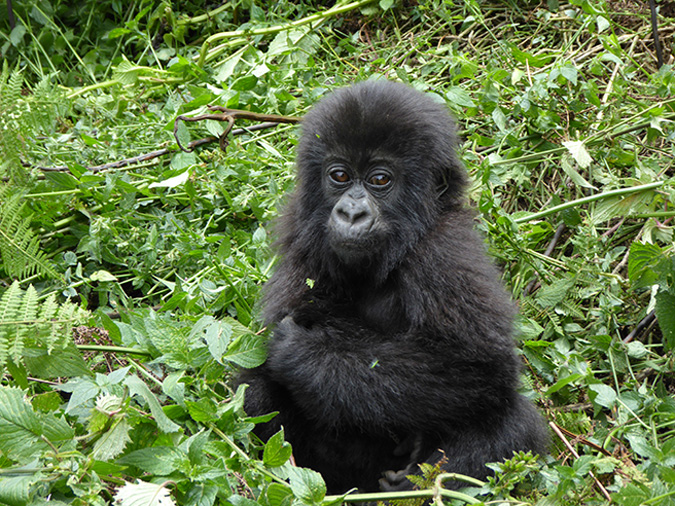 Poaching
In the first two decades after their discovery, European and American scientists, as well as trophy hunters, killed over 50 mountain gorillas. Today, poaching (of mainly other wild animals) has continuously threatened their survival and habitat.
Poachers usually set traps (like wire snares) to catch forest antelopes, bush pigs and other wildlife, but unfortunately gorillas can get caught as well and sometimes fail in removing the snare, which results in them losing a body part or dying from gangrene. There are still cases where mountain gorillas have been killed for their body parts that are sold to researchers, while the infants are sold to people as pets. Hunting gorillas for food (bush meat) is still carried out in the DR Congo area of Virunga.
How can we save the mountain gorillas?
Gorilla trekking, as a result of selling gorilla permits, provides the money required for environmental initiatives, such as conserving and protecting the gorillas and providing locals with alternative sources of income. Rwanda Development Board initiated a revenue sharing program with local communities where a significant amount of money is invested into community development projects, such as sustainable agriculture and water projects around national parks.
Education support through outreach programs help as well as these create awareness of the importance of protecting the gorillas and also teaches locals about good hygiene to avoid disease transmission between them and the animals.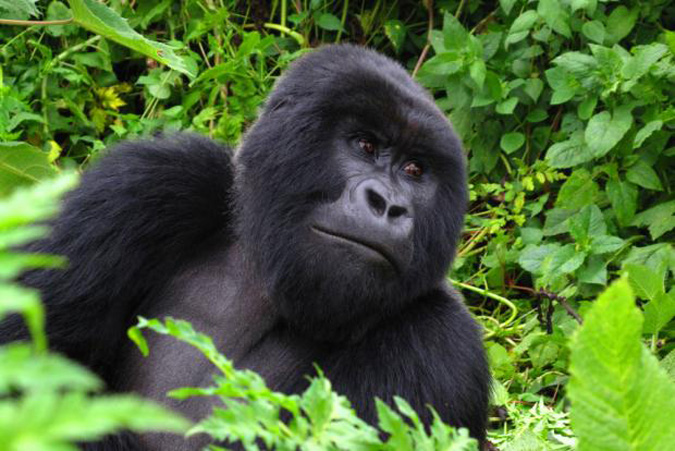 Other ways to save the endangered mountain gorillas:
♦ Donating and providing funds towards conservation projects.
♦ Habituating the mountain gorillas
♦ Visiting other attractions in and around the gorilla parks to ensure that tourism revenue contributes to the local economy.
♦ Buying local handicrafts to support small-scale enterprises.
♦ Encouraging companies operating in the range states to behave in an environmentally responsible way.
It is clear that mountain gorillas require the greatest amount of attention both locally and internationally. Responsible bodies should strengthen their conservation policies and work on creating awareness to the locals on the importance of gorillas and their impact to their communities. This also calls for community engagement and participation in tourism. Tourism is one of Rwanda's biggest foreign exchange earners and mountain gorilla trekking is the flagship and most treasured project.