South African lion farmers are supplying large volumes of lion bone, teeth and claws as 'tiger parts' to an insatiable Asian market – says a report recently published by the Environmental Investigation Agency. South Africa is the world's largest exporter of lion body parts.
The report goes on to say that this growing industry in South Africa is fuelling the demand for tiger products and driving the poaching of wild tigers and other big cats. Consumer demand for wild animal parts ensures ongoing poaching of wild tigers as well as wild African lions, leopards, clouded leopards, snow leopards and jaguars.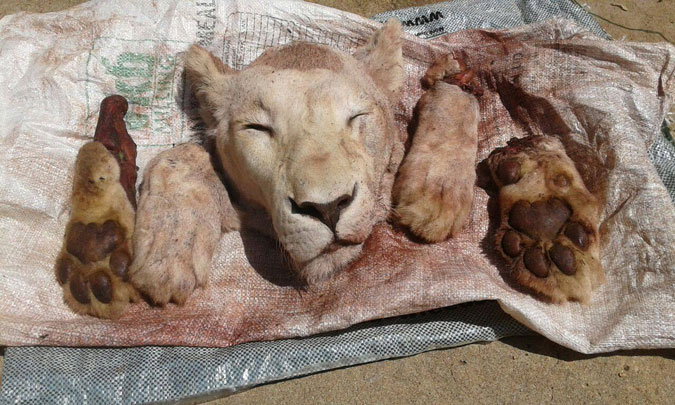 Supply of African lion parts into Asia frustrates enforcement efforts in Asia and undermines demand-reduction efforts to end the tiger trade.
There are now twice as many captive tigers in Asia than wild tigers, as wild tiger populations continue to crash, and the population of captive tigers rises.
And South Africa's government has contributed to these catastrophic knock-on effects on wild big cat populations by sanctioning the export of 800 lion skeletons a year in order to generate profits for lion farmers. This decision was made ostensibly to protect local wild lion populations, despite evidence that the same decision made by the Chinese government failed to curb poaching of wild tigers.
The legislation in South Africa relating to tigers is relatively weak, because tigers are not indigenous to the region, opening up the industry to abuse and laundering of wild tiger parts. Lack of cooperation and differing legislation between provincial authorities in South Africa contributes to the problem.
In South Africa, there are approximately 6,000 to 8,000 captive lions in about 200 facilities, dwarfing the wild population of approximately 3,490 lions. In addition, there are at least 280 tigers in South Africa, in at least 44 facilities.
Tiger bone is consumed primarily in China, Vietnam and Lao People's Democratic Republic as traditional medicine, high end 'tiger bone wine' and as a virility product.
Download the full report – The Lion's Share – here