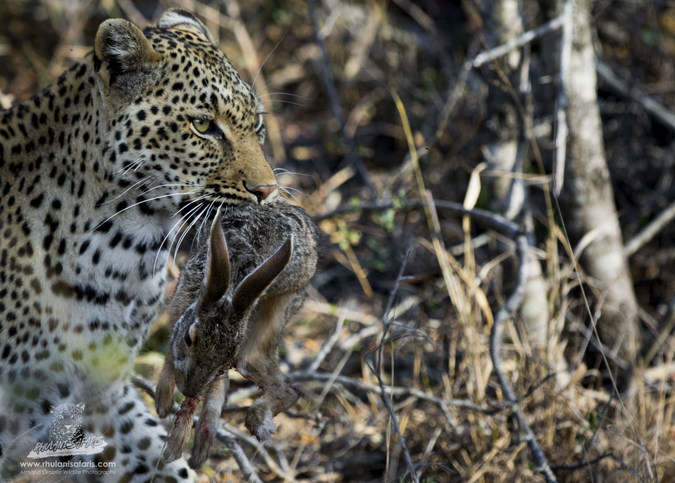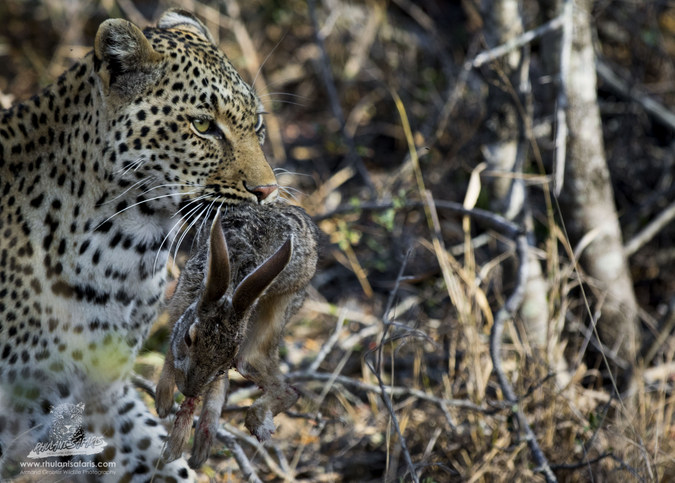 Written by Armand Grobler – Rhulani Safaris
September 6, 2018 is a day my guests and I will never forget… We already had a number of fantastic sightings including three cheetah brothers, lions attempting to hunt impala, and a wild dog den site – the first in my six years in this industry. Yet we had no idea what lay ahead for us on this faithful morning.
We departed Tintswalo Safari Lodge at sunrise with the intent of finding our final animal required of the 'Magnificent Seven', the elusive leopard. We slowly circled the lodge, listening for the slightest hint of alarm coming from the birds, squirrels or antelope… but it was eerily quiet, almost too quiet. We slowly approached a bend in the road and to our surprise found a spotted creature of another sort, a spotted hyena – also a majestic animal but not exactly the one we were looking for.
We observed his behaviour which seemed slightly unusual and decided to follow him as he walked with intent through the lush riverine vegetation, angling off towards another two hyenas looking eagerly up towards the heavens. With a magnificent surprise we all yelped out in excitement as we saw a young leopard lying in the tree!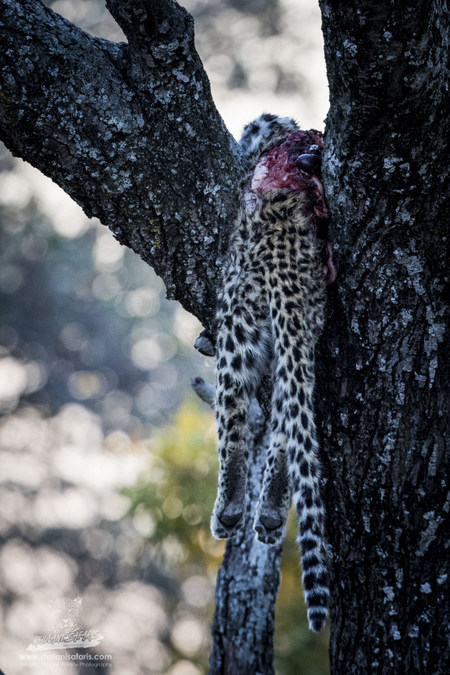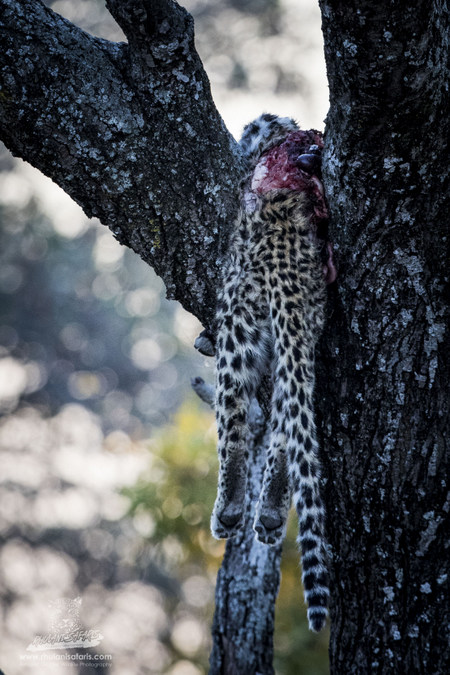 Energy filled the safari vehicle instantly, our senses all coming to life, but a moment of sudden realisation caused confusion to subdue the excitement when we realised that this leopard was 'sleeping' in a very awkward position, almost as if it were placed there purposefully by something else.
To our horror, we realised that the leopard was dead, placed there in the tree by another animal. Emotions were mixed, and happiness turned to sorrow as our hearts sunk and tears filled our eyes. We assumed that this leopard was killed by a larger, stronger leopard during the night.
Leopards are territorial animals and will kill to defend their territory. Male leopards will tolerate their own cubs, but only temporarily and will soon chase them off, or kill them. This was thoroughly discussed in detail with the guests as it is a gruelling part of nature, forming the great circle of life.
After taking it all in and understanding what happened, we set off to find the one that we believed was responsible for this leopard's death.
It wasn't long until our highly skilled tracker spotted the leopard in question – but like a ghost he quickly disappeared, cutting through the bush effortlessly and silently. To our incredible surprise, he came out the other end with a duiker dangling lifelessly from his mouth which he then proceeded to take up a marula tree, out of reach from the hyenas circling below.
After hanging his prey in the fork of the tree, the leopard spotted us and descended with magnificent speed – which can only really be appreciated when witnessed in real life.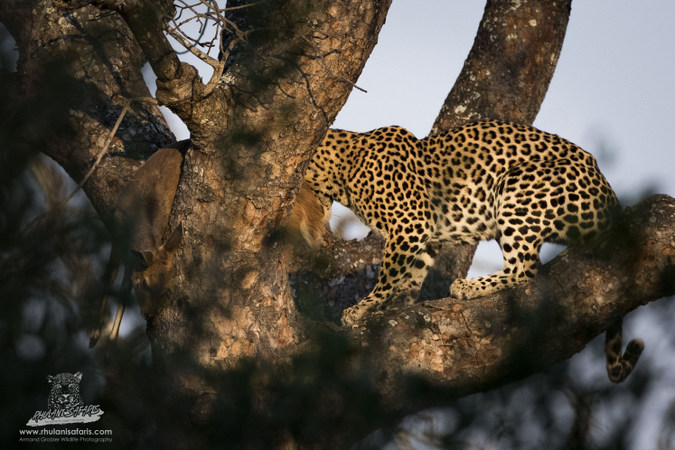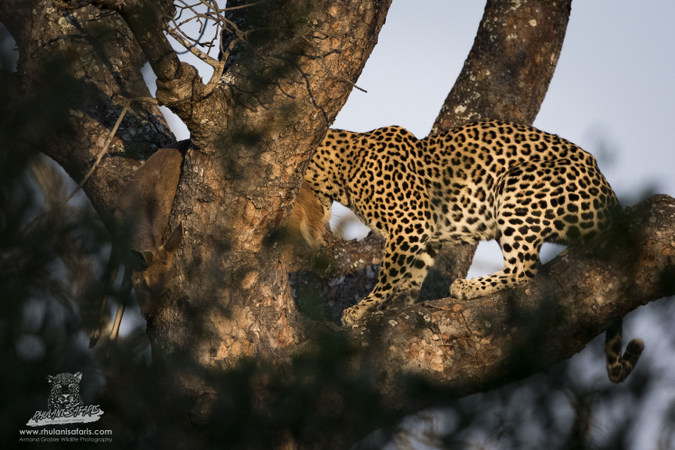 Their ability to disappear would make Houdini look like an amateur as we searched for him relentlessly with no result. It was then that we heard over the radio of a third leopard spotted close to the North Gate of Manyeleti and we set off on yet another adventure!
With precision we were led by the skilled guides of Manyeleti and Tintswalo to a location deep in the bush where we came across a beautiful female leopard, much smaller than the male we saw earlier. Our arrival did not even draw her attention as she was clearly focused on something in the vegetation…
Excitement and adrenaline filled the air as her tail twitched, eyes focused, and muscles tensed – she was ready to fire at the unsuspecting prey like an arrow out of a tightened bow. We waited patiently for about 15 minutes until she pounced with lightning speed at her unsuspecting quarry. The scrub hair had no chance. Her stealth, speed and accuracy were too much for it.
After her successful kill, she proceeded back towards us, almost showing off her prize before melting into the bush.
There are certain times in a guide's life that cannot be explained by words, emotions impossible to reenact, moments that last forever, left imprinted on your heart like a permanent tattoo. From sorrow to triumph, we had witnessed it all; the good, the bad and the ugly of life out in the wild of Africa, a place where one slip of concentration can cost you your life.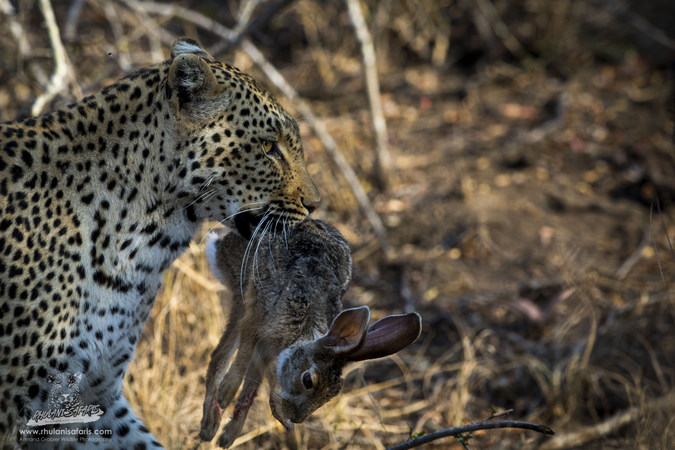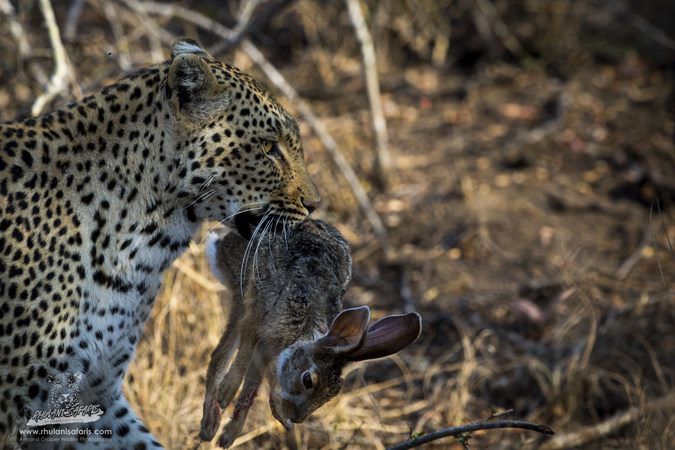 About Tintswalo Safari Lodge
Tintswalo Safari Lodge, situated in the Manyeleti Game Reserve, is a hidden jewel in the heart of the Greater Kruger Park, South Africa, a place yet to be discovered by most travellers.