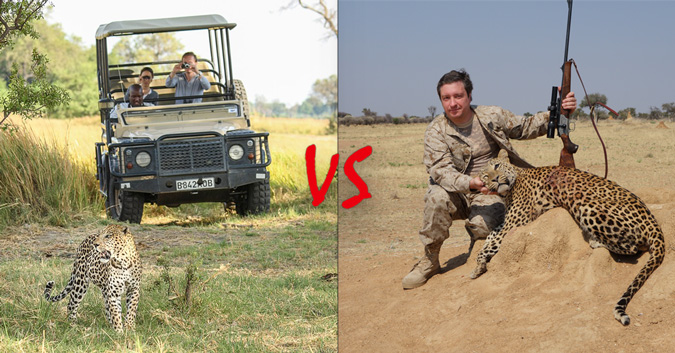 Opinion post: Written by Simon Espley, CEO of Africa Geographic
I will keep this short and sweet, because my message is not difficult to comprehend.
So, our Department of Environmental Affairs (DEA) has brought back trophy hunting quotas for leopards despite announcing last year that " trophy hunting posed a high risk to the survival of the species". This year – 2018 – will see seven leopards baited and going down to trophy hunters' bullets.
My concern about lack of proper research or consultation and my mistrust of the trophy hunting industry to abide by regulations aside, the following: It's no secret that brand South Africa is taking a pounding each time the DEA announces yet another strategy to squeeze relatively meagre revenue from the consumptive use of our wildlife – think lion bone exports, trophy hunting and rhino horn trading.
Based on the many comments on our social media pages and blog, people cancel plans to travel to this great country each time these unsavoury practices burst into the public spotlight. By no great leap of logic, we can safely assume that people are in fact doing so – they either ignore this country as a vacation option, or they cancel already made plans.
The big question therefore is:
At what point does the decision to hunt leopards lose money for the South African economy – when the value of cancelled or redirected safari plans exceeds the revenue generated from the hunting of these seven leopards?
The answer: 21
To be clear: It takes only 21 cancelled photographic safaris for the DEA decision to hunt seven leopards to start losing revenue for this country.
Bearing in mind the finite leopard hunting resource, and the massive potential to grow photographic safaris, this seems like a really stupid business model, where risk and return are way out of line. Is the comparatively meagre revenue raised by hunting seven leopards worth the financial losses due to photographic safari cancellations/redirections and the enormous brand damage to this country? Just what is it about trophy hunting that makes our government go all weak at the knees and place our economy and good name on the line? Someone please tell me …

My calculation is derived from the following proven figures:

1. The cost for a 14-day leopard hunting safari in South Africa ranges from $15,000 to $35,000 – based on hunting websites I perused. That cost includes accommodation, permit, services of professional hunter, trackers, bait etc. And so, I used an average cost of $25,000 per leopard, or $175,000 (total revenue for the year that accrues to the South African economy from the hunting of seven leopards). I am of course assuming that all revenue does find its way to this country.

2. The average photographic safari holiday sold by my team here at Africa Geographic costs $10,000 to $12,000 (to all parts of Africa, multi-day and usually 2 or 3 people). South African safaris come in about 25% cheaper, so I used an average figure for a South African safari of $8,250.

3. Dividing $175,000 by $8,250 we get to a figure of 21. Bear in mind that someone paying $25,000 to hunt a leopard clearly has plenty of cash, and can be compared to a typical luxury safari customer. One can argue and nitpick this is all sorts of ways, but in the end you will arrive at a surprisingly low figure.

Read Biologist questions science behind leopard trophy hunting quota – written by a wildlife biologist who questions the science behind the leopard quota decision.