The highlight for most guests are without a doubt the times where they get to jump on the Land Rover and go out into the bush, filled with the excitement and anticipation over what they could possibly find and the experience that they might have.
But recent guests at Xanasteni in South Africa were spoiled even more than usual!
On their way back from the evening drive they spotted an elusive leopard in a tree right by camp's entrance with an impala kill. This got everyone was buzzing, as this meant that the female leopard might stick around for a while at least.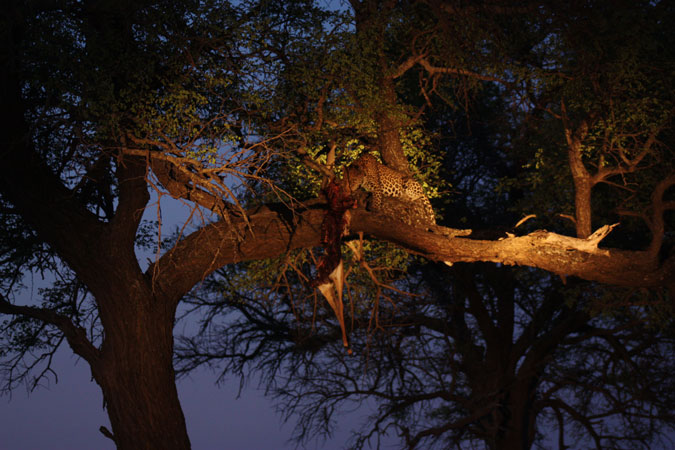 The guests sat photographing the leopard until the growling of their stomachs started to rival the roaring of the lions that could be heard far off in the distance.
They hurried to the lodge and to the warm food that awaited them. As soon as everyone was sat down for dinner, they immediately heard a commotion from where they last saw the leopard, everyone was very quick to jump back in the vehicle to find out what all the fuss was about!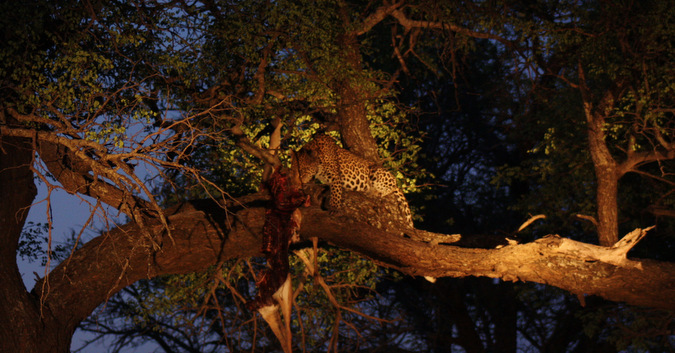 Low and behold – as if one rare sighting wasn't enough – they got to the tree only to find the leopard still high in the branches, but this time growling at the unwelcome visitor trying to steal her meal: a honey badger!
The sounds coming from these two animals were unnerving and eerie to say the least. The guests sat dead still waiting to see who would walk away as the winner.
This went on for maybe 10 minutes until the honey badger finally decided this impala was not worth the time and mission of retrieving it, leaving the leopard to finish her meal off in peace.