A gorilla habituation experience is the process where wild mountain gorillas get used to the presence of humans. In Uganda, gorilla habituation is only done in the southern area of Bwindi Impenetrable Forest National Park in the Rushaga region.
There are two gorilla families that you can meet that are part of the habituation process in southern Bwindi: the Bikyingi gorilla family and the Bushaho gorilla family. Presently, the Byikingi gorilla family has one silverback, nine adult females, two sub-adults and nine infants.
A maximum of eight visitors are allowed to partake in a gorilla habituation experience per day. It is one of the best ways of viewing gorillas up close and allows you to enjoy the beauty of these magnificent creatures.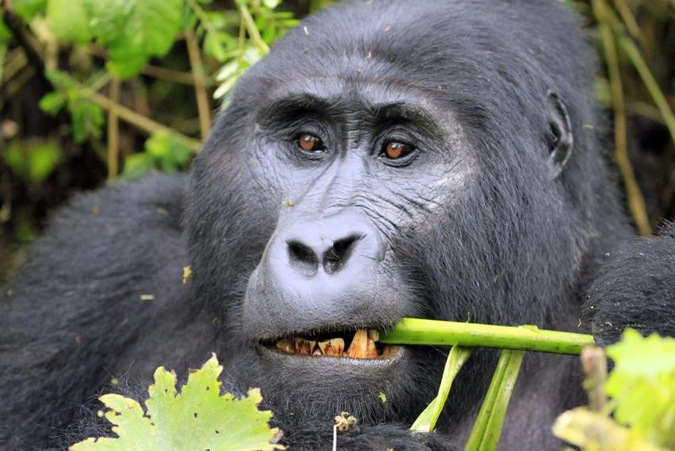 Comparing between a gorilla habituation experience and gorilla trekking
♦ Permits: Permits for a gorilla habituation experience costs US$1500 per person. For gorilla trekking, permit prices depend on the season: high season – US$600; low season – US$350.
♦ Time: You are allowed one hour with the gorillas when you go gorilla trekking, while with the habituation experience you spend four hours with them.
♦ Location: Gorilla habituation experience is only done in the southern area of Bwindi in the Rushaga region. Gorilla trekking is done from various areas in Bwindi.
♦ When to go: The best time for both the experience and trekking are from December through March, and June through to October.
Gorilla habituation and gorilla trekking have the same rules and regulations
♦ Anyone below age of 15 is not permitted to trek gorillas.
♦ Anyone suffering from a communicable disease, such as the flu or diarrhea, is not permitted to enter the park because of the risk of transmitting these diseases onto the gorillas.
♦ You should always stay together in a tight group while with the gorillas – do not surround them.
♦ Avoid making loud noises or moving suddenly while trekking gorillas.
♦ The use of flash photography while trekking gorillas is not allowed.
♦ It is not permitted to eat, drink and smoke when with the gorillas, or within 200 metres from them.
♦ You should not get closer than seven metres of the gorillas.
How to get your permit for the habituation experience
You can get in touch with us and we can book a permit for you. The permits are sold by the Uganda Wildlife Authority and it is recommended to book your permit in advance as there is a limit to the number of participants per day. Passport details are required and we will reply within 24 hours after enquiring about the availability of permits.
What to bring for the habituation experience
♦ Light rain jacket
♦ Camera and extra batteries
♦ Packed lunch and drinks
♦ The correct attire (long pants, long sleeve-shirts, hat, etc.)
♦ Gloves (garden gloves)
♦ Hiking boots
♦ Walking stick
Jewel Safari is willing to make you meet your dreams and expectations of having enough time with the mountain gorillas. Book with us for a gorilla habituation trekking tour that includes four hours of viewing, listening and learning about the magnificent mountain gorillas.