Written by Pete Martin 
The road from Tamale to Mole is brand new, recently rebuilt under the administration of the current President of Ghana, John Dramani Mahama. We stop to stretch our legs in his home town of Damongo and, like all the residents here, we seek shade immediately. Then we continue our drive to Larabanga, a village on the border of Mole National Park.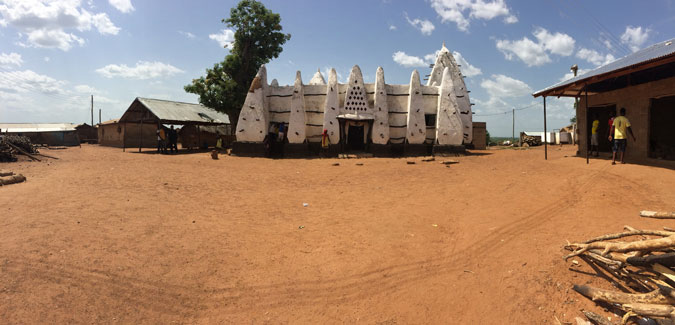 We pick up a local guide and walk to the ancient and famed mosque. We have an entourage by the time we have strolled along the hot sand to the wooden shack that acts as the ticket office.
The place has an odd atmosphere. I have a sense of reverence toward to the mosque. As a non-Muslim, I am not allowed in. When I scan the area, I feel like a voyeur. The village's residents sit in the heat, in front of their clay huts. Piles of dark firewood are scattered around the area.
The style of the mosque is Sahelian, an architecture that belongs to this region of West Africa – the area south of the Sahara but not as far south as the forests of the coastline. The adobe building is so small, constructed of white-washed mudbrick with dark wooden support beams that protrude through the wall faces.
We stand under a canopy next to a green leafed baobab tree, which adds some welcome colour to its monochrome neighbour. The guide explains the history of the site.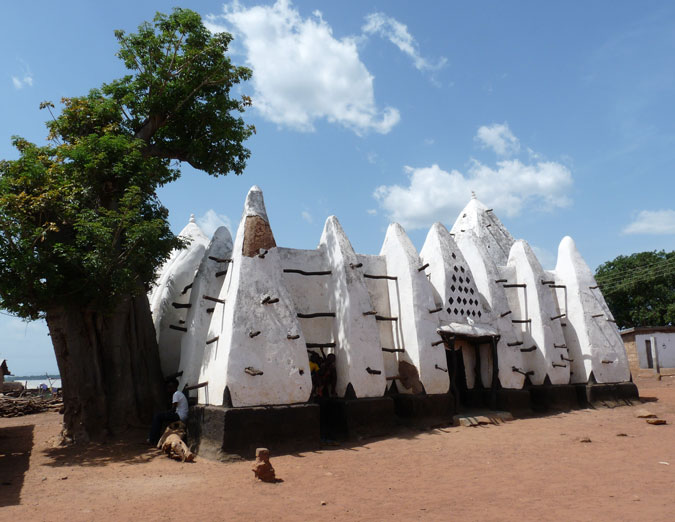 Whilst the existence of the mosque was first recorded in 1421, there are claims that it's much older than this. It's certainly known to be the oldest building in Ghana. The story goes that an Islamic tribesman needed to rest whilst journeying the trans-Saharan trade route. He stopped nearby and threw his spear into the air to find a place to sleep.
In a dream he was instructed to build a mosque and, once he awoke, to his amazement, the foundations had already been laid and so he continued with the construction of the Larabanga mosque. Legend has it that the trader's remains are buried under the baobab tree.
Known as "The Mecca of West Africa", the mosque also houses a Quran which is said to date from 1650 and was a gift from heaven to the Imam for his prayers.
Our next stop is the nearby mystic stone. This is the place where it's said the founder of the mosque slept and had his dream to build the mosque. The guide explains that when the British tried to build a road here, every time the stone was removed, the next day it would be back in the same place. He also reveals more mythology, in that no horse can pass the stone in times of war and when a local chief recently tried, his horse died passing this magical, yet nondescript, marker.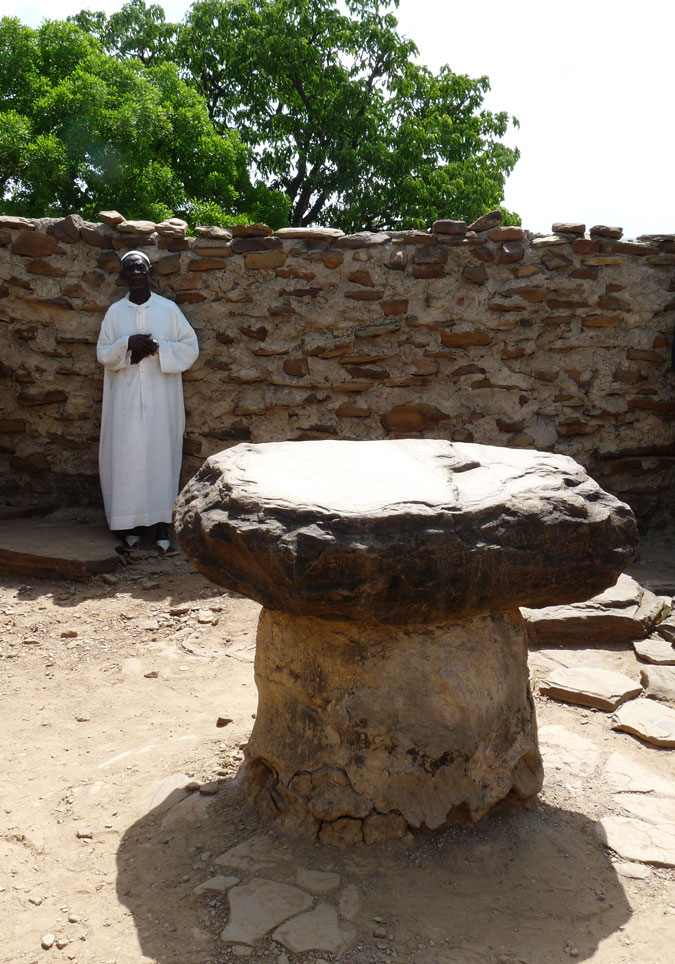 Subscribe to our newsletter.