It is eaten by several species of mammals, including baboons, bush pigs, elephants, giraffes, hippos, monkeys and porcupines. In short, everyone loves a vegetarian sausage. As the common name "sausage tree" implies, the fruit of the sausage tree resembles a huge sausage and their presence on the tree make it easy to identify throughout most of the year.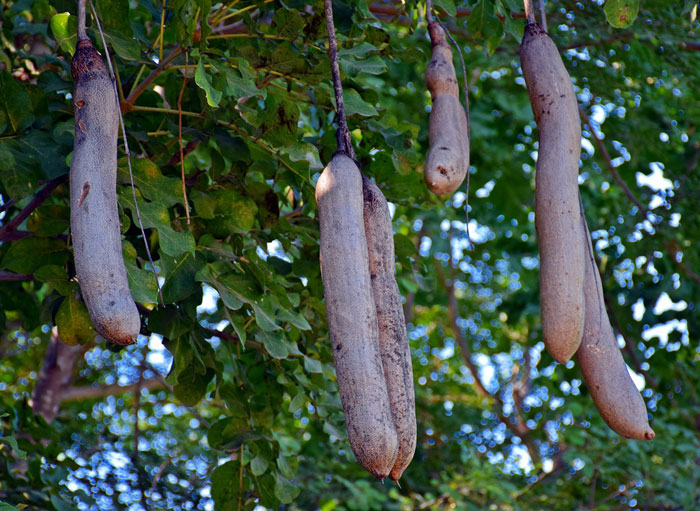 Those fruits are the same reason I choose not to set up camp under these trees!
Here are some interesting facts about this vegetarian sausage:
– Setswana Name: Moporoto
– Scientific Name: Kigelia Africana
– The sausage tree can grow up to 20 metres in height.
– In his diary Livingstone refers to the giant sausage tree beneath which they were camped shortly before he saw the Victoria Falls. This was at what is today known as the Kazungula area, the point where Botswana, Zimbabwe, Zambia and the Caprivi meet.
– The positioning of the nocturnal blossoms below the dense branches and foliage makes them ideally suited for visits by night-flying bats and insects. The blood-red flowers of the sausage tree bloom at night on long, rope like stalks that hang down from the limbs of this tree. The fragrant, nectar-rich blossoms are pollinated by bats, insects and sunbirds.
– There is a long history of using the fruit of the sausage tree to fight fungal infections, treat eczema, psoriasis, boils and even leprosy. It is also used to cure postpartum haemorrhaging, diabetes, pneumonia and rheumatism while the fruit can also be used to ferment beer!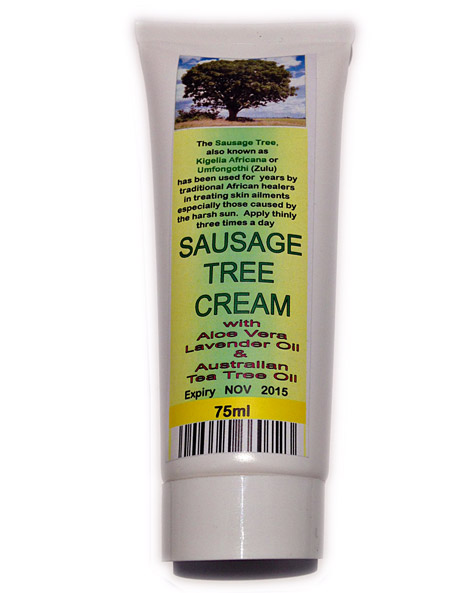 – Products from the sausage tree are also used to treat burns as the fruit contains natural pain relievers.
– Gels made from the sausage tree fruit can also be useful for women when styling tight braids, extensions, twists and knot styles.
– Scientists have discovered that the sausage tree naturally contains sterols (sitosterol and stigmasterol) – steroids that can be used to treat skin disorders such as eczema. Flavonoids (luteolin and 6 hydroxluteiolin) which have hygroscopic and fungicidal properties can also be found in the fruit while it is also a natural antioxidant  with anti-inflammatory properties.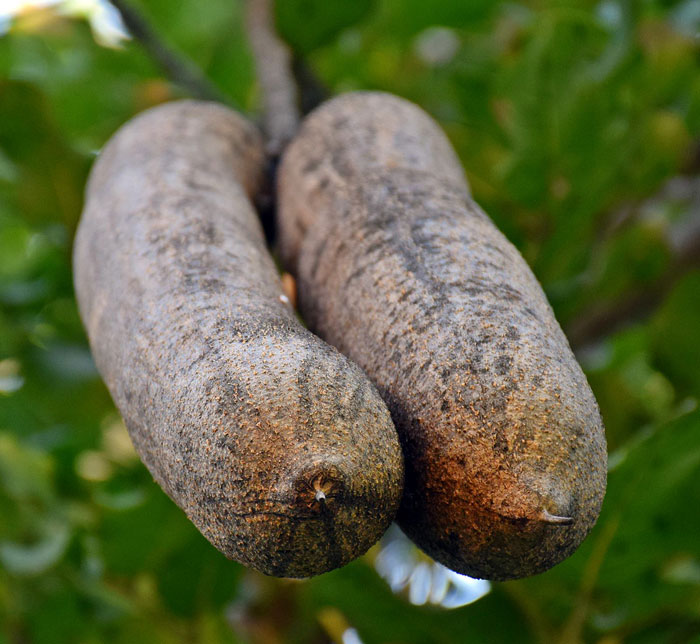 Subscribe to our newsletter.