Written by: Andy Baldwin
Having been lucky enough to travel to South Africa on safari in 2014, I didn't think that I would have another opportunity to go on safari. However when the chance of a family trip to Botswana arose it simply couldn't be turned down.
The difference between our greatly anticipated trip to Botswana and the previous trip to South Africa was that this time we would be sleeping under canvas in the wilds of the Botswana bush instead of in a lodge. And we were very excited about this prospect, albeit a tad apprehensive.
The safari was booked by Lelobu Safaris in Maun, Botswana, and they arranged a three night trip of a lifetime that was based around our budget. We were given excellent advice and a variety of options but, upon their recommendation we chose a private mobile safari in Moremi Game Reserve.
Setting off from Maun with our guide, chef and camp assistant, we arrived at our remote and picturesque riverside campsite near Moremi. While exploring and checking out the facilities, we saw a large elephant bull through the window of the permanent toilet and shower block not twenty yards away. You could say we had a loo with a view!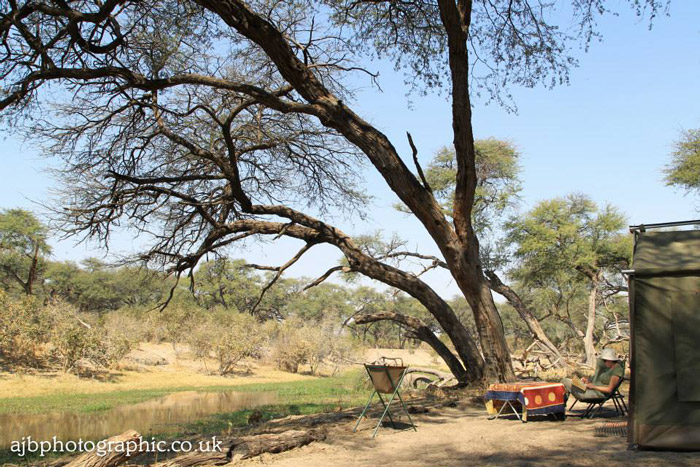 On our first afternoon game drive of the trip, we weaved our way through the paths from camp into the depths of the bush and the first thing that surprised us was the vast size of the groups of animals; especially the elephants and giraffes. Comparatively, when we saw them in Kruger, there were usually only three or four in a herd at most.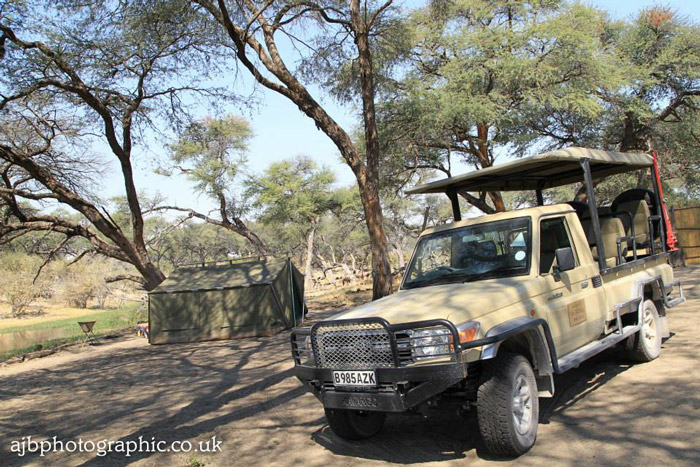 Not an hour into the drive we spotted our first set of ears in the grass and as we got closer we could see that it was a wild dog lying down. The vehicle pulled up as close as it could to reveal half a dozen inquisitive dogs raising their ears to listen to what was happening. This was the animal that I had personally been hoping to see and I couldn't quite believe that we had seen them – and so soon. A rustle from behind revealed another six as they moved over to our vantage point to join the rest of the pack, quickly followed by one more from our right. Thirteen wild dogs were now moving about in the grass, play fighting as we watched them for 20 minutes or more until they disappeared out of sight. We were told after the trip how privileged we were to have witnessed this as some local residents said that they had never seen a wild dog, let alone a pack of thirteen.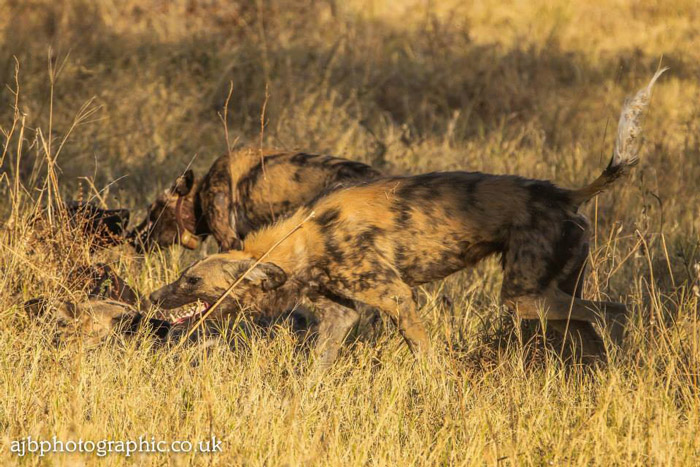 Still amazed at what we were seeing, our knowledgable guide stopped at a pool and told us to watch the water. We glanced over to see what must have been ten or more hippos emerge above the surface as others yawned away in the background.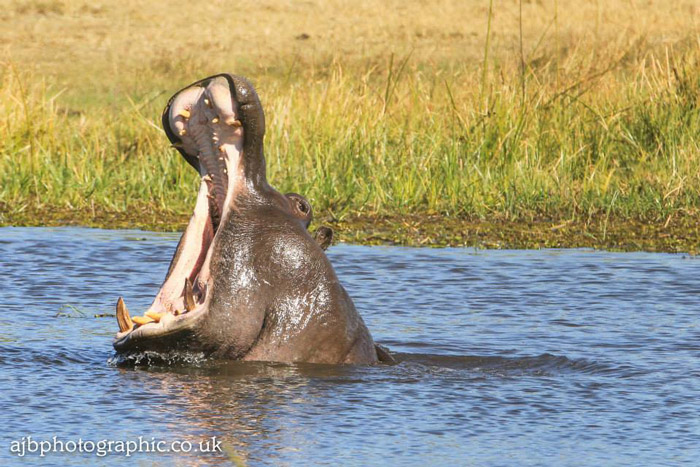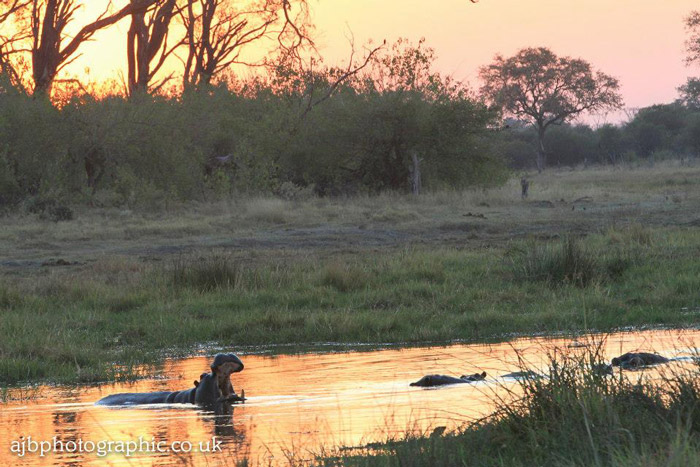 Just around the corner we saw a dozen elephants having their evening drink against the backdrop of a golden African sunset.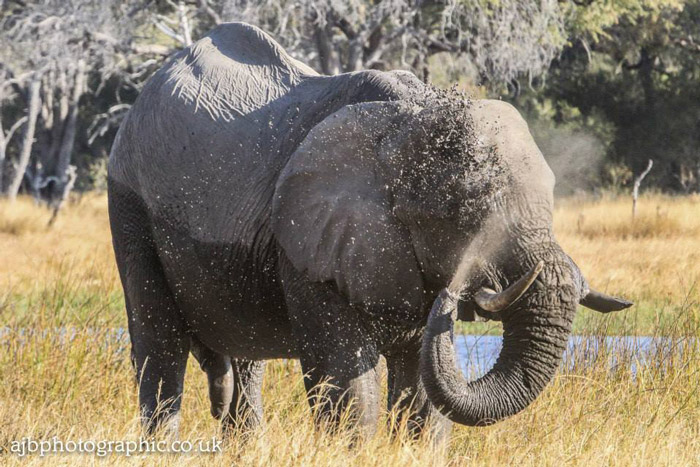 And as the sun set, the temperature began to drop and we were given blanket-lined ponchos to wear. Absolutely everything had been thought of.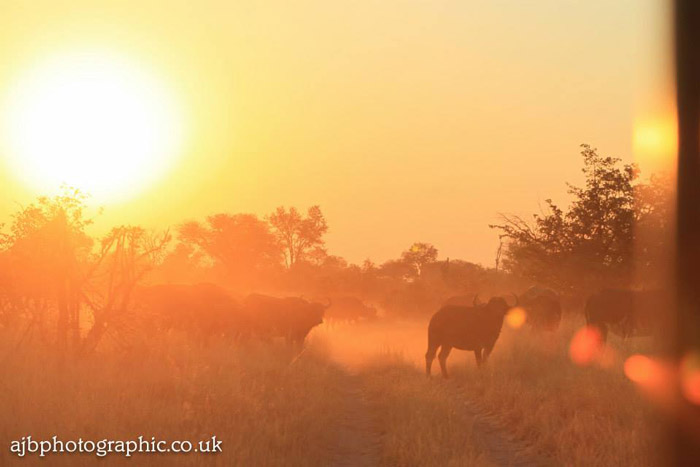 As we arrived back at camp we were awed by the spectacular sight of hurricane lamps that lit up the camp. Whilst we'd been away, the chef and his assistant had been busily preparing our meal.
Expertly cooking on an open fire, the food that evening consisted of a butternut soup, beef stew and pap with green beans and chocolate bananas. Over the course of the trip we never failed to be amazed at how fantastic the food was, and we never ate the same thing twice.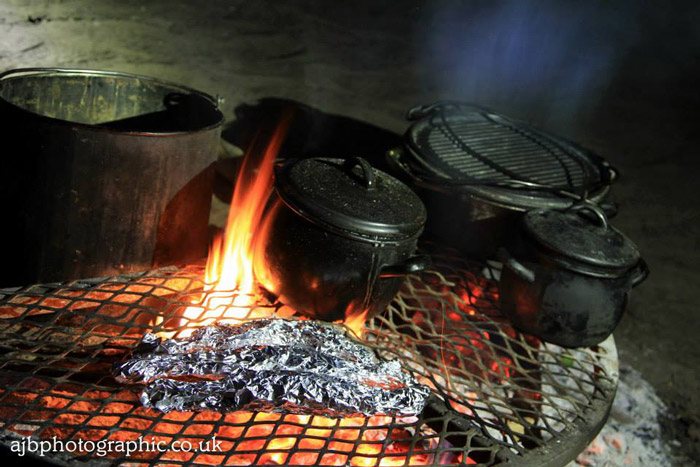 On one of the days we travelled to Moremi and spent the whole day on a game drive. We were told that the chef had prepared a packed lunch for us. Expecting sandwiches we pulled up at 'Hippo Pool' where our guide set up a table and chairs for us and started laying out the food. Worlds apart from the sandwiches that we were expecting, a full fillet of beef marinated in the most wonderful onion and mushroom sauce was served to accompany a feta and olive salad. We thought our lunch couldn't get any better until a herd of zebra joined us for a lunch time drink!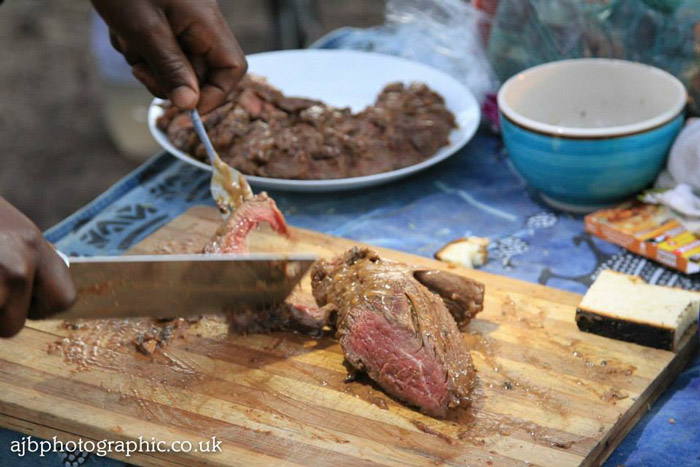 Every game drive was different, the game viewing was spectacular and we saw a great variety of animals and birds during our three day safari.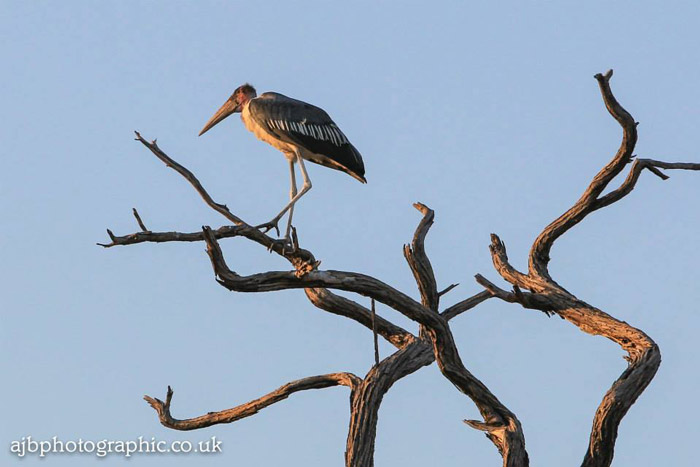 Our particular highlight, despite it being a little nerve-wracking initially, was a stampeding herd of 20 elephants. The loud trumpeting noise that they were making and the speed that they were travelling was quite remarkable and an experience that we will never forget.
Despite this being labelled as a budget safari, everything was considered and the staff went to the ends of the earth for us. The whole trip was so much more than we were expecting and we would wholeheartedly recommend the 'back-to-basics' style of tented safari. In our opinion it's the best way to experience a true African safari and we would like to thank Lelobu Safaris for the experience of a lifetime.
Subscribe to our newsletter.