Written by: Mark Hendricks
When my wife and I decided to embark on a self-drive safari and camp primitively in the northern Tanzanian bush, we understood that it would not be the easiest way to travel through East Africa. However, we felt that the rewards of observing wildlife on our own, while moving at a pace we desired, would be worth the effort.
I was most excited about our nine nights in Tanzania's Serengeti National Park – a dream of mine since infancy. We would witness the great migration, experience the vastness of the endless plains, and perhaps feel the thrill of seeing all of Africa's Big Five. Yet research told me my chances of seeing one of the park's rare black rhinos were slim to zero, and that I should focus more on seeing them in the Ngorongoro Crater instead. However, this boy could still dream.
As my former high school Latin teacher used to say: "Audentes fortuna iuvat" – meaning that fortune assists those daring. And our month long sojourn gave us incredible solitary moments with some of the continent's most iconic wildlife, such as elephants, lions, buffalos, hyenas, and even an aardvark. However, we saw no sign of a rhino. The friendly guides and rangers I conversed with were amused by my determination, but again told me to keep my focus on the crater.
Their advice was much appreciated, as finding a black rhino in the Serengeti is nearly impossible. The population, under constant threat of poaching, currently stands at over 30 individuals in a park that covers 5,695 square miles. Maybe not as difficult as finding a needle in a haystack, but you get the idea, I should have just focused on the crater.
We searched for rhinos with no luck in the Moru Kopjes (though we did encounter a leopard) and we were told we might have a chance encounter near the Lobo Hills region. But alas, there were no rhinos there either. Yet on a remarkably fortuitous afternoon as we drove towards the northern Serengeti, I saw what appeared to be a large boulder walking. Wait, boulders don't walk…
My wife, who had become a most excellent off-road bush driver, immediately stopped and turned off the engine as I exclaimed: "Rhino! RHINOOOOOOOOOO!" Directly in front of us was not only one rhino, but a mother and her calf!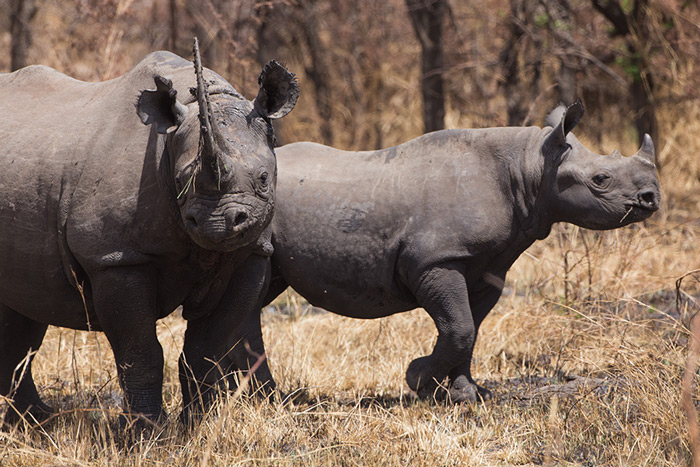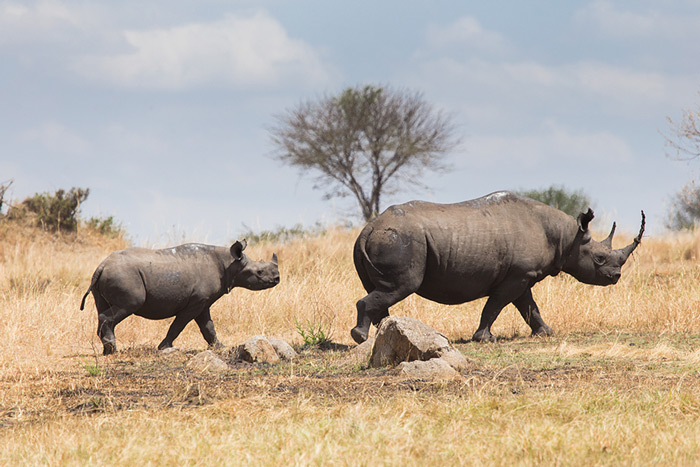 For an hour we watched the pair in one of the greatest wildlife encounters I have ever experienced. They even bathed in the mud next to our Land Rover! Soon, however, a safari vehicle noticed us and, within 10 minutes, 30 vehicles had descended upon the location. The rhinos then immediately retreated deep into the acacia woodland and never returned.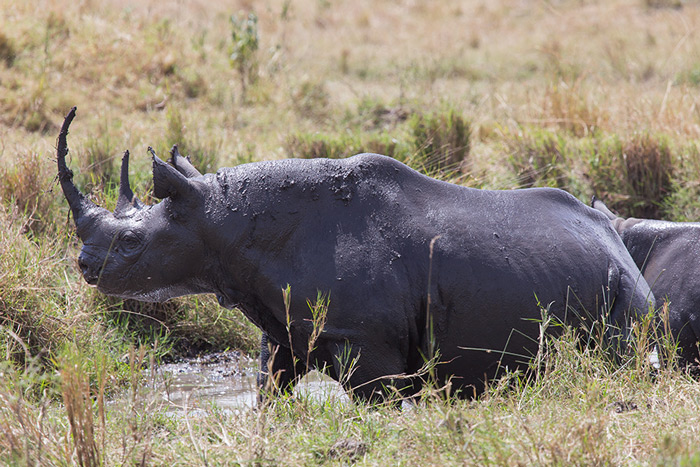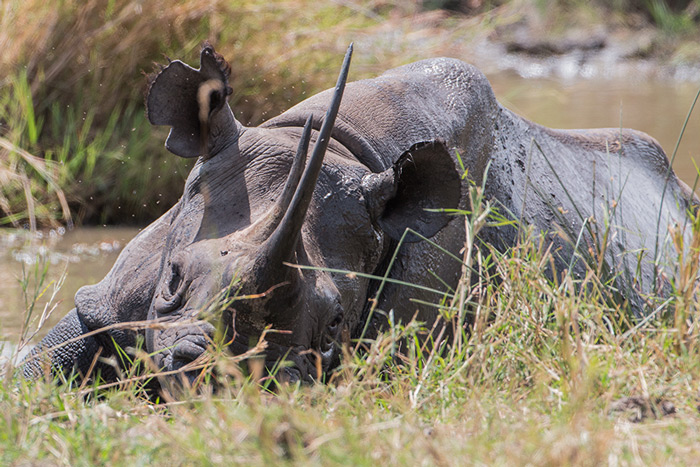 "Seeing a rhino in the Serengeti is such a rare event, which is why going slow and taking your time really pays off," says Paul Sweet, owner and operator of a safari company in the area.
Given the black rhino's precarious existence, it makes the sighting in this amazing, pristine environment even more special.
Subscribe to our newsletter.