It was Matiti, one of our super guides at Nkasa Lupala Tented Lodge in Namibia, who told us that in there was a remarkable lion sighting in the park that we all had to see.
Excited and impatient we quickly got into game drive vehicle with our staff, including Cherio who has never seen a lion!
With binoculars and cameras at the ready, we drove about 10 minutes into Nkasa Rupara National Park. Eventually we spotted another one of our other vehicles, but as we approached it we suddenly stopped. Between the vehicle and us was the lucky sighting!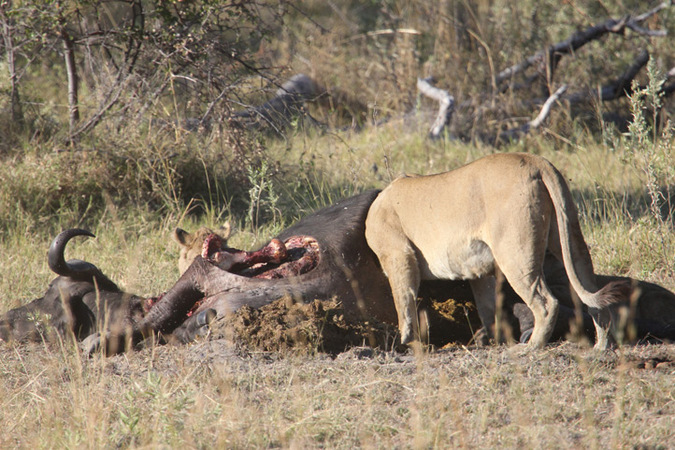 An unfortunate buffalo had been caught and killed by two meticulous lionesses. In the vehicle all we heard were sounds of awe and wonder coming from the staff – though it was only Cherio who was stunned into silence. Unfortunately we were making too much noise and the lionesses soon moved away, after which we also headed back to the lodge.
After lunch, Simone and I were curious to see if the lionesses had returned, so with much more care and attention we quietly approached the sighting again.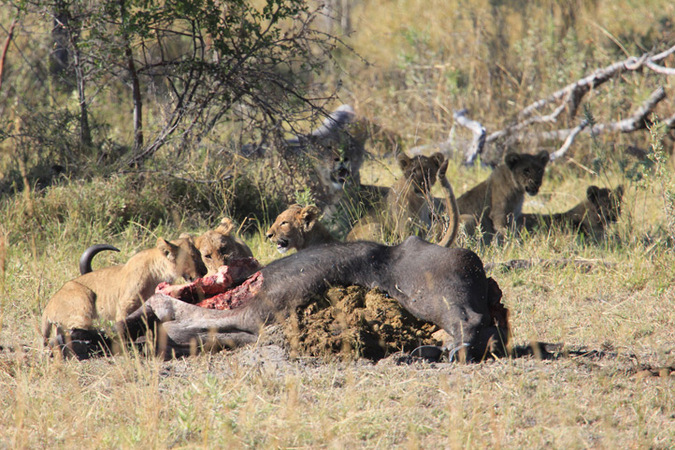 What awaited us was a magnificent sight: the lionesses and the rest of their pride were there eating the buffalo carcass!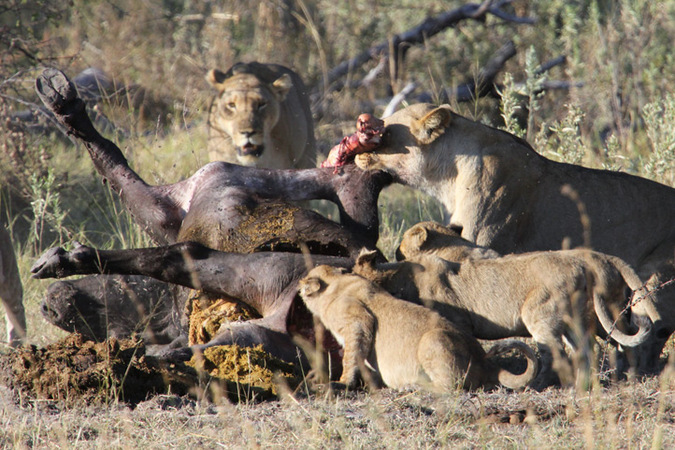 We switched off the engine and watched as six cubs and the adult lions enjoyed their meal. The cubs alternated between playing and eating, and every now and again rested under the shade of the bushes before going back out to play and eat.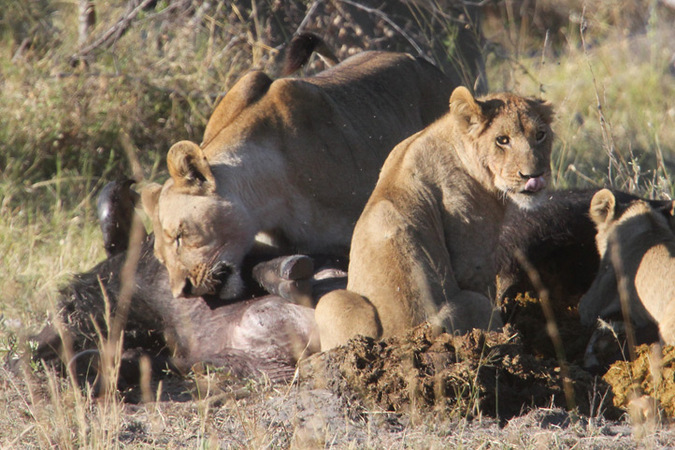 Just as everything seemed calm, suddenly to our right an elephant appeared through the bushes! The cubs ran away, followed by the rest of the pride. The elephant, on the other hand, was merely passing by and after inspecting the area moved on back into the bush and slowly the pride reappeared to eat once again.
We were at the sight for three hours, totally absorbed in the incredible encounter. Eventually it was time for us to head back to lodge, leaving the lions with their well-earned prey.