Here are seven reasons why your day doesn't stop when the sun sets after a long day in the wilds of Africa.
1. Sunsets
Sunset doesn't mean your day is over, or the adventure has to stop. As the sun sinks below the horizon, burning the sky red, pink and orange, you will find yourself with a refreshing drink in your hand, parked on the edge of a pan. Be still and watch as a herd of elephants come down to drink, reflect on your day in the wild as the shadows lengthen and the fiery sky darkens to mauve. The first stars appear, and the sky seems bigger than it does in the rest of the world. In Africa, you can see a sunset and believe you have just witnessed a miracle.
2. Dinner
Mealtimes in Africa are an occasion to celebrate and connect with your family and friends. After a long day of adventure, a delicious meal is just what you need to refuel. There is no such thing as grabbing a quick happy meal from a fast food joint to eat in front of the TV. In Africa, you sit around a table and tell stories of your day. Listen as your guide describes his close encounter with a buffalo as you enjoy Michelin quality food. The workings of a bush kitchen will leave you in awe when your chef delivers a beef wellington (cooked in a wood burning oven) that makes your taste buds tingle. Relaxing around the dinner table, drink in hand, laughing and reflecting on the amazing day of safari is one of the highlights of a trip to Africa
3. Boma Dinners
Many camps and lodges have traditional bomas, where they will serve you a meal under the stars. A boma is a small enclosure with walls made of traditional timber, that were historically used to house livestock overnight to protect them from predators. Eating in a boma, lit by a campfire and starlight, is an ethereal experience. The night sounds are magnified. Can you hear the crackle of the burning logs on the fire or the call of the nightjar? Nothing connects you to the earth more than dining under the stars.
4.  Campfires
After dinner, treat yourself to a night cap of Amarula and retire to the camp fire. Known to locals as "bush television", a campfire will mesmerise you and warm your soul. Stare into the flames and dream of the adventures you have had, and those yet to come. A campfire is synonymous with storytelling, and sitting next to the dancing flames whilst being entertained with outrageous tales of life in the bush is the perfect way to end your day.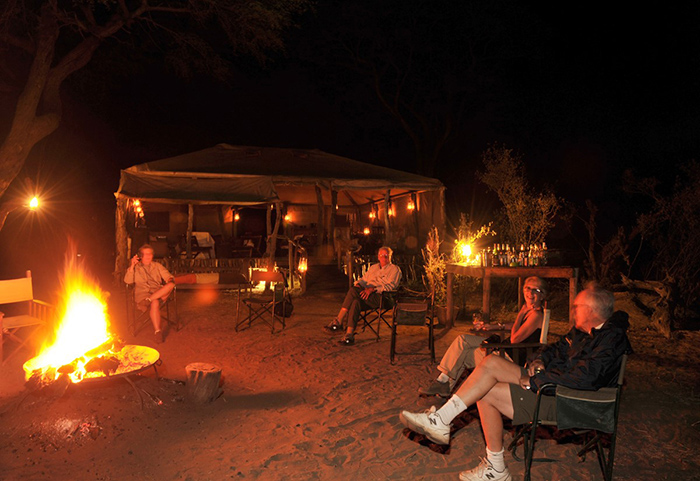 5. Drives on private concessions
Night drives are not a common activity, especially in national parks and protected areas. Camps that sit on their own private concessions, such as Linyanti Bush Camp in Botswana, have different rules. There is nothing more thrilling than driving through the bush at night and spotting a rare, nocturnal creature. Wildlife species don't cease to exist when the sun goes down, in fact some of the most astonishing sights you'll ever see on a safari in Africa is when you have to look a little harder in the dark.
6. The stars
To speak of Africa is to speak of the skies and the stars. The sky seems bigger, and the stars more abundant. They shine brighter when you are surrounded by complete darkness and silence in the bush. On a clear night, the naked eye sees more stars than we could ever hope to count. Stargazers can enjoy the beauty of the galaxies unclouded by the urban light pollution that riddles our home towns. Get lost in the constellations as your eyes adjust to the light and the magnificence of the Milky Way
7. Sleeping in luxury
Safaris, sunsets, dinner and drinks, campfires, night excursions and beautiful views. After such an adventurous day, you need a soft pillow and a warm bed to rest your body. Fall asleep to the sound of an elephant browsing for acacia pods outside your tent and the smell of a campfire in your memory. Reset and refresh your exhausted senses in luxury and rest easy knowing that you will get to do it all again tomorrow.
Experience the magic of Africa at night on safari with African Bush Camps.