Tourists travel to Africa to immerse themselves in the unparalleled beauty of the African bush. And nothing gets you closer to this than spending a night of slumber on one of the continent's sleep-out decks under the stars in the middle of the bush.
The chance to hear a lion roar or a hippo munch away just metres from your place of rest is a thrilling experience that anyone who has the chance (and the courage) should take! Take a look at Jenman African Safaris' favourite 10 sleep-out decks.
Ruckomechi Camp – Mana Pools National Park, Zimbabwe
Ruckomechi Camp in the Mana Pools National Park in Northern Zimbabwe has a renowned sleep-out deck known for its incredible animal sightings. The deck overlooks Parachute Pan, which is frequented by lion, leopard and wild dog. You can expect a thrilling night ahead of you!. It is the ideal setting to fall asleep to the sound of the African wild as you gaze at uninterrupted views of the Milky Way above.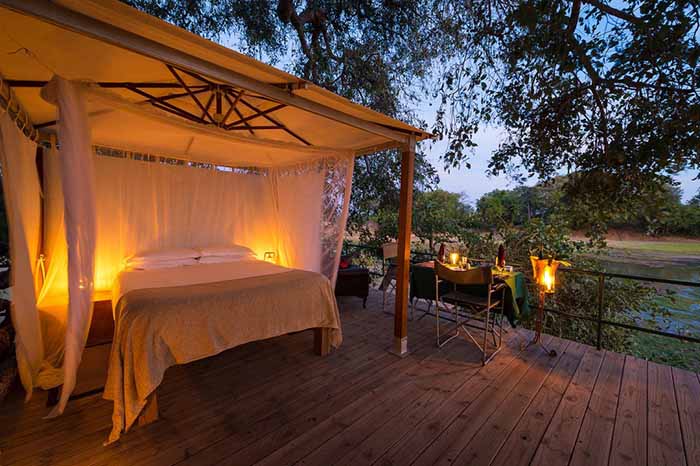 Elephant's Eye is a small eco-retreat located on a private concession bordering Zimbabwe's most famous game reserve, Hwange National Park. The aptly named deck, The Eye, offers all the creature comforts of the main lodge, and it situated overlooking a busy waterhole. Guests are escorted from the main lodge at dusk to spend a magical night under the Milky Way. Do not worry about setting an alarm as the rising sun (or trumpeting elephants) are sure to wake you up after a fantastic night of sleep.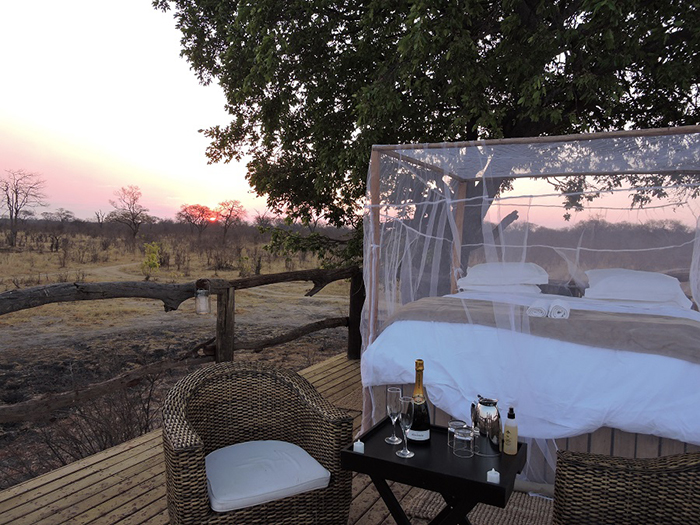 Kalahari Plains Camp – Kalahari Game Reserve, Botswana
Seated on a five million hectare desert reserve with an abundance of wildlife, the Kalahari Plains Camp is one of Botswana's most spectacular camps. Each of the lodge's 10 chalets are equipped with their own, stylish, sleep-out deck on the roof. The best part about this is that unlike other camps, where you usually pay extra for a night on a sleep-out deck, at Kalahari Plains Camp guests can spend every night (or only a few) under the beauty of the Botswana sky.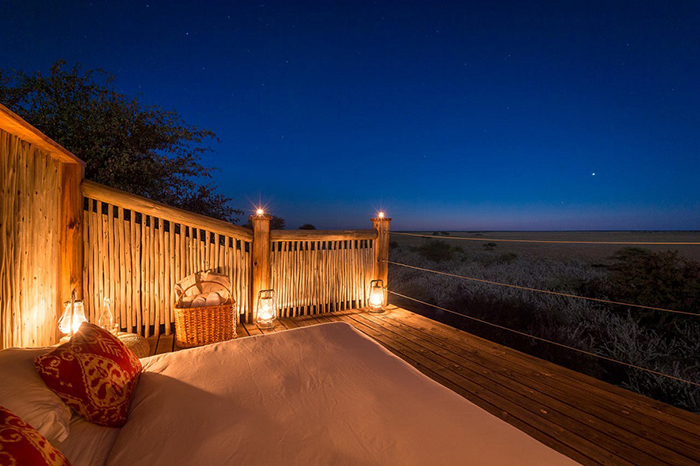 Baines Camp – Okavango Delta, Botswana
Built in one of the lushest areas of the Okavango Delta on a private concession, Baines Camp is a stunning lodge built on high raised platforms above the Boro River.  The camp has five luxury suites each with large private viewing decks. Guests are encouraged to wheel their four-poster bed out onto the deck. The decks also have outside baths, fittingly named "star baths" allowing guests to enjoy an opulent soak surrounded by nature.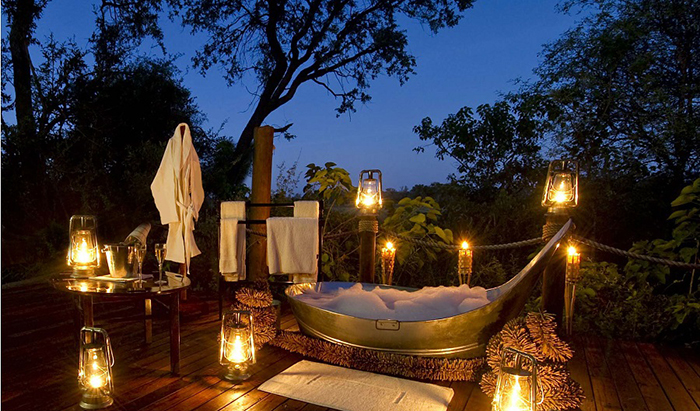 Kanana – Okavango Delta, Botswana
Constructed over two levels, the sleep-out deck at Kanana on the Xudum River in the South West region of the Okavango is the ideal choice for birdwatchers with an adventurous side. Just 20 minutes from the main camp, the deck peers onto a waterhole known for is fantastic birding. After dinner at the main camp, guests are escorted to the sleep-out deck to enjoy a starlit night. A plus for those a bit wary about spending a night alone in the African bush is that a Kanana guide is stationed a short distance away for protection.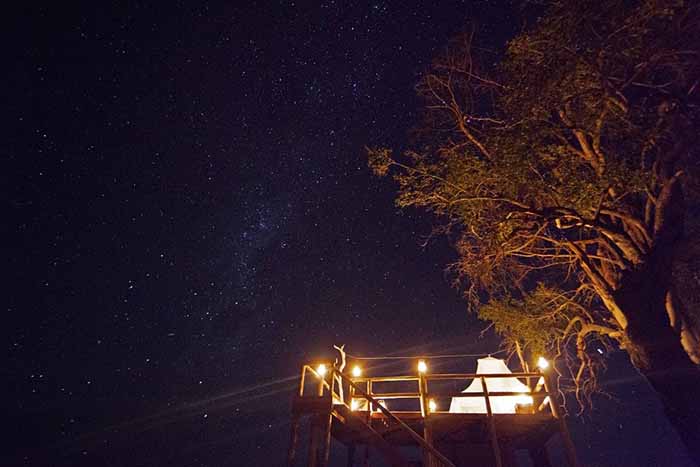 Kulala Desert Lodge – Sossusvlei Desert, Namibia
Kulala Desert Lodge is one of Namibia's most well-loved lodges. Set amidst the giant red dunes that this desert nation is so revered for, this lodge also offers rooftop sleep-out decks on the chalet roofs. The lodge has a total of 23 chalets named 'kalulas' which means 'to sleep' in Oshinwabo. For those looking to explore the incredible beauty of Sossusvlei, this lodge is the ideal choice as it is the closest point of access to the iconic dunes.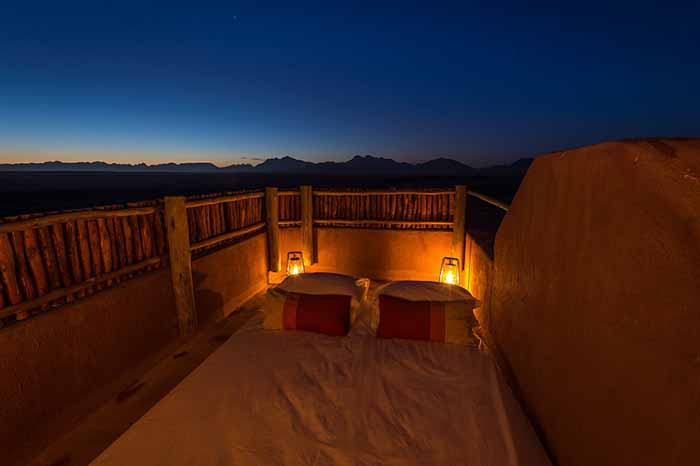 Lions Sands – South Africa
Lion Sands is situated in the world-famous Sabi Sabi Reserve in South Africa, with three incredible sleep-out decks, each with their own design and perks. There is Kingston Tree House, Chalkley Treehouse, and Tinyeleti Treehouse. All of their sleep-out decks offer world class five-star luxury, where guests are treated to dinner and drinks atop their deck of choice for the night.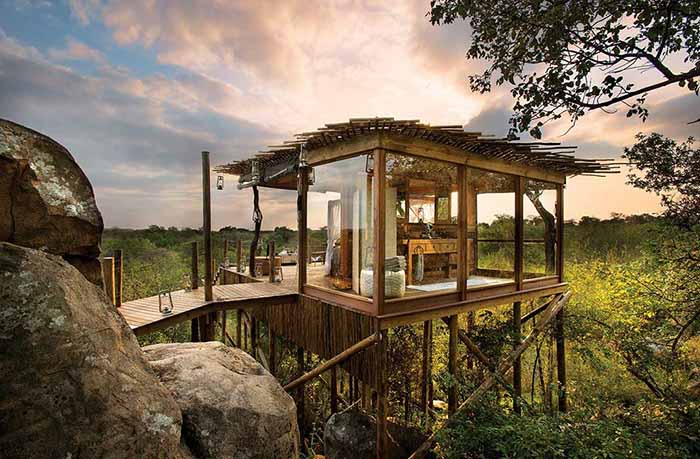 Tswalu's Malori – South Africa
Situated in the Kalahari Desert in South Africa's Northern Cape, Tswalu Game Reserve offers one of the most picturesque sleep-out decks on the continent. Named the Malori  (that means 'dreamer' in Tswana) the sleep-out deck does not compromise on luxury. The bed is dressed with gorgeous Aldona linen, and extra robes and slippers are provided in case it gets a bit nippy. The deck comes with a basin, an outdoor toilet and a shower that's only a short distance away along a lit path.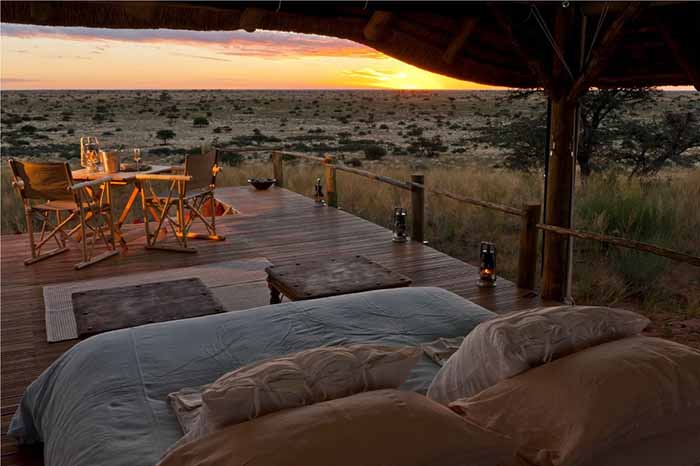 Rhino Post Safari Lodge – Kruger National Park, South Africa
Kruger National Park's Rhino Post Safari Lodge is not only one of their most popular camps, but also hosts several sleep-out decks within walking distance of the camp itself. Guests can take a quick stroll to the raised sleeping platforms in the afternoon to enjoy a delicious braai and sundowners by a beautiful waterhole. With unparalleled views of Kruger and the chance to immerse yourself in the African bush, this is a must-do for those wanting a unique experience at South Africa's most well-known park.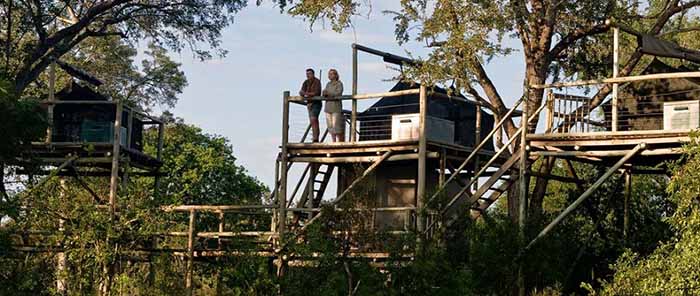 Loisaba Game Reserve – Kenya
Looking to spend a night under the stars in East Africa? Look no further than Loisaba Game Reserve in Kenya. This reserve first pioneered the sleep-out deck, and to this day, the Liosaba decks are one of the most exquisite on the continent. The reserve has three separate sleep-out decks, each with their own handcrafted poster beds and brass fitted bathrooms. The star beds look onto the Kiboko Waterhole, which is home to a resident hippo family and frequented by lots of game.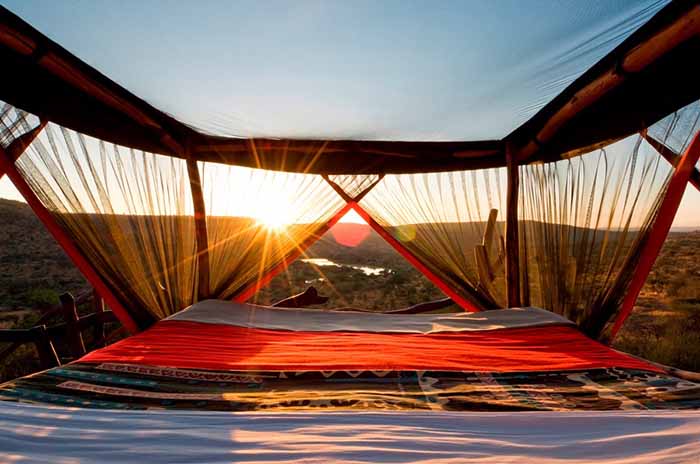 Subscribe to our newsletter.