Bordering the spectacular Virunga mountains in the west and stretching to the foothills of the Rwenzori mountains in the north, Queen Elizabeth National Park – located in the southwest extremity of Uganda – is one of Africa's finest protected areas.
While it constitutes an unspoiled savannah landscape dotted with forests regularly patrolled by resident chimps, it is the famed tree climbing lions that pull the intrepid explorer. It is one of the few places in Africa where when your guide shouts "lion!", and you look up!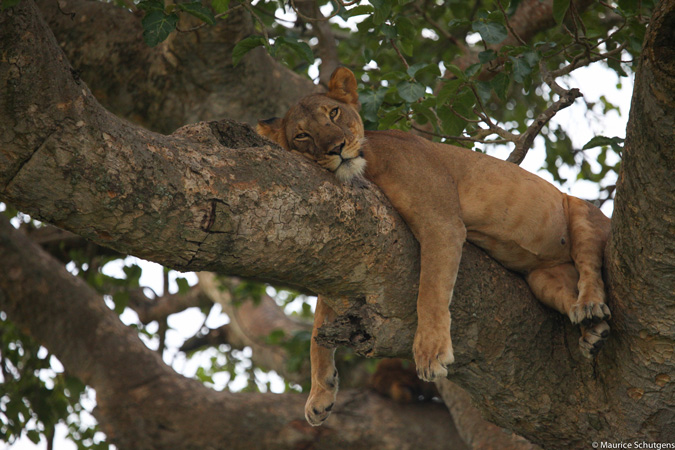 We had spent several hours driving around the northeastern part of Queen Elizabeth National Park earlier in the day and encountered a wealth of wildlife, from numerically abundant kob antelopes and bad tempered elephants to sunburnt hippos and the disappearing tail of a leopard in the tall grass.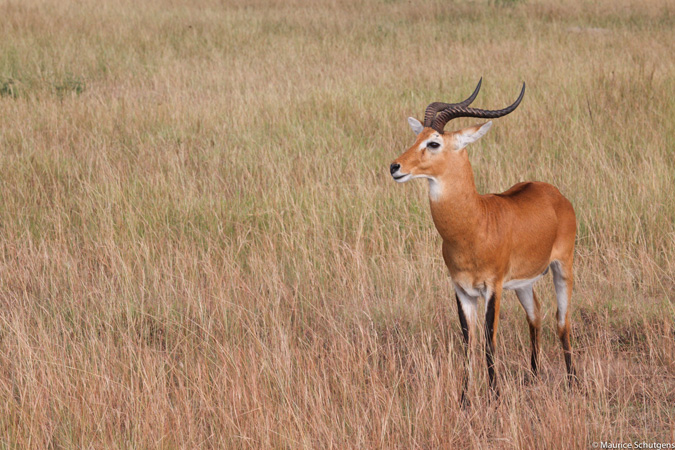 It was fantastic but we were on the hunt for something specific – and for that we needed to head to the Ishasha region, a trip off the beaten track into the deep south of the park.
Having arrived at the Ishasha gate, no more than a frontier outpost for the Uganda Wildlife Authority, our knowledgeable guide, Dickson wasted little time in tracking down the elusive lions.
Two hours later, we leant out over the rooftop of our vehicle scanning the trees overhead. Not a lion in sight. I had lost count of the number of trees we had inspected. Dickson turned to us, "I only know of one last tree guys – we hope for the best!" Indeed!
We followed the deeply rutted trail to the base of a colossal sycamore tree. We spotted them immediately. No less than five lions draped over branches happily avoiding the blistering midday heat.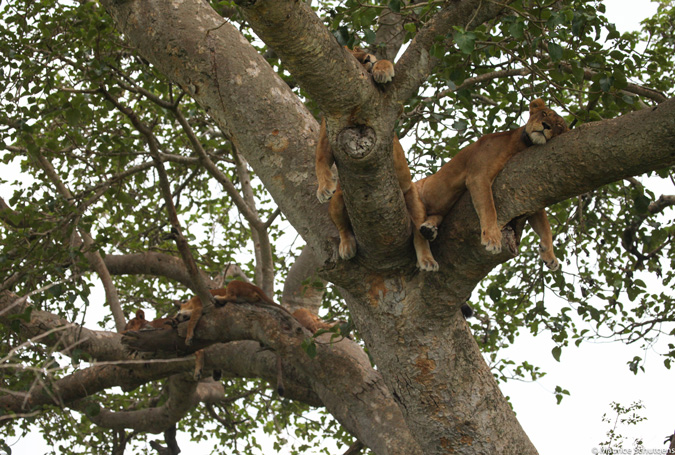 As we circled the tree we spotted more and more lions, even cubs all the way up in the highest branches, a staggering 4-5 metres above the ground. There wasn't a lot of movement I have to say – the odd yawn, a twitch of the leg from a dream, a slight repositioning to improve comfort and the flutter of a sleepy eyelid. Just watching them made us tired!
While there is no clear consensus on why this group of lions, as well as a few other prides dotted around the continent, choose to spend time up in the trees,  it is certainly a site to behold!
We gazed up at them for a solid hour before we left them to nap in peace.