Written by: Justin Williams
"This wasn't here yesterday!" proclaims Gareth excitedly as we bend down and take a closer look at a fresh spoor of a secretive Knysna elephant. A single imprint, perhaps three times as large as my outstretched hand, lies exposed on a muddy embankment. We let our eyes follow where the tracks may have led to in the forest, but our focus is soon lost to the dense undergrowth.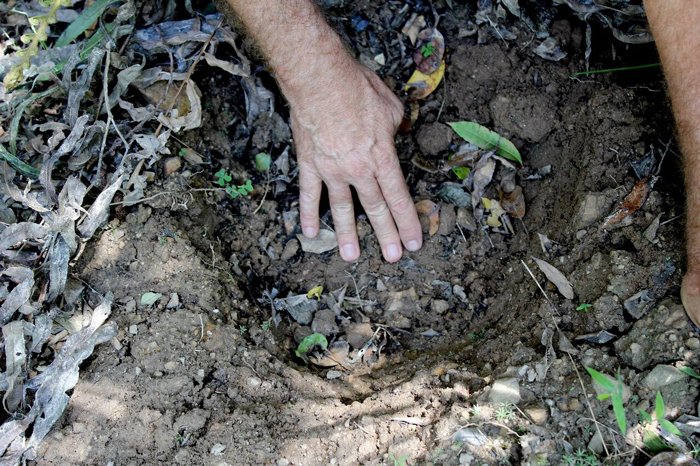 We are quite literally following in the footsteps of the legendary Knysna elephant, a forest-dwelling behemoth that has enjoyed a cult-like status in South Africa for the last 200 years. However, their story is unfortunately not one of glory but rather sadness – the elephants were nearly brought to extinction last century through extensive hunting, so much so that only one was believed to have survived up until last century – the "Matriarch" as she was affectionately known. Our guide for the day, Gareth Patterson, is an accomplished author of nine books, and he is a resident expert on the Knysna elephant. A deep respect for the forest, coupled with a modest amount of curiosity, has given him the opportunity to take a closer look at the compelling lives of the Knysna elephants, and today we are heading out on a 45km circular track through the forest to learn more.
The track bends through pine plantations and eventually descends into the thick of it – ancient yellowwood, ironwood and assegai trees form a dense canopy over a blanket of fern and other shrubbery. It's virtually impossible to see further than just a few metres into the shadowy forest, and a dark, almost eerie sense begins to creeps in. What secrets does it hold? We are brought up to speed about the behaviour of the elephants and learn that around 12-14 allegedly still exist to this day, in an area comprising around 1,000km². "They are successfully repopulating the area," confesses Gareth with a smile. Fleeting glimpses of the Knysna elephants, as well as regular instances of finding spoor and dung, has enabled him to profile most of them, giving them nicknames such as 'Strangefoot'.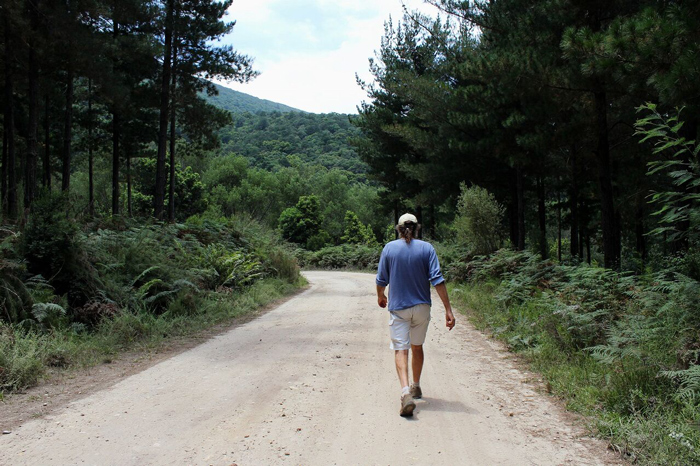 Our first stop along the way uncovers a sad-looking SANParks sign, seemingly bashed and then panel-beaten back into shape. Gareth explained the behaviour of an enraged bull elephant in musth – highly dangerous to anything that crosses its path. Signs, poles, trees and just about any other imposing object, which may seem like a threat to the frenzied bull may be charged and stomped upon, and in this case, a SANParks sign was the victim. We observe Gareth bending down and picking out a seemingly innocent stone, and we quickly learn that it is a prehistoric tool used by early man, a fascinating find indeed; a find we discover that is more common in the forest than we had previously thought.
This forest is by no means a quiet place, and our descent into it is marked with a combined symphony of loeries, green wood hoopoes and cicadas. We pull over and investigate a tree, which has had some of its branches stripped of its bark – the work of one of the Knysna elephants. Gareth looks around cautiously, but with confidence. He scans the dense thicket which surrounds us in search of more clues and saunters down the track with us in tow.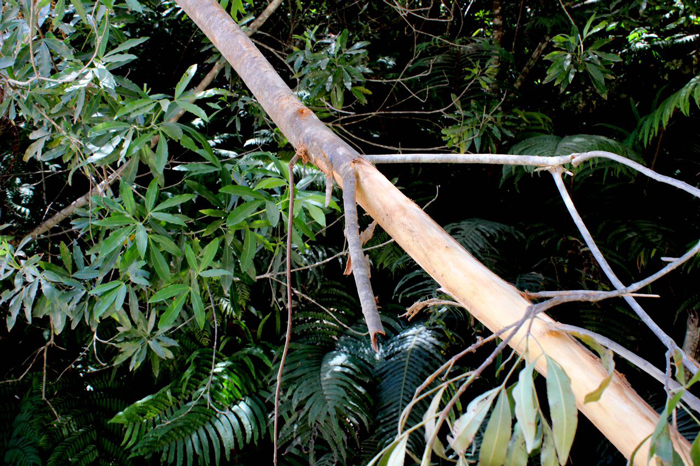 "Look there, fresh dung!" announces our guide with surprise as he points out one of the key components of understanding the mysterious lives of these elusive giants. We pull the vehicle over to the side of the track and step out, pushing vegetation aside to get a closer look. Gareth examines the dung by sifting through it, fixated on what clues it may reveal. He then pulls out a small, almost bark-like piece from it and proudly confesses its importance. "Ganoderma applinatum, a tree-growing fungus that also goes by the name of 'artist's conk', forms a part of the elephant's diet and is exclusively foraged by them for medicinal purposes," he explains as the piece is passed around. We learn that the full reasoning around their mushroom-eating antics is not fully known yet, and we also absorb the fact that the rich and fertile dung of the elephants actually plays a major role in the conservation of their forested habitat. Ferns, restios and a number of different plants are eaten and then passed through back to where they came from. Interestingly enough, we begin to understand that these elephants are not just residents of the forest, but of fynbos too – Gareth clarifies that a large part of the forest is fynbos.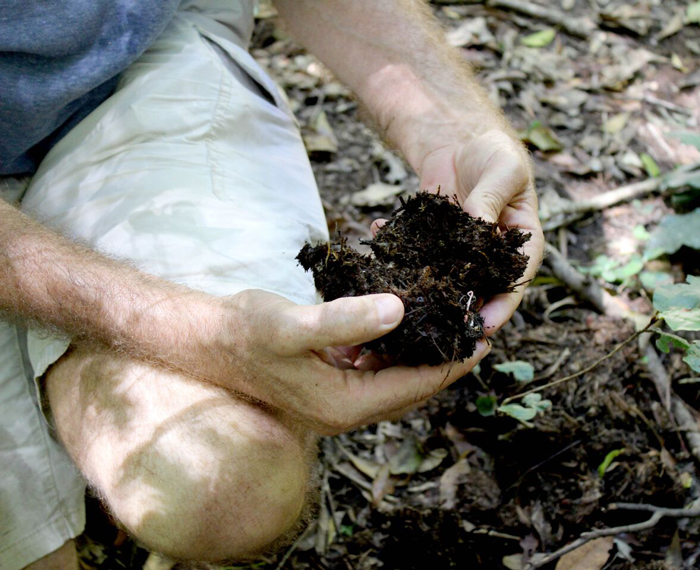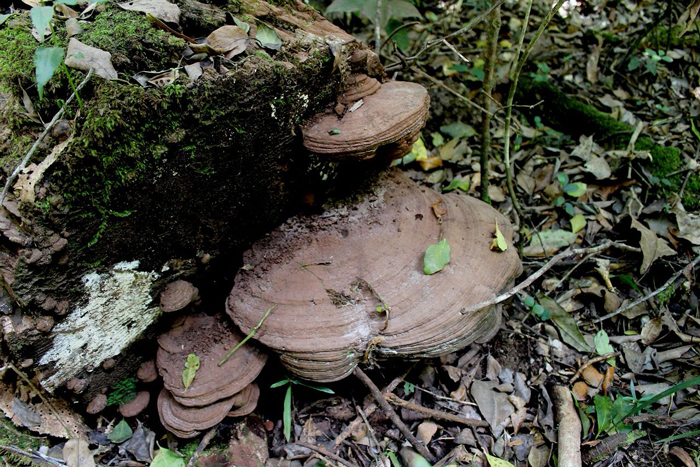 Crossing the Gouna River bridge marks one of our last stops on the route. We eventually start rising to the crest of the valley and the beauty of the landscape is presented to us in full panoramic fashion – patches of Leucodendron proteas give way to a dark and mysterious ravine, a place which Gareth tells us has yet to be explored due to its inaccessibility. From this plateau a large section of the forest is visible, and we are shown several points where the elephants have been seen in the past by Gareth.
Not many people have had the opportunity to get so close to these giants of the forest, and even fewer have managed to understand their lifestyles as much as Gareth has. We may never know the full extent of their mysterious ways, but he is getting close.
---
To find out more about Knysna and the Secret Elephants Forest Experience, read: The Secret Garden Route