Towards the end of last month I had the pleasure of spending a whole morning walking with Thabathani Tshaka, an expert art rock guide, in the Upper Tsitsana Valley – a remote and forgotten river valley in the far northern reaches of the Eastern Cape, on the slopes of the Southern Drakensberg Mountains – to see South Africa's latest and largest rock art discovery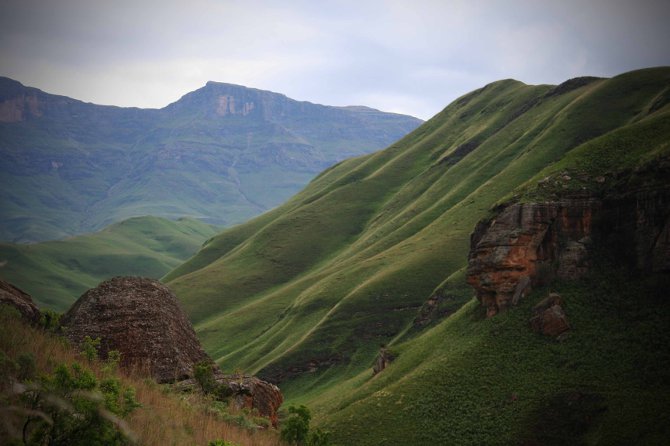 Thabathani (Thaba for short) was appointed to me with promises that he was the most experienced and knowledgeable trail and rock art guide in the area. He was going to show us the recently discovered rock art panels at Kwabhaliwe, and indeed he proved to be as valuable and unique as the very rock paintings he shared with us that day.
Gentle, patient and with a wonderful sense of humour and a fiery, innate passion, Tshaka seemed physically unable to hold back any story relating to his beloved valley and the beautiful mountains that had watched him grow up.
Needless to say every minute spent with him was filled with candour and laughter, and as it so happened, many of his stories came up in conversation for weeks after we dropped him back at Mount Frere.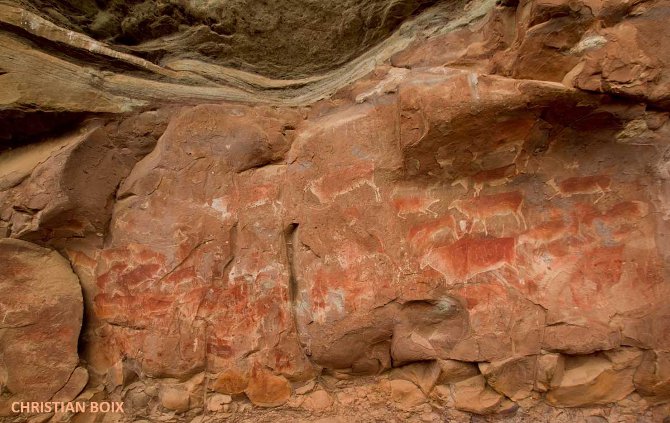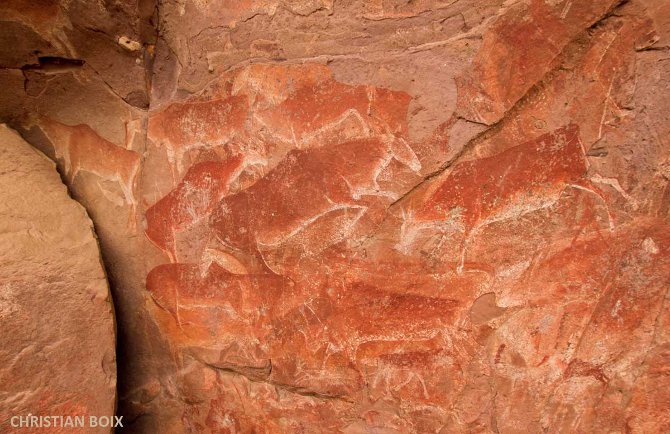 Under menace of rain we clambered up the hill stopping ever so often to marvel at a Cape vulture squadron soaring by, or to examine a funny shaped buttress, or learn a few ethno-botanical facts about the grasses and flowers we were so casually stepping over. Particularly fascinating were Thaba's shared memories of his upbringing during the apartheid era and the protection the remoteness of the Upper Tsitsana Valley afforded him during those years.
Living here deep in the mountains within a tight-knit community, Thaba was able to grow and develop relatively unscathed from what was going on elsewhere in South Africa. Instead he was able to unfurl in an environment rich with customs, traditional values and strong healing powers. And judging by what we saw on our drive into the area, those values seem to remain strong and well alive in this day and age.
Before we could even break a sweat, we had reached the cave. As we raised our gaze to drink from our water bottles, we found ourselves facing what was indeed the best, most well preserved, longest, brightest, richest, most vibrant rock art painting I have ever seen in the Drakensberg. In fact, they were as good as – if not better than – Altamira's paintings in Spain, or the Lascaux paintings in France.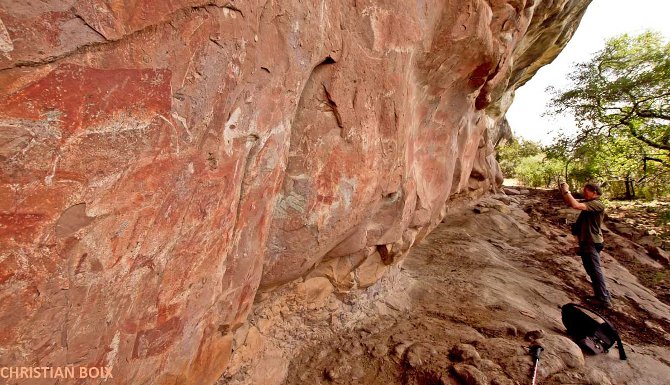 The amazing detail, brilliantly saturated colours, complex hues, diversity of shapes and forms and overall thickness of the painting was striking. The size of the animals and immaculate state of preservation was totally unexpected. And whilst it may have taken one and a half hours to reach the overhang, we all felt it was well worth every step we had to take to get there.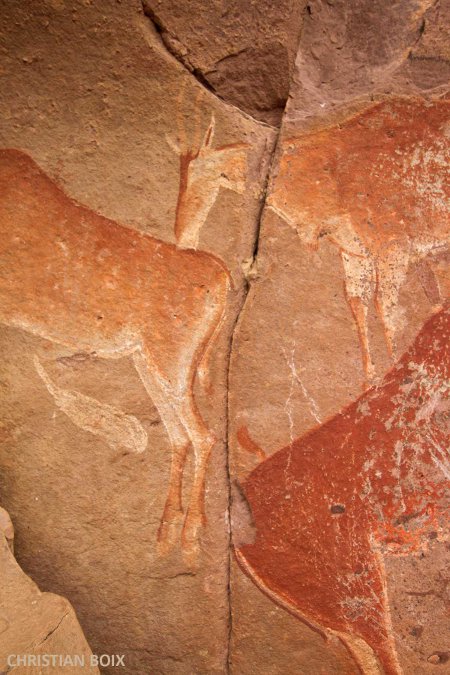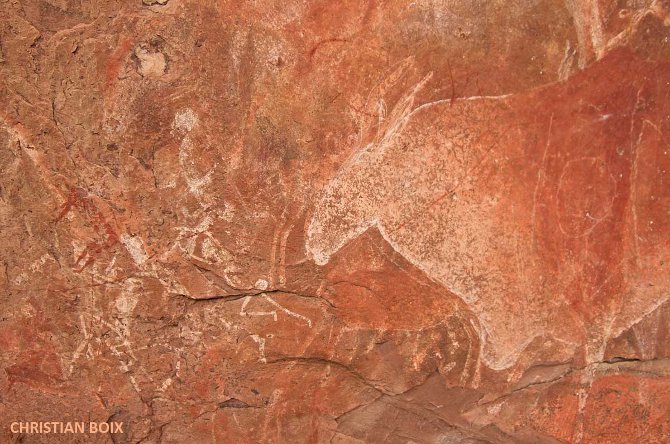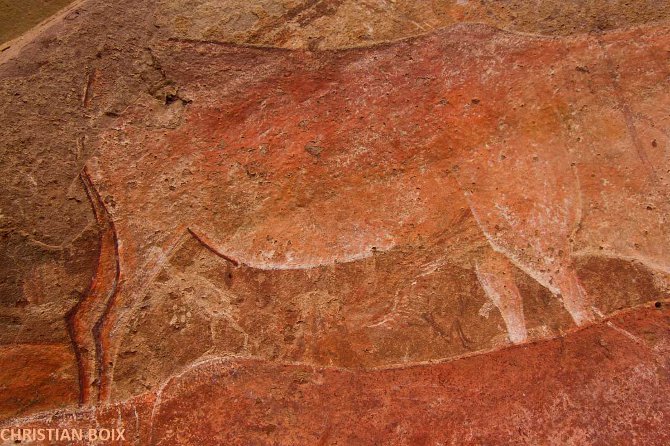 The panel held in excess of 50 exquisitely painted polychromatic elands, with a few other species (mountain rhebok duiker, etc.) thrown into the mix, as well as several other depictions that symbolised various spirits of the lake, river and night. There were also several Therianthropes – the San equivalent of a shape-shifter, or our medieval understanding of a werewolf. Therianthropes in rock art depict the transient forms adopted by Shaamans as they enter a trance state and take on non-human forms – most often these forms are of the hunted quarry, which in our case was the eland.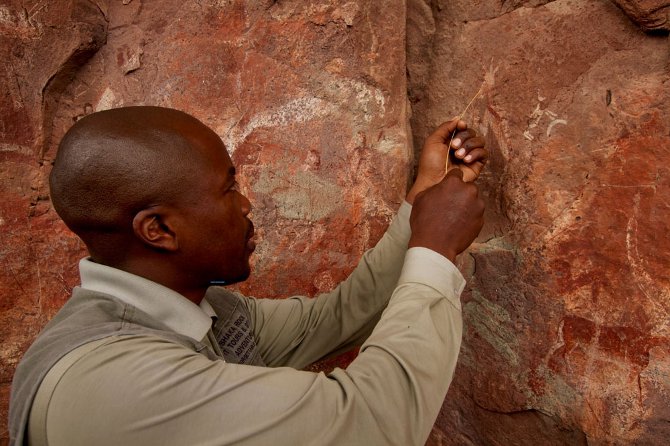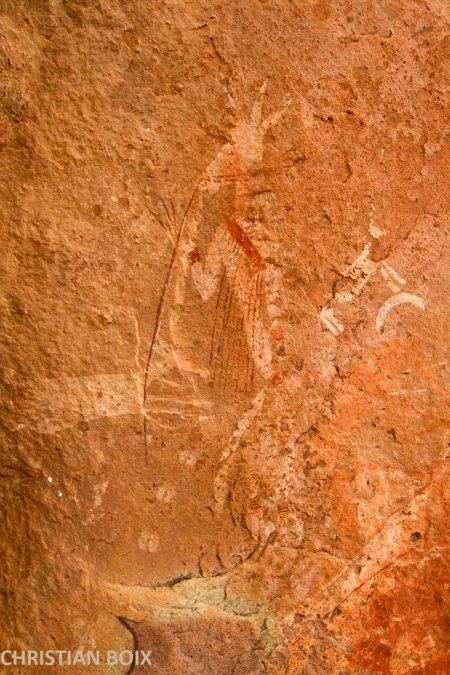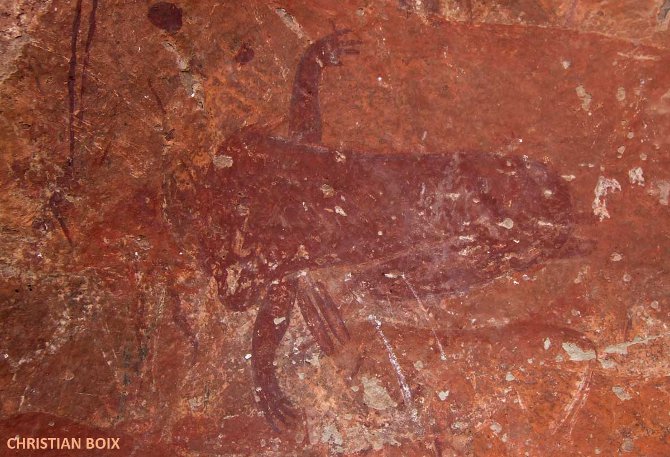 Thaba then launched into his "pièce de résistance", and without holding back, his deep voice and cunning story-telling prowess grabbed us by the shoulders and shook us, as if to rattle our souls from one side to the other. He did all this whilst chanting, and then went on to explain the process – knowledge of which he must have picked up whilst eaves-dropping from a crack in the door, or a dirty window pane, the last time a "traditional healer" visited his homestead. Interestingly, Thaba is actually a fully converted and devote Christian. He is just hugely proud of his animist ancestry.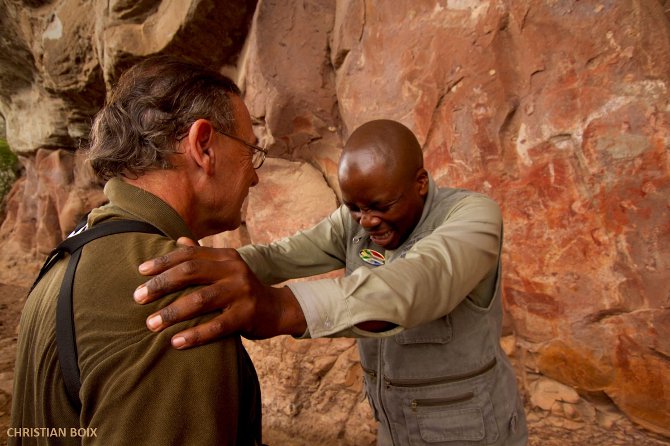 Thaba's stories really took hold of us. His explanations had our eyes travelling over the panel – up and down, left and right – following along with his commentary. But it also had us travelling from the present back to one gloomy night in the Drakensberg years before, to a time when a San tribe were gathered at the Kwabhaliwe Cave, humming and chanting, sharing hunting stories, and painting these rock faces with tales for posterity.
Our imaginations – wildly adrift – were lured and guided across the threshold between the living world and the realm of departed souls, and all because of Thaba and the great story he told us. Thanks Thabatani Tshaka!
Anyone interested on visiting the Kwabhaliwe Caves with Thabathani Tshaka please contact Africa Geographic Travel.
For interest, here's a video of Thaba doing a Xhosa tongue twister:
To comment on this story: To protect you against trolls & misinformation, we only permit comments in our app. See how to DOWNLOAD OUR APP below.

---
HOW TO GET THE MOST OUT OF AFRICA GEOGRAPHIC:
Download our APP (mobile phone & desktop) to receive travel discounts, comment on our stories, make safe donations and network with others like you. Find out more here.

Subscribe to our newsletter to receive our best stories in your inbox weekly and for travel discounts. Subscribe here.
Travel with us. Travel in Africa is about knowing when and where to go, and with whom. A few weeks too early / late and a few kilometres off course and you could miss the greatest show on Earth. And wouldn't that be a pity? Search for your ideal safari here, or contact an Africa Geographic safari consultant to plan your dream vacation.
---