In this week's news wrap a giant elephant was killed by a Russian hunter – despite wearing a research collar; three rangers have drowned in Lower Zambezi; the South African DA says that the illegal abalone trade is fuelled by the Department of Agriculture; Kenya considers hunting as land-use model for community and private land; reports say that Grace Mugabe allegedly gifted ivory to Asian first ladies; five people were arrested over possession of elephant tusks valued at R600k; and a man has been jailed for 18 months over possession of elephant bones in Malawi.
Giant elephant killed by hunter – despite research collar (full story: AG News Desk)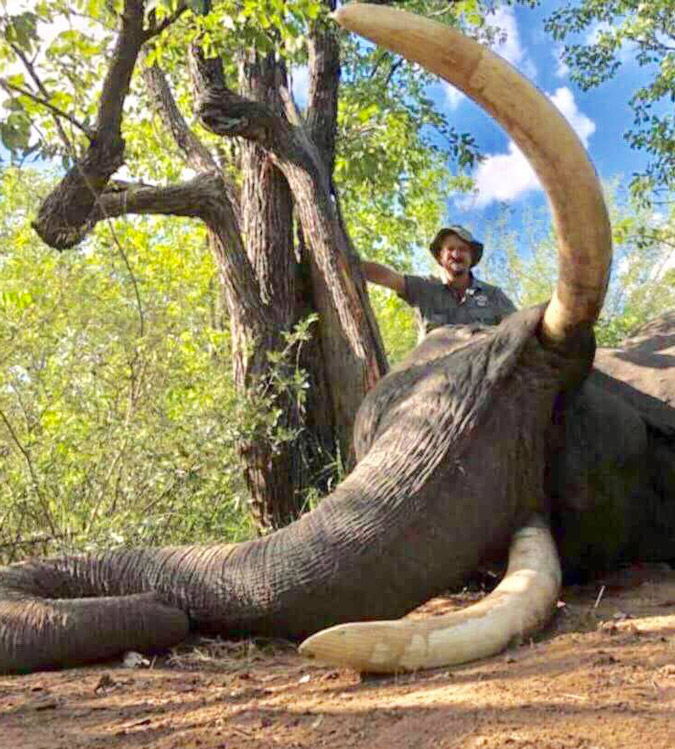 Another large-tusked elephant has been removed from the gene pool, this time by a Russian hunter in Zimbabwe. The giant elephant was collared for research purposes, a fact that the entire hunting party of seven people (including a government ranger and two trackers from the community with detailed knowledge of the area) claim not to have noticed at the time. This was "a genuine mistake due to a lack of communication" said the Zimbabwe Professional Hunters and Guides Association.
According to our sources, the 14-day hunt was legal, taking place in a community-run conservancy called Naivasha bordering on Gonarezhou National Park in the remote south-east of Zimbabwe. The collared bull elephant made the fatal error of wandering across the unfenced boundary between the two pieces of land in February this year, and had been resident in the Naivasha area since then.
The hunt was managed by professional hunter Martin Pieters of Martin Pieters Safaris, a member of Safari Club International and, according to his website, chairman of the Zimbabwe Professional Hunters and Guides Association (Editor: we have received information that he is no longer chairman).
The Frankfurt Zoological Society, who collared this and other elephants for research purposes, issued a carefully-worded statement about the incident, and noted that "There is no law that protects a collared animal from being hunted in Zimbabwe, but there is general acceptance that the ethical position is that a hunter will avoid shooting an animal with a collar." They go on to say that "The data from this bull has been captured and will help us with our ongoing efforts to find solutions, together with our local and international partners, to conservation questions in a world where the challenges to find space for wildlife and their habitats are becoming ever more complicated."
Three rangers drown in Lower Zambezi (full story: ZimNews)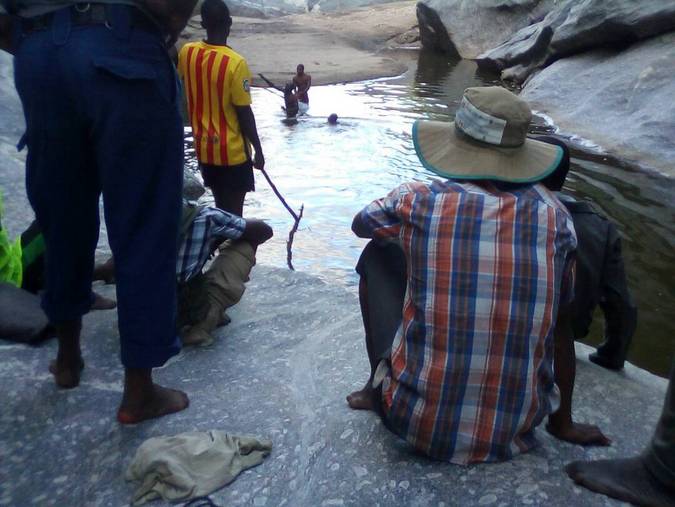 The International Anti-Poaching Foundation (IAPF) is deeply saddened by the accidental drowning deaths of two rangers and one ranger instructor from the Akashinga team in Zimbabwe.
During a patrol on March 25, 2018, five wildlife protection rangers were on patrol in the lower Zambezi Valley. Three members of the team began crossing a river while two others navigated around a cliff face. While Rangers Tendai Hunawe, Edzai Malunga and Tarzman Foma crossed the river, one began to struggle. The other two quickly came to her aid. Tragically, all three drowned.
Zimbabwe Republic Police officers were immediately notified and responded to the location where the bodies of the rangers were recovered. They were joined on-site by IAPF founder Damien Mander.
In keeping with local protocols and tradition, funerals will be held immediately. IAPF is providing all possible assistance to families, relatives, and affected local communities. (continue to full story here)
Illegal abalone trade fuelled by Dep. of Agriculture, DA accuses (full story: Times Live)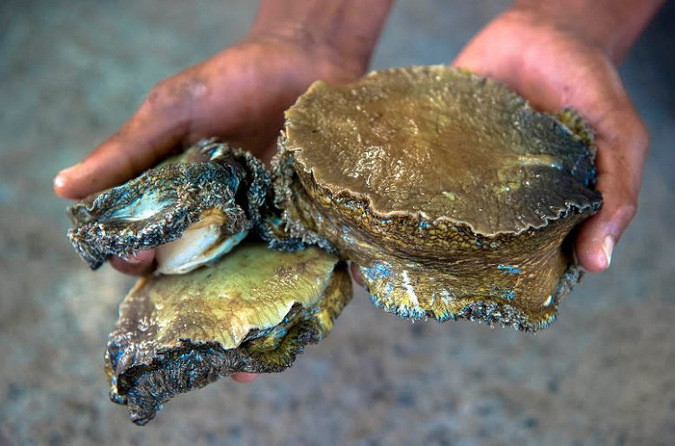 The South African Democratic Alliance has accused the Department of Agriculture' Forestry and Fisheries of fuelling the illegal abalone trade.
The party was commenting on a report that the Hawks were investigating an alleged R1-million bribe paid to former president Jacob Zuma by an abalone dealer.
City Press reported on Sunday that Zuma was being investigated by the Hawks for allegedly accepting a R1m cash bribe from a Western Cape abalone dealer' Deon Larry' in exchange for keeping Agriculture' Forestry and Fisheries Minister Senzeni Zokwana in his Cabinet.
The newspaper reported that' in an affidavit deposed at the Lyttelton Police Station in Centurion in December' businessman Chaile Seretse alleged that Zokwana' union federation Cosatu president Sdumo Dlamini and agriculture department deputy director-general Siphokazi Ndudane each received a R300'000 bribe from the same businessman' .
Hawks spokesperson Hangwani Mulaudzi this week confirmed that the Hawks were investigating the bribery claims against Zuma' Zokwana' Dlamini and Ndudane' City Press said.
Commenting on the probe' the DA's Shadow Deputy Minister of Agriculture' Forestry and Fisheries' Pieter van Dalen' said this was not only the latest evidence of a corrupt enterprise that Zuma had presided over but "exposes the murky world of abalone poaching which has reached crisis levels' especially in the Western Cape". (continue to full story here)
Kenya considers hunting as land-use model for community and private land (Full story: AG News Desk)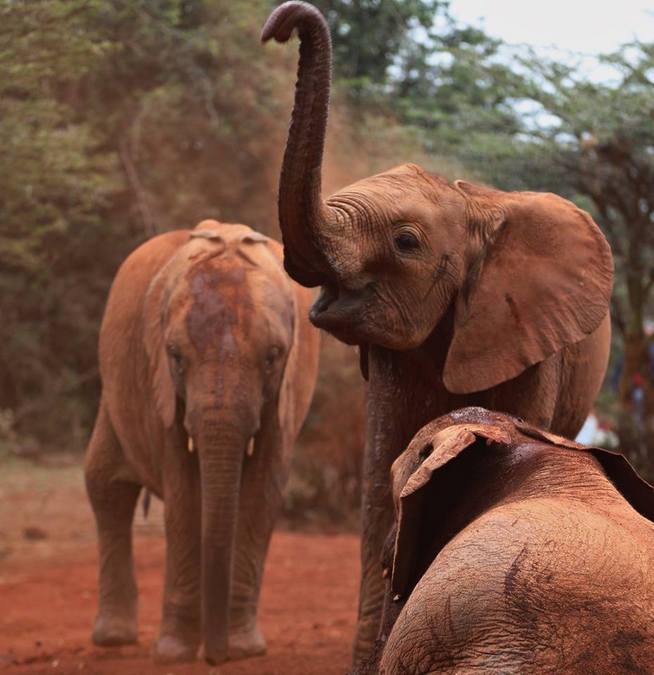 The Kenyan authorities are considering bringing back hunting in some form (form unknown as yet) into their conservation model or, as they say, "consumptive utilisation of wildlife".  The areas being considered for this model are community and private lands (not formally protected areas), where local inhabitants require incentive to value and conserve wildlife. Sport/trophy hunting is prohibited in Kenya (and unlikely to be re-introduced), but wildlife ranching is permitted. Wildlife ranching is a successful conservation tool in countries such as Namibia and South Africa.
According to the report, the Kenyan Ministry of Tourism & Wildlife has set up a task force to look into the modalities of wildlife utilisation as set out in Section 4(f), Section 72, and the Eighth Schedule of the Wildlife Conservation and Management Act, 2013.
The task force will evaluate options of consumptive utilisation of wildlife (game farming and game ranching) in community and private lands, taking cognisance of the impacts, successes and failures of the previous wildlife cropping program. The task force will also evaluate how consumptive utilisation will contribute to the national GDP, food security, job creation and livelihood support, with a view of creating co-existence between communities and wildlife. (continue to full story here)
Grace Mugabe allegedly gifted ivory to Asian first ladies (full story: AG News Desk)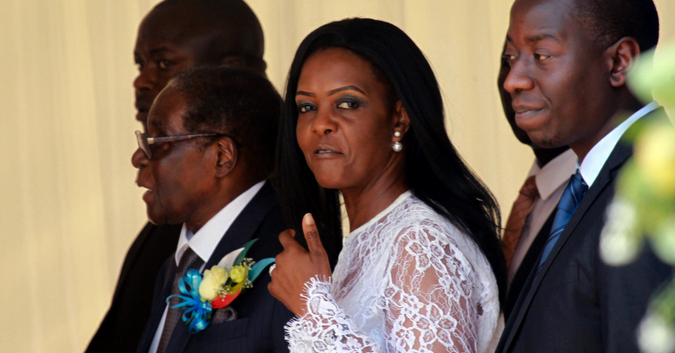 Zimbabwe's former first lady Grace Mugabe allegedly ordered national parks officials to release ivory to her from its storerooms to be given as gifts to first ladies in Asia, a newspaper claimed Wednesday.
Environment minister Oppah Muchinguri-Kashiri has commissioned an investigation into the alleged practice and the findings will be released soon.
"I was told that she [Grace Mugabe] would prevail upon [national parks] officials to release the ivory on the basis that they were the first lady's donations to unnamed fellow first ladies in the Far East," Muchinguri-Kashiri told the private Daily News.
"I then commissioned a full investigation into the matter which has since been concluded and as of now, their report is being compiled, which I will release on conclusion," she added.
Grace Mugabe was not contacted for comment on the claim. (continue to full story here)
Five arrested over possession of elephant tusks valued at R600k (full story: IOL News)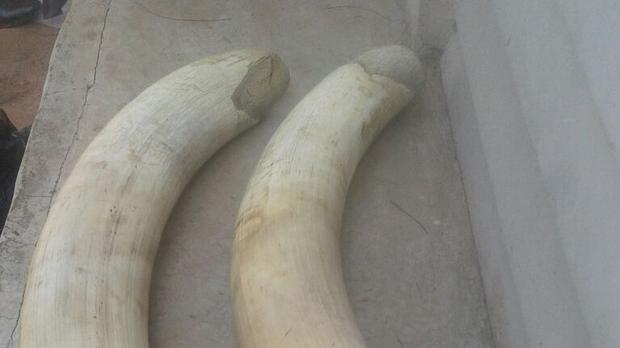 Five people were arrested for the unlawful possession of ivory in Lefaragatlha near Rustenburg, South Africa, North West police said on Wednesday.
Spokesperson Lieutenant Colonel Amanda Funani said they were arrested on Tuesday, after the police responded to a tip-off on the alleged illegal sale of ivory.
"The police went to a house in Lefaragatlhe where they found the suspects. A search was conducted and two elephant tusks with estimated value of R600,000 were found inside the boot of a Toyota Vios with Botswana registration number. The suspects were arrested after failing to account for the possession."
They are expected to appear in the Bafokeng Magistrates' Court in Tlhabane on Thursday.
Man jailed for 18 months over possession of elephant bones in Malawi (full story: Malawi24)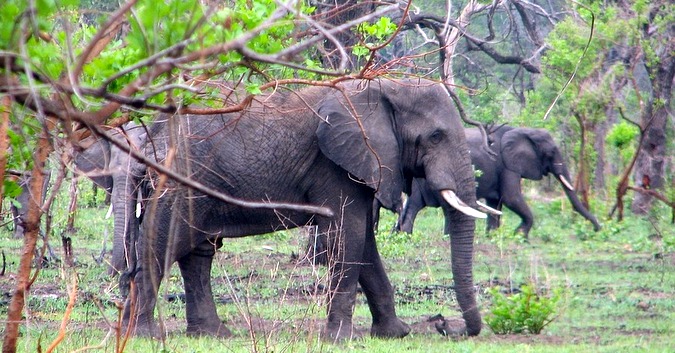 The Senior Resident Magistrate Court in Lilongwe has sentenced Jafali Gunde, 41, to 18 months in jail for being found in possession of two elephant bones.
According to Central Region Police spokesperson Nolliettie Chihana Chimala, the court heard that on 10th March police received information from well-wishers that the convict was offering for sale two raw bones of an elephant at Area 23 in the city.
Acting on the tip, the officers from Criminal Investigation Department (CID) at Central Region Police Headquarters teamed up to follow up on the matter.
"Some officers pretended to be potential buyers and approached the convict and in the process an arrest was made," Chimala said.
A charge of illegal possession of specimen of listed species contrary to section 86 (1) as read with section 110 B (b) of the National Parks and Wildlife Amended Act 2007 was levelled against Gunde to which he pleaded guilty.
The state pleaded for stiff punishment on the offender to deter other would be offenders. Pronouncing the sentence, Senior Resident Magistrate Shyrene Yona slapped Gunde with 18 months imprisonment with hard labour.