Written by Andrew James Hofmeyr 
The recent spate of white shark carcasses washed up on our shores has seen the disappearance of white sharks from known hotspots. Dave Hurwtiz, owner of Simons Town Boat Company, says that over the past few years there have been shark necropsies performed on both sevengill sharks and great white sharks.
The necropsies, performed by South Africa's foremost shark research biologists, Dr Alison Kock and Dr Alison Towner, have found the injuries to be consistent with orca attacks.
Dave speculates when he says "both False Bay and Gansbaai, where the remains of sharks have been found, are highly populated areas, hence most washed up animals will likely be found". On the other hand, "most of our coastline however is remote and very sparsely populated, so the magnitude of these predations and the effect on the shark population is difficult to determine".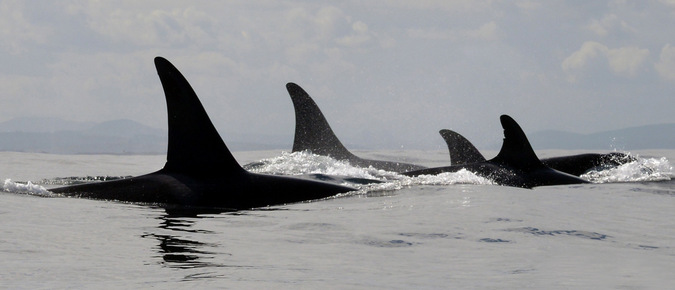 It doesn't appear then that these attacks are a new phenomenon and Dave doesn't believe that the killer whales have suddenly changed their diets. He backs this up by saying that "being long living predators, attacking an unknown prey could possibly result in the loss of an eye which would have a devastating effect on their ability to hunt".
Thus they tend to specialise and do not quickly change their habits. Dave thinks that the recent spate of shark killing behaviour can be attributed to a single 'suspected' pod of two orcas.
Port and Starboard
According to Dave, "they are the most re-sighted pair of all the killer whales on the database and have been spotted 16 times at various locations between Luderitz and Gansbaai". They have a habit of roaming inshore, often metres from the shoreline into kelp beds – but always in hotspots known for sevengill sharks and great white sharks.
Dave first saw the pair in False Bay in 2016 and named them Port and Starboard, "as each has a collapsed dorsal fin, one flopping over to the right and the other to the left".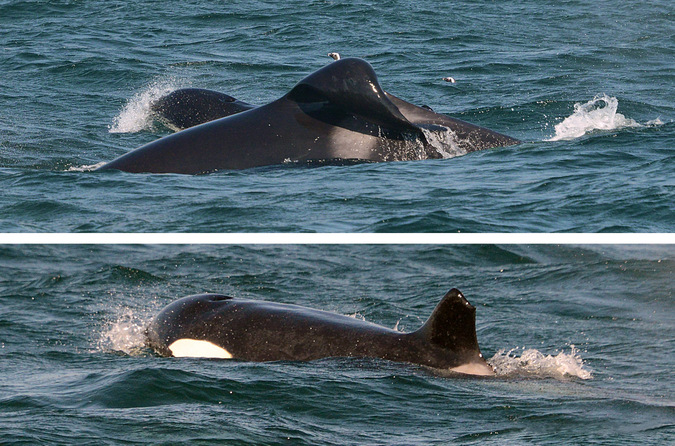 It's unusual, says Dave, to come across killer whales with collapsed dorsal fins (only 4%). Of the 16 sightings, 15 have been just the two of them. However, deepening the intrigue, Dave says "earlier this year I came across Port with another killer whale which interestingly also had a damaged dorsal fin".
Port and Starboard are currently the leading suspects in the fast becoming infamous 'shark killings of 2017' due to the fact that they have been sighted "close to the scene of the crimes on nearly all occurrences". The evidence is speculative but Dave was sent a photograph "with a fin protruding alongside one of them. We cannot positively identify the prey item from the photo, but hopefully one day someone will witness them hunting (hoping me!) and at that point they may either be acquitted or found guilty as charged!"
It is unusual for male killer whales to move away from their mothers, a fact that has them affectionately referred to as 'mommy's boys'. This leads Dave to believe that these boys may just be going on a swimabout and that they may belong to a larger pod.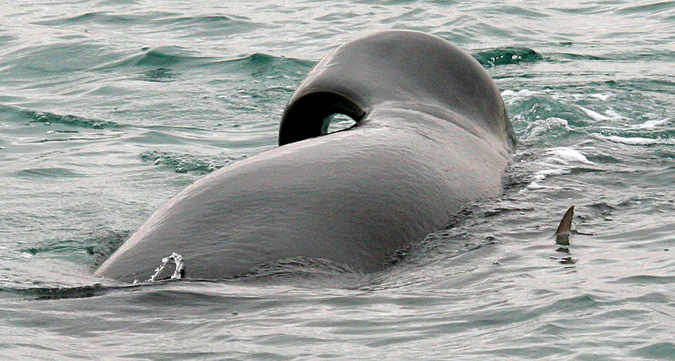 Long-term effects of the killer whales in False Bay
"It's no coincidence that great white sharks and sevengill sharks disappear after a predatory event, sometimes for as long as eight weeks", says Dave, putting this down to an animal's common sense and their instinctive ability to avoid danger. Where they go and what they do we are not sure but, says Dave, "fortunately they do return, which is equally good for both the ecosystem and shark cage operators".
A special connection
There are few natural history experiences than can top an up close and personal encounter with a pod of killer whales. These animals are just incredibly majestic, super intelligent, intoxicatingly beautiful, powerful and yet, so elegantly serene. Being as aware of what's above the water as below, they'll often spy-hop to check you out. That special moment when you have eye contact with a killer whale can only be described as a sacred experience!
They are the oceans apex predator and dominate their aquatic domain without challenge. The privilege of being in their presence is not only exhilarating, but truly humbling. They will dictate the interaction from the get-go. After all, they have found you and not vice-versa, and if you're respectful, they may even give you a glimpse into their incredible world.