The hunting of Cecil the lion on the eastern border of Hwange National Park in Zimbabwe has triggered hysteria from the public, and it's been difficult to sift fact from fiction.
While I was recently in the 14,650 km² Hwange, I interviewed lion researcher Brent Stapelkamp, who has worked for nine years on the Hwange Lion Research Project, which was started in 1996 by Dr Andy Loveridge as part of an Oxford University study on the dynamics of hunting on lion populations. (Click here to download the research paper).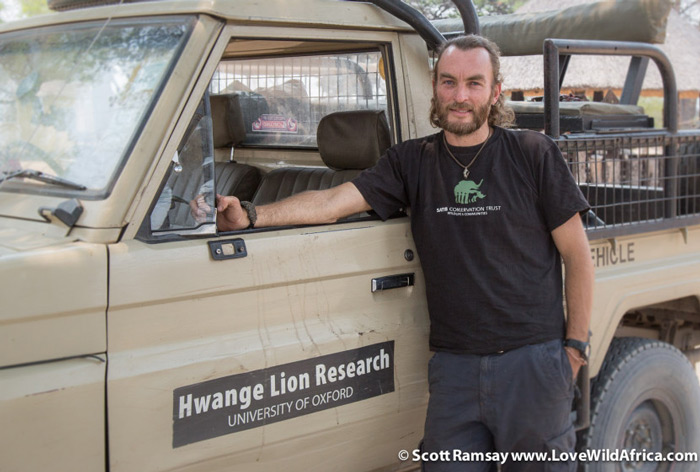 Brent lives on the border of Hwange and is responsible for collaring, tracking and studying the lions that live in the east and south of Hwange, part of which formed the territory bossed by Cecil the lion.
Cecil was collared in 2008 with a GPS satellite collar, and at the time of his death, he was one of 30 collared lions in Hwange. The data of his movements was uploaded every two hours to a database. Together with hundreds of hours of direct observation of Cecil, the data gave Brent a better understanding of Cecil's movements and behaviour than anyone else.
According to Brent's data and information, Cecil was initially shot and wounded with a bow and arrow at about 10 pm on 1st July 2015 on a private farm in the Gwaai Intensive Conservation Area, which is about a kilometre east of the national park's unfenced boundary. An elephant carcass was the bait. From subsequent data on Cecil's collar, the research team could tell that Cecil had been killed by a second shot about 11 hours after the initial arrow was shot into him. He died at around 9 am on 2nd July.
Scott Ramsay (SR): What was illegal about the hunt?
Brent Stapelkamp (BS): First, there was no hunting quota on lions this year in the Gwaai area. The minimum age of lion that can be hunted is six years. Last year in 2014 only one lion out of the five shot in the area was above the age of six. One of those lions was just two years old. So this year, the hunters were penalised, and the quota was removed from the landowners. Cecil was supposed to be 100% safe because there was no lion hunting allowed this year.
Second, the Zimbabwe law says that if you're hunting a lion, you must have a parks ranger with you. There was no parks ranger present.
Third, the hunter shot Cecil with a compound bow. The law says you must have a special permit for that, as well as ranger present on a bow hunt.
Fourth, the hunt permit was bought on a quota swap, which is illegal. The hunting operator bought the permit from an area elsewhere in the country, which had no lions. Then he came to the area next to Hwange and hunted Cecil with an illegal permit.
Fifth, there were no hunt return forms, no tax invoice, and no one in an official position in parks knew they were hunting – all of which is illegal.
SR: Is it legal to hunt predators at night with a spotlight, and is it legal to use bait?
BS: It is legal to hunt using a spotlight on private land. And yes, hunters in Zimbabwe are allowed to bait cats like lions and leopards to hunt them.
SR: What was special about Cecil?
BS: He was a favourite among visitors because he was so relaxed around vehicles with people. He made a great spectacle and was so confident that even if you were right next to him, he'd ignore you and just do what lions do. He wouldn't sit and watch you. He'd just carry on being a lion.
And this is why hunting areas and eco-tourism areas shouldn't be adjacent to each other. Because Cecil was so relaxed around vehicles with people, he probably wasn't at all worried about approaching the bait that the hunters set while they were waiting.
We've subsequently heard that Cecil's fellow pride male, Jericho, came to the elephant carcass first. The hunters then waited an hour, watched Jericho feed on the elephant, and then Cecil pitched up. So that shows that they were after Cecil because honestly if you saw Jericho, no hunter would turn him down. Jericho is also a very impressive lion, but they were targeting Cecil, it seems.
SR: In the case of Cecil, some hunters say he was old, past his breeding age and no longer part of a pride so was a suitable target. Is this the case?
BS: Yes, hunters will say that, but even though he was 13 years old and older than most lions, he was still dominating the breeding and holding his substantial territory. His teeth were in perfect condition. He was in his prime. Even his male lion partner Jericho never had much of a chance to breed because Cecil was still the boss of two different prides. So it's nonsense when hunters say he was past his best.
SR: What has the impact been on the lions in this territory now that Cecil is dead?
BS: Together, Cecil and Jericho looked after two different prides. There's one pride with three lionesses, but no cubs, and Jericho is now spending most of his time with them since Cecil died. But the other pride, the one with Cecil's cubs, has shifted its territory. They were from Ngweshla, further south. Now, since Cecil's death, another big pride of about 22 lions has moved in there and pushed Cecil's pride out.
So Cecil's pride with cubs now only has Jericho as a dominant male, and he's hardly with them, so there's a real risk of Bubesi, the male from the incoming pride, killing the six cubs. Cecil had seven cubs, but one of them disappeared recently. No one knows how or why.
SR: What are the goals of the Hwange Lion Research Project?
BS: They're continually evolving. Today the primary goal of the project is to mitigate the impact of human-lion conflict in surrounding communities, using lion guardians to track the lions and keep them away from cattle and livestock.
But the original goal was purely research-based. Ironically, Dr Loveridge studied the impact on the park's lions of the hunting of lions on adjacent land. So the exact scenario that played out with Cecil, where a dominant male lion is lured out the park and killed. What is the effect of this type of trophy hunting on the park's lions?
And what Dr Loveridge showed in his study is that a vacuum effect is created. If you shoot a lion that is lured from the park into the adjacent communal land, his territory in the park becomes vacant. So a new male lion from deeper in the park fills the vacant territory, and inevitably he also gets shot. And so hunting is enormously disruptive and detrimental to lion prides.
SR: Can you explain why exactly trophy hunting is detrimental to lions?
BS: The perverse thing about trophy hunting is that it's totally unnatural and completely at odds with nature's "survival of the fittest" selection process. The hunters always want to kill the biggest male lion on the landscape, and that, by definition, is the dominant male in the pride.
When hunters shoot a male like Cecil, which is generally the biggest in the area, the other smaller and weaker males that didn't get a chance to breed now have an opportunity to mate with the females. This has long-term detrimental effects on lion genetics. By hunting the biggest and strongest males, we're interfering with the natural process and artificially allowing the genes of the weaker, smaller males to proliferate.
Also, once hunters have shot the dominant male, the smaller male will try to kill the existing cubs, which they often do. But lionesses are protective of their cubs, so they typically change their territories as soon as the dominant male is hunted. So the lionesses have to leave their territories and move away into less suitable areas, where there's fewer or smaller prey to eat. Or the lionesses and cubs move into community areas and end up killing livestock. And that's often when lions get a bad name and end up getting shot as "problem" animals.
So when the dominant male has been shot, there are months of disruption, and finally, if and when the new male kills the existing cubs, the lioness will mate with this male just in time for the next hunting season. And then that male could be shot by hunters, starting the chaos all over again.
Hunting of lions is just not natural or healthy. From an ecological and scientific point of view, there is no justification for it. Economically, there may be a reason because it brings in a bit of money, but that's short-term gain for long-term loss, and that's when money starts overruling logic and hard science.
Read the full article here.
To comment on this story: To protect you against trolls & misinformation, we only permit comments in our app. See how to DOWNLOAD OUR APP below.

---
HOW TO GET THE MOST OUT OF AFRICA GEOGRAPHIC:
Download our APP (mobile phone & desktop) to receive travel discounts, comment on our stories, make safe donations and network with others like you. Find out more here.

Subscribe to our newsletter to receive our best stories in your inbox weekly and for travel discounts. Subscribe here.
Travel with us. Travel in Africa is about knowing when and where to go, and with whom. A few weeks too early / late and a few kilometres off course and you could miss the greatest show on Earth. And wouldn't that be a pity? Search for your ideal safari here, or contact an Africa Geographic safari consultant to plan your dream vacation.
---