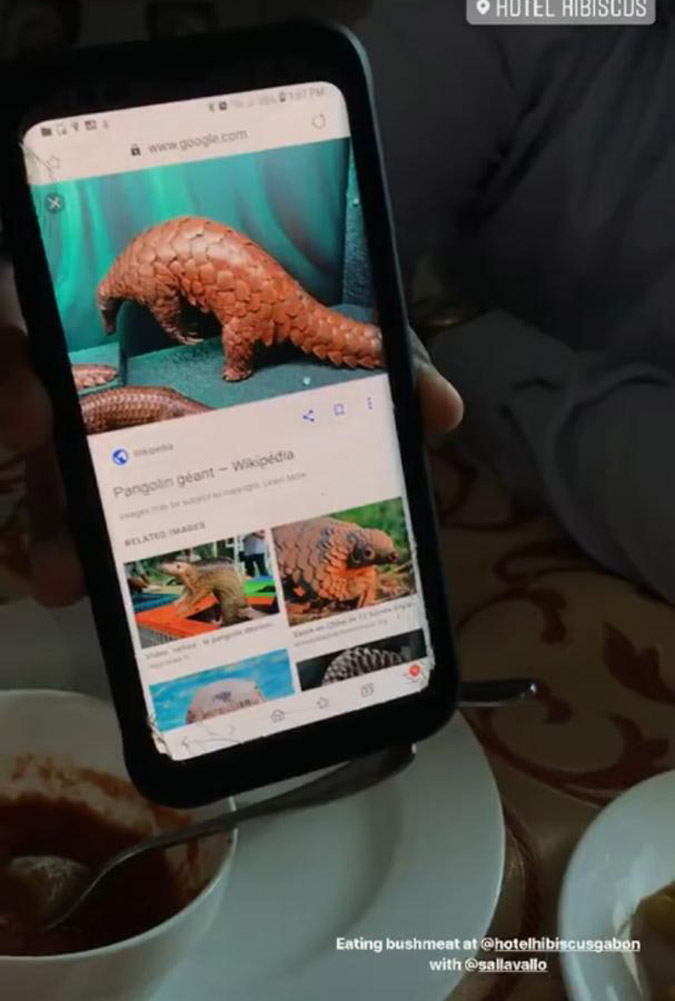 The video and information was supplied to Africa Geographic by an anonymous contributor, who expressed concern that a famous Instagram personality is glamorising eating pangolin – the world's most trafficked animal.
An Instagram influencer with 116,000 followers has uploaded a video where her partner is seen eating pangolin meat in a restaurant in Gabon. The video is no longer available on Instagram, but our contributor sent us a recording of the video – see below.
Jessica Nabongo is on a mission thecatchmeifyoucan to "be 1st black woman to travel to all countries" – despite that accolade having already been achieved, by Woni Spotts. Her website lists numerous sponsors and requests donations to fund her lifestyle.
Our contributor contacted Ms. Nabongo on Instagram and questioned her eating protected wildlife and making it 'cool or mainstream' for her followers, but Ms. Nabongo did not respond. Our contributor then sent the same query to Ms. Nabongo's lunch companion, who responded that they thought they were eating anteater and did not know about the plight of pangolins.
During the video, Ms. Nabongo says "People have told me that Gabon has some of the best bush meat, this we believe … is an armadillo." At this point, Ms. Nagongo pans across to someone at the lunch table showing a pictures of various species of pangolin on their mobile phone. Towards the end of the video, in response to being asked by Ms. Nabongo if it tastes like chicken, her partner comments on how thick the skin of the pangolin is, and Ms. Nabongo retorts: "You're basically eating a dinosaur", at which point she and her partner laugh.
Pangolins are the world's most trafficked animal, and face enormous pressure from poaching to supply the bush meat industry and insatiable demand for their scales from Far East countries, especially China, where the scales are used for their supposed medicinal properties. Read more about Africa's pangolins, including the four species, here: Fascinating Pangolin Facts.