Written and photographed by: Greg McCall-Peat
Summer time in the African bush is not usually considered the best time for game viewing as the vegetation is thick after the rains. This makes spotting animals a little bit more difficult in the long grass and leafy thickets. The amount of water lying around in rain pools scattered throughout the bush means that the animaals are no longer as reliant on the big permanent watering holes as they would be during the dry months. This also makes finding them a bit more challenging.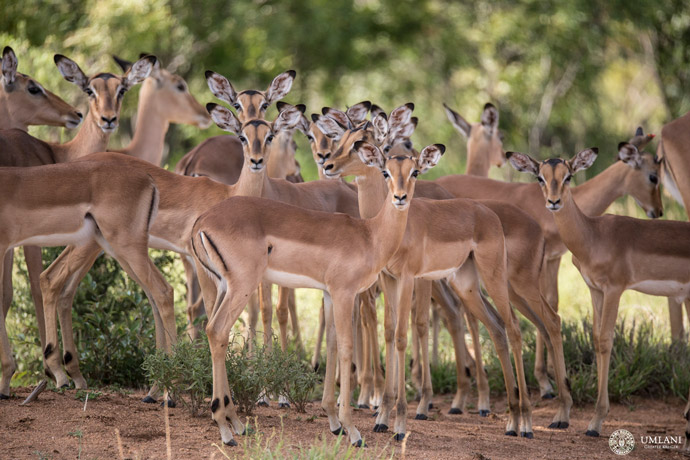 It seems that nature conspires against us sometimes and tries its best to keep its secrets hidden from us. Adding rain to the mix, it washes away any signs of animal life such as tracks or scents. Fortunately for us, one thing remains a constant: the animals that call the Timbavati home remain here, somewhere. With some extra hard work and a bit of luck the team at Umlani manage to find them.
This was the case a few days ago, when after three days of constant rain, thanks to cyclone Dineo, there was a break in the dreary, wet weather and the sun peaked out from behind the clouds for the afternoon. It was a good day to head out on a drive and so we did.
As we left camp we came across a herd of impala huddled in the shade of a large knobthorn tree. Within the herd was a large nursery group of lambs. It's amazing to see how quickly the little ones have grown and some of the young males are already starting to sprout their horns.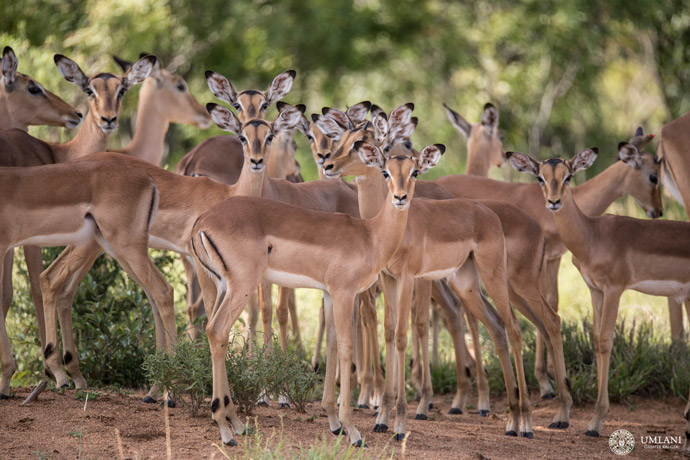 We left the impala herd and decided to head down one of our river roads that leads to a waterhole. This stretch of river is notorious for leopard sightings so we were hoping to strike it lucky with a sighting of one. Instead we came across a large bull elephant who was feeding on fallen marula fruits.
It's well known that elephants love this fruit and he was greedily picking up as many fruits as he could with his trunk and literally stuffing his face with them. With us being in a drainage line and him on the bank, we had a unique perspective by being a lot lower than him. This made for fantastic photo opportunities as he moved closer and closer to us.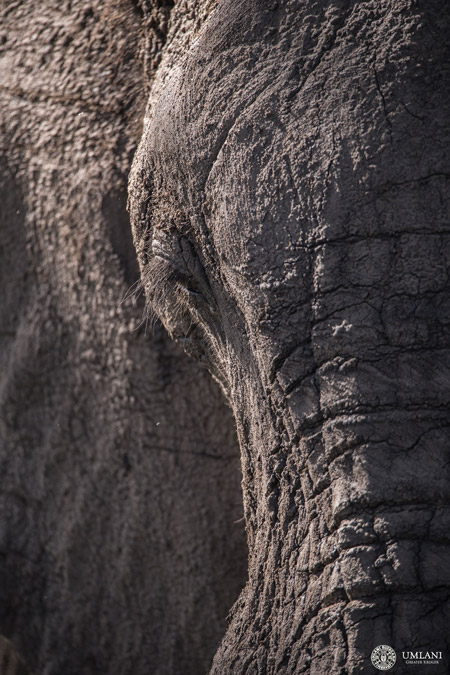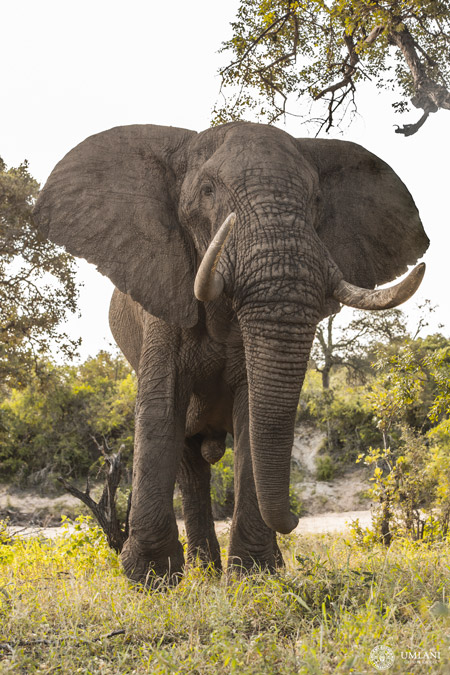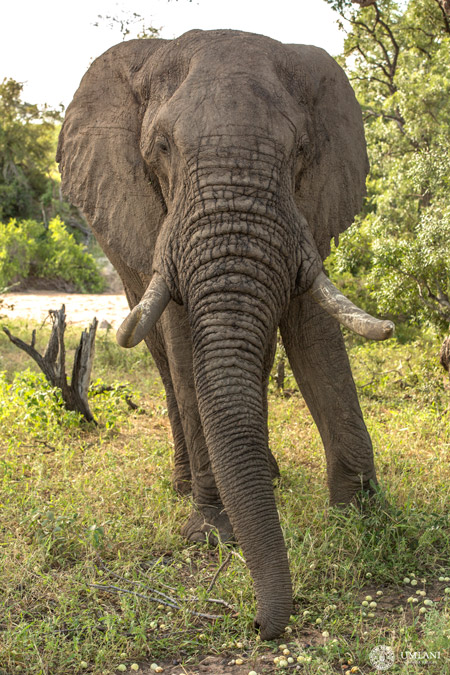 Once we had enjoyed the elephant bull sighting for some time we decided to leave him to his fruity meal and carry on with our drive. In the morning, two male lions had been seen so we thought it would be a good idea to head to their last position and see if we could find them again. On the way we had some great general game sightings to break up the drive in between sightings of the famous Big Five.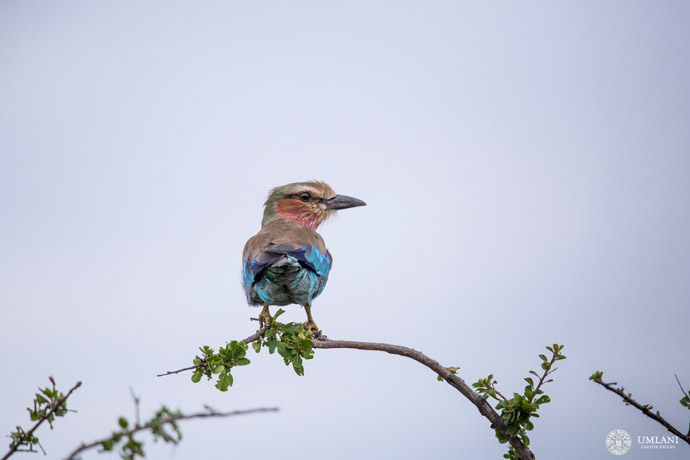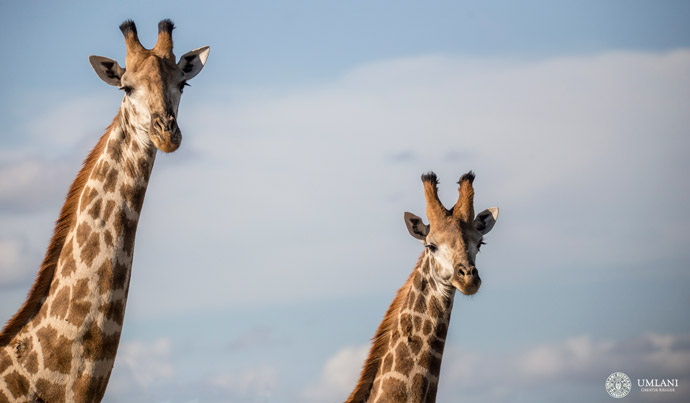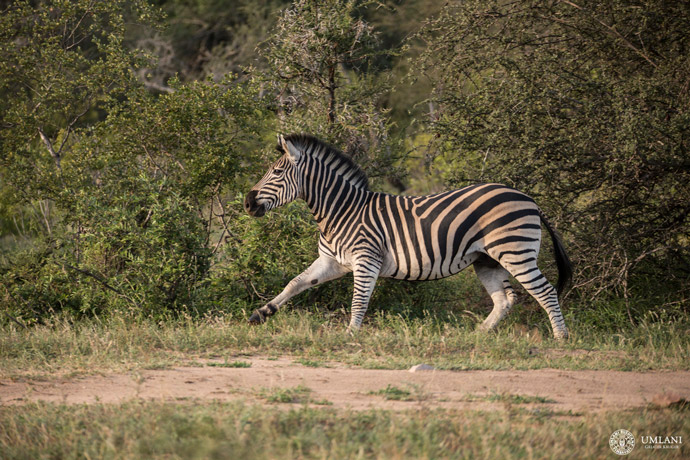 We then came across another lone elephant bull enjoying a mud bath. It seemed the heat of the day was just too much for him and he couldn't resist the temptation to plaster himself with mud. Elephants always look like they are having the best time when mud bathing and it was almost comical to see such a big bull playing in the mud.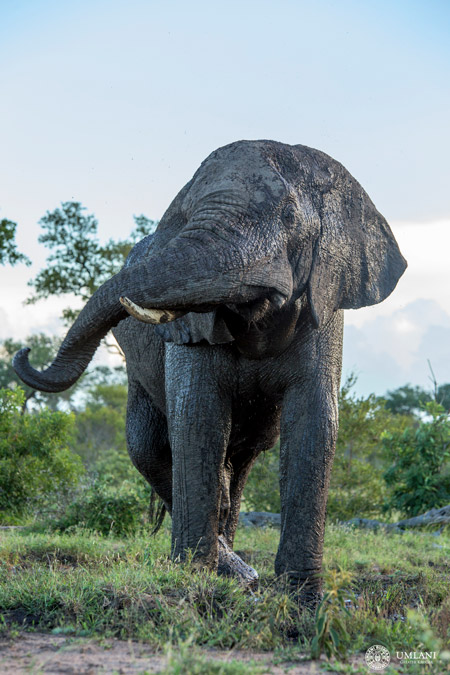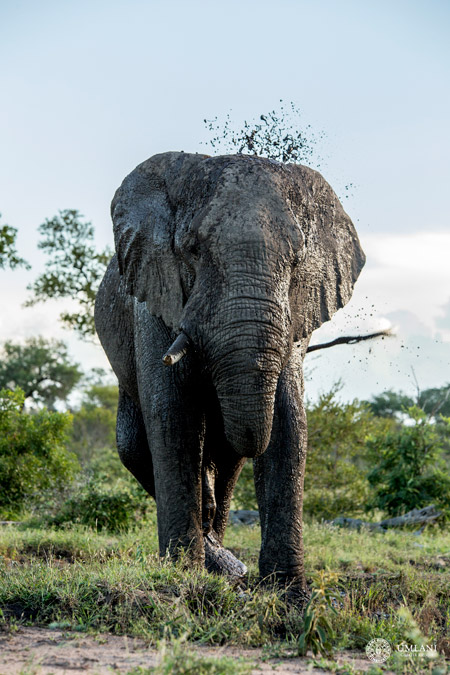 By the time we reached the area where the lions had been seen the sun was just about to set and the last rays of light were softly hitting the tops of the trees. We spotted one of the male lions lounging on the top of a termite mound. He couldn't have chosen a better place to show off his majesty as the sun lit his mane. After posing for a couple of minutes he got up and moved to his brother who was laying a short distance away.
We enjoyed the last light with the two magnificent big cats before calling it a day and heading back to camp.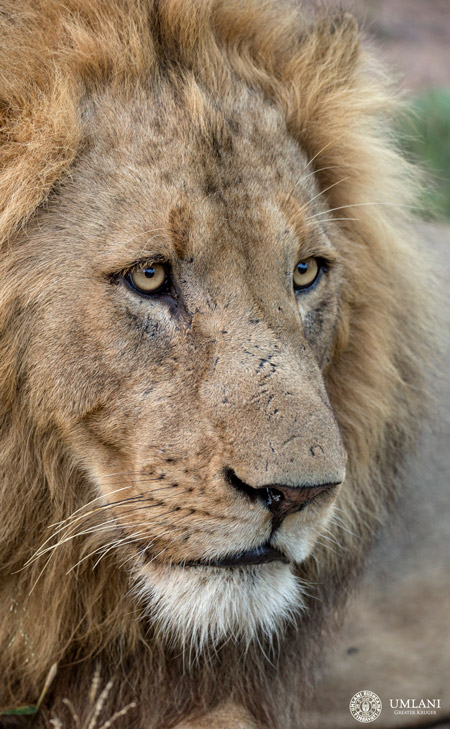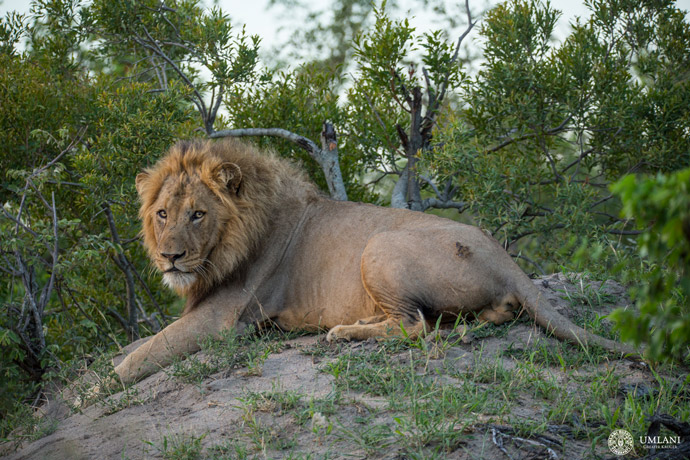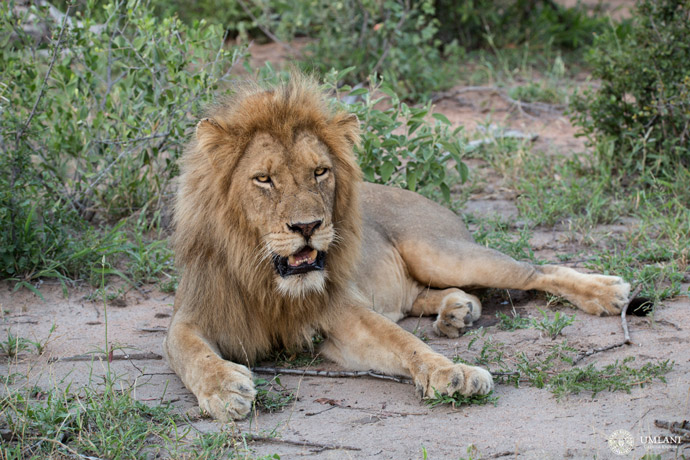 It is after drives like this one that you realise that the time of year doesn't matter. If you go out on safari, expect to have a good time filled with amazing sightings and know that anything can happen at any time – and as long as you are out there you will not be disappointed.