The Wild Coast is an incredibly scenic, and rugged section of South Africa's coastline. It is found on the south-east coast of the country; running from the border of Kwazulu-Natal into the Eastern Cape. It is perhaps best known as the birthplace of Nelson Mandela and Thabo Mbeki. This rarely visited region offers some of the most breathtaking coastal cliffs imaginable, with authentic rural African backdrops and phenomenal scenic beauty.
Nature's Light offers an annual photography workshop that aims to have its participants learn more about landscape photography, and capture the beauty of the land in images. Enjoy the photographs below that show only a glimpse of what this region has to offer, and discover why you should visit the Wild Coast!
Unlike the more well-known tourism destinations further north in South Africa, where the landscape is largely dominated by either commercial farming or game reserves, the Wild Coast is still truly rural and untouched.
Some of the most beautiful destinations are difficult to reach as the area is largely underdeveloped. But if you have a 4×4 and know where to go you may find hidden gems, such as the Hole in the Wall near Coffee Bay.
Or the famous Waterfall Bluff, one of the few waterfalls that empty directly into the sea.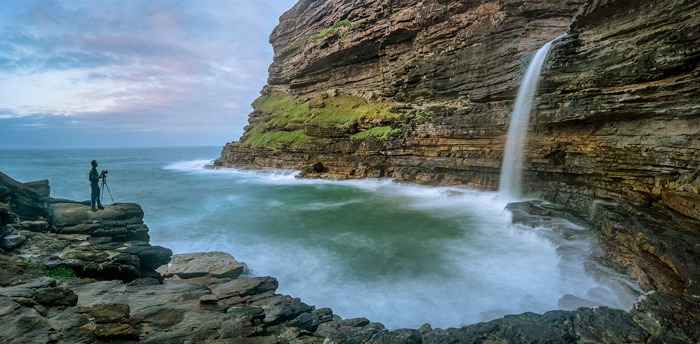 If the weather's right you could also witness the magnificent crashing waves of Luphuthana.
As there are no roads leading to Cathedral Rock, but only walking trails, this remarkable landmark is rarely seen and photographed.
Another hidden gem of the Wild Coast, and even accessible by a non 4×4 vehicle, is the impressive Magwa Falls that drop 142 metres straight down into a ravine.
Driving up the old airstrip on Mount Thesinger allows for a fantastic view of The Gates of Port St. Johns.
Apart from these iconic destinations, there are plenty of other reasons to visit the Wild Coast of South Africa!
The region offers cosy and comfortable accommodation.
The Xhosa people inhabiting the area are inquisitive and friendly.
And so are the famous 'beach bum cows' of the Wild Coast.
The hilly terrain lends itself very well for landscape photography.
As the Wild Coast is largely untouched and thus has little light pollution, it allows for spectacular astro-photography.
Nick van de Wiel and Emil von Maltitz, course leaders of the Wandering the Wild Coast Photography Workshop, know the Wild Coast like the back of their hands and would love to show you its hidden gems and teach you how to photograph them!
See you at the Wild Coast!