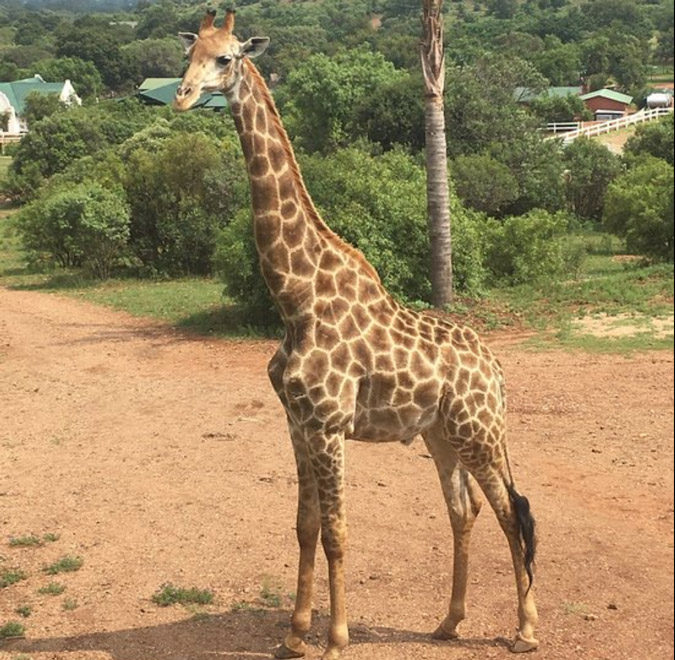 Sourced from third-party site: News24, written by Mxolisi Mngadi
South African filmmaker Carlos Carvalho was killed by a habituated giraffe while filming at the Glen Afric Country Lodge near Pretoria in South Africa. Mr Carvalho was filming and standing in front of the giraffe when the giraffe swung its head at Carvalho, knocking him over. He was taken to Netcare Milpark Hospital, where he died from head injuries.
Gerald the giraffe is a popular attraction with guests, and Glen Afric owner Richard Brooker says that the giraffe will remain at the lodge as "He did nothing wrong" (News24). Male giraffes use their heads and necks as weapons in combat, a behaviour known as "necking". Necking is used to establish dominance and males that win necking bouts have greater reproductive success.
Glen Afric Country Lodge in the Magaliesberg area in the North West Province offers game drives, elephant interactions, walking with elephants and close encounters with various habituated animals. Photos on their website show guests petting tigers and elephants.
According to News24, Carlos Carvalho is an award-winning filmmaker, who was the director of photography for The Forgotten Kingdom, the first feature film produced in Lesotho, and won the Haskell Wexler Award for Best Cinematography at the 14th annual Woodstock Film Festival Maverick Awards Gala held in New York.