Ladies and gentlemen, I bring you King Whale-Head (the English translation of Balaeniceps rex), cover star of the October issue of Africa Geographic.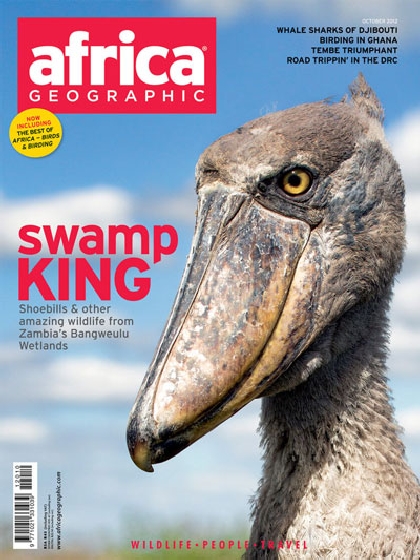 From the front he appears to me like an old university professor, big-nosed, peering over his spectacles. Very serious, very respectable. From almost any other angle though, he's a total hoot.
In profile, one can see the array of dishevelled tufts of feathers that shoot out at all angles from his crown (I believe in educated circles this is referred to as a hood) and body. His dimensions too are something of an eye-opener. He has massive feet, an enormous beak and is very, very tall for a bird. Despite his prehistoric appearance and the craziness that is his proportions, the shoebill stork is actually quite endearing if you bother to dig a little deeper.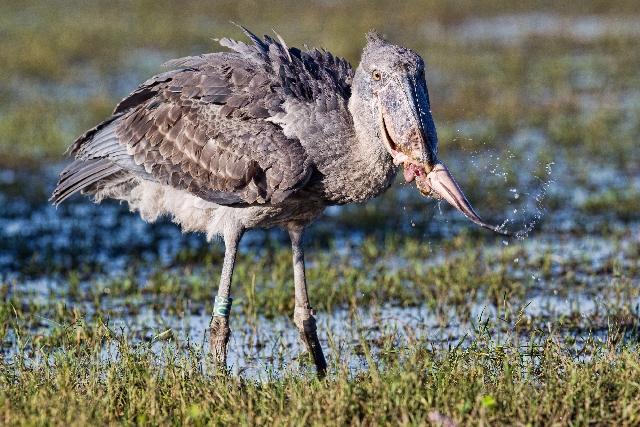 To help you on your way to endearment, here is a list of things you probably don't know about shoebills:
The length of their feet, 'heel to toe', can reach 18 cm.
The beak can reach up to 24 cm in length and 20cm in width.
Despite weighing as much as 6 kg, the birds can often be found perched on floating vegetation, from where they do their fishing, preferring poorly oxygenated water because it forces the fish to surface for air. If going in for the kill, they put their wings out backwards to maintain balance.
When not perched precariously on a clump of water greenery, they are waders. They tend to move very slowly, watching the water for signs of fish.
 At 1.5m in height, one might say they are solitary giants, only pairing up for the purpose of mating.
Shoebills are found in marshy areas in countries like Sudan, Zambia, Rwanda and Uganda. Their distribution seems to coincide with the presence of papyrus and lungfish.
While the shoebill is called a stork, genetically speaking it is more closely related to the pelican or heron families.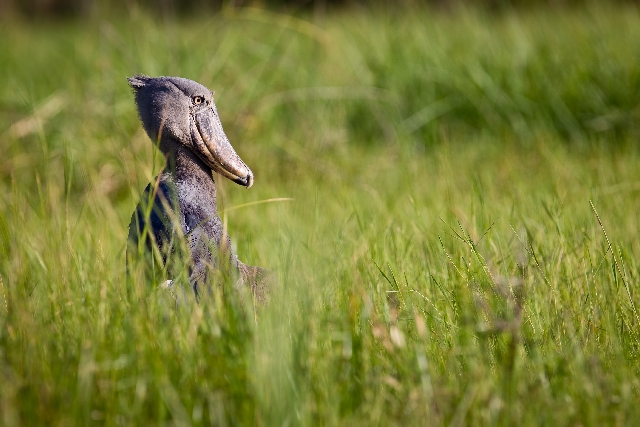 OK, and if big numbers and cold facts don't do it for you, you can meet Kapotwe, a rescued Shoebill and resident of the Bangweulu Wetland in Zambia, in the October issue of Africa Geographic (on shelves, iPad and magsathome.com  NOW). For the story Emmissaries of Sky and Water, Morgan Trimble splashed through this bird-watching heaven with 15kg of camera equipment to snap shots of shoebills like Kapotwe and other wow-factor wetland birds.