"For the past 12 years, my photographic river journeys down the Luangwa River have been the highlight of my year."
Every year, David Rogers hosts two photographic safaris at Robin Pope Safaris in the South Luangwa: one in November for a taste of the dry season and the other during the green season in February. He recently returned from his February workshop with loads of brilliant safari moments and pictures to share.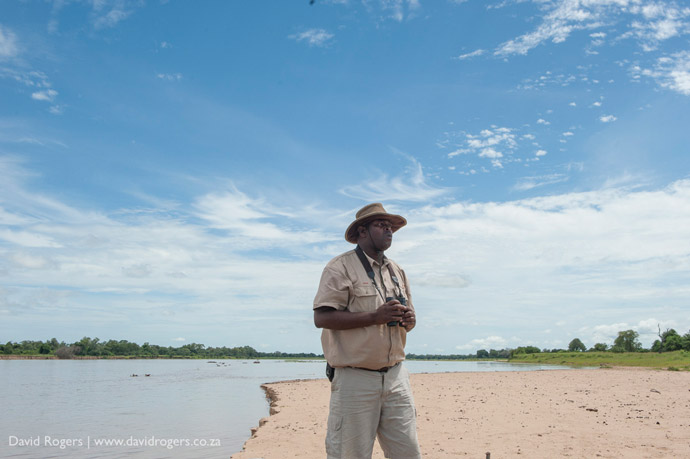 Here is David's personal account of this year's Green Season Photographic Safari:
"Not only do I love the valley, the wildlife and the people here, but this time of year, which is called the Emerald Season, produces such wonderful photographic opportunities. The journey began at Nkwali where we spent the first two nights. As usual, my close friend Jacob Shawa, who has been guiding our river trips for more than 10 years, was behind the wheel – and he was as enthusiastic and sharp-eyed as ever.
On our first game drive, he found us two leopards. One was hunting near the Nkwali harbour and another was resting under a sausage tree under Lupunga Spur. Our highlight that morning was a buffalo herd of more than 200 animals, which disturbed a male lion resting under a combretum bush.
That afternoon we decided to change direction and go south towards the Chichele Hills, but we didn't make it because a beautiful leopard was resting beside the road in a wild mango tree.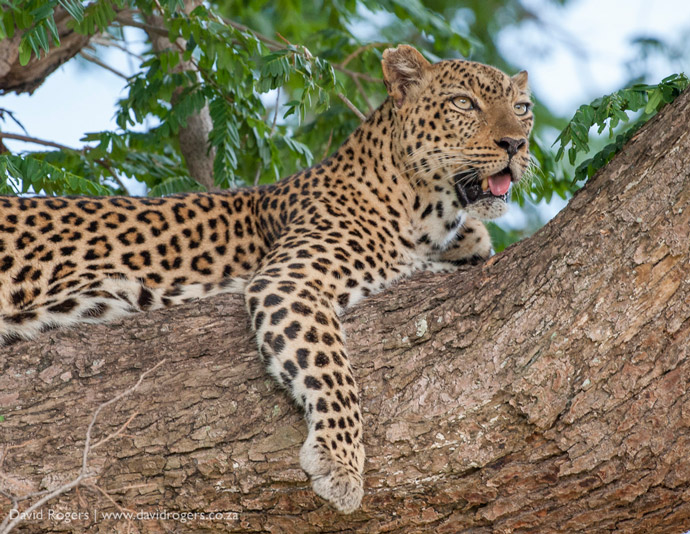 We sat with her until sunset, when she yawned, stretched and then walked slowly down the branch and down the road. She was mobbed by guinea-fowl but did not seem to be flustered and stopped to drink from a puddle in the road and do some toilet duties, while we snapped away wildly from the vehicle.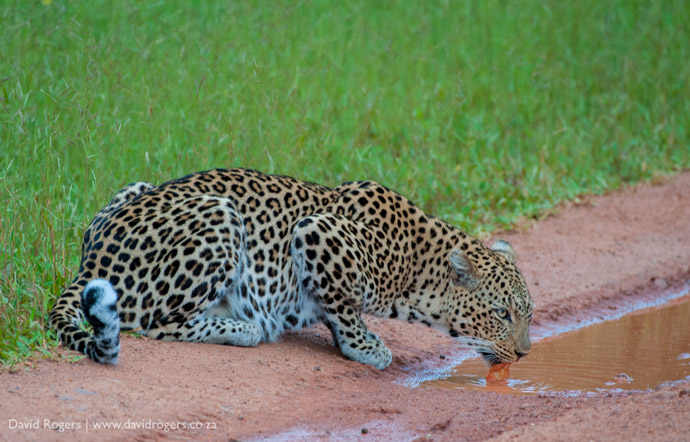 The following morning, we began our journey up the Luangwa River to Nsefu. After the game drives, it's so relaxing to be on the water with the beautiful river scenes flashing by. Using our cameras on fast shutter speeds above 1/2000 of a second we were ready for the hippo that rushed to the water and the flocks of birds that rose from the banks.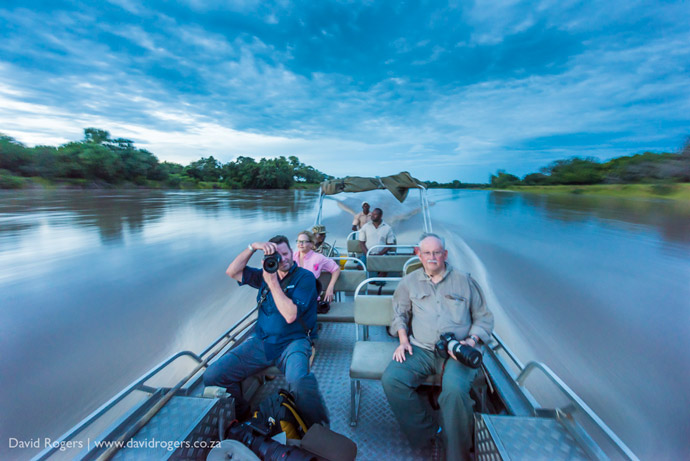 For the next two nights, we didn't see another person. Nsefu at this time of year is cut off by road access and we had this wonderful area to ourselves. On our first morning, we set off to photograph the stork colony. The birds were starting to build their nests and we fine-tuned our photographic techniques, capturing them in flight as they flew by with nesting material.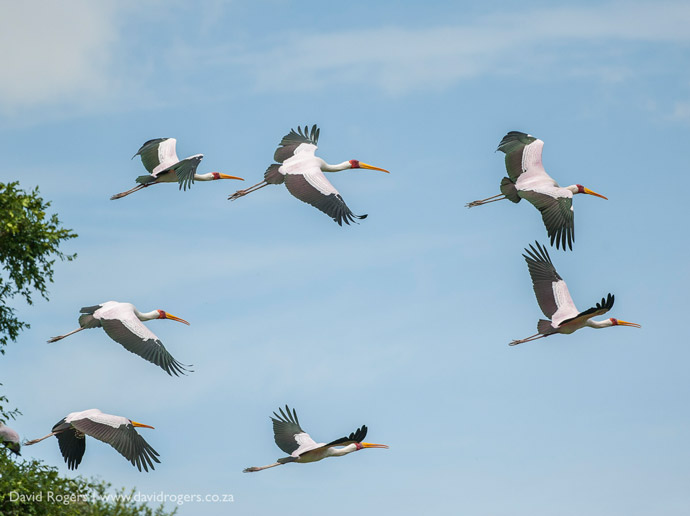 While in Nsefu we also enjoyed exploring up the Mwamba River and deep into the ebony forest. Sneaking up on hippos, zebras, impalas and baboons offered wonderful photographic opportunities from the water. We also saw two more leopards from the boat.
The food was outstanding and at night we felt cool and slept soundly under the excellent solar powered air conditioning that has been installed at this historical camp which cools the air beneath the mosquito net so effectively.
It was a faster return journey with the current to Luangwa River Camp where we spent our last two nights. The sightings we had here were amazing and it was the first time for Jacob to see two packs of wild dogs meeting. Absolute chaos ensued with leaping and barking dogs while elephants, zebras and impalas were sent running in all directions.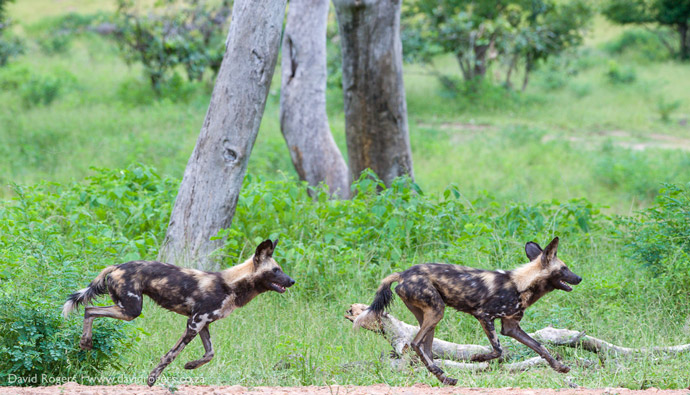 We also had some lively times in the town of Mfuwe where we photographed bicycles, sewing machines, tomatoes and the welcoming and friendly locals. We finished the day with 'Mosi' beers in a shebeen (local bar) that thumped with happy Rastafarian music.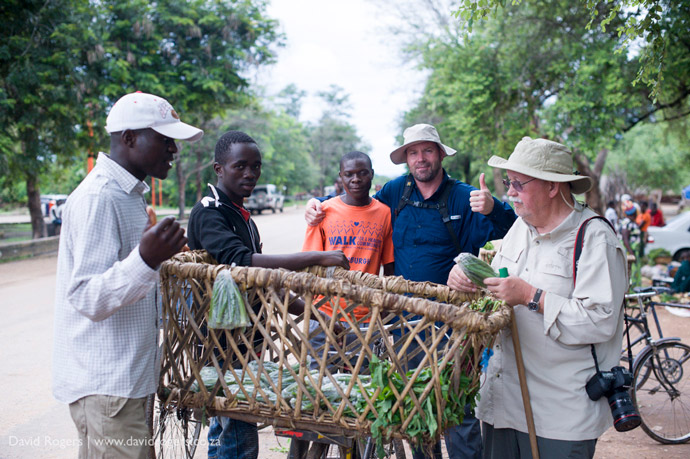 All the guests all vowed to return to Luangwa. Each one of them took the most amazing and creative photographs to remind them of their stay."
Join David Rogers and Robin Pope Safaris in November 2017 (dry season) or February 2018 (green season). There are only 5 spots available on each, so act fast!