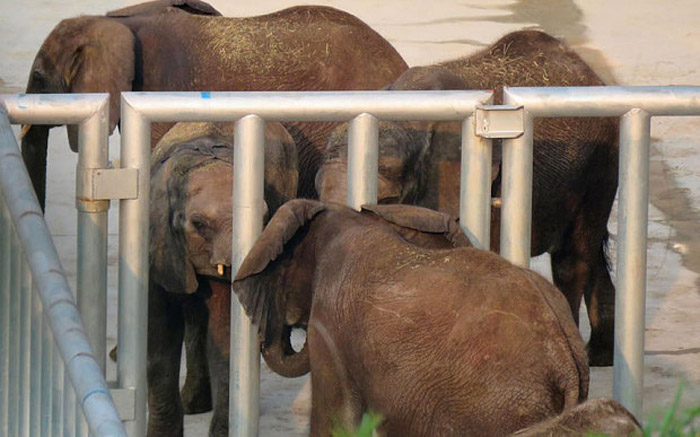 UPDATE 21 January 2018: It has come to our attention that the Zimbabwe government has NOT made any formal announcement in this regard, and that the Daily News news report below was therefore not accurate. We have been informed by persons close to the process that the government is reviewing its policies, and we will update you as soon as we hear of anything concrete.
Original report:
President Mnangagwa has announced that Zimbabwe will stop trading in live elephants and other endangered species, according to a report in Zimbabwe's Daily News, in a report written by Andrew Kunambura. This, after a worldwide outcry late last year when Zimbabwe sold 34 baby elephants to China – not the first such sale. Daily News goes on to say that the ban extends to endangered species such as rhinoceros, lions and pangolins. Former president Robert Mugabe, deposed by Mnangagwa in a November 2017 coup, was, according to Daily News, notorious for brushing aside criticism of the trade in wildlife species.  The government under Mugabe used to argue that Zimbabwe had an elephant population of 86,000 whereas the carrying capacity was in their opinion 54,000 elephants.
For further background on this matter read this appeal by our CEO Simon Espley to President Mnangagwa: Mr President: Selling wild-caught baby elephants to China is just plain evil.
The Tikki Hywood Foundation of Zimbabwe and the International Anti-Poaching Foundation of Australia recently visited President Mnangagwa to raise their concerns and discuss conservation strategies.
Mnangagwa is quoted as saying: "This is a very significant moment in Zimbabwe's history and we understand that we have a lot of work to do to ensure the protection of our natural resources. Conservation and tourism go hand in hand and my government is committed to ensuring the safety of visitors and to working with partners to increase our conservation efforts to protect our natural world."
ZimParks public relations manager, Tinahse Farawo, said: "As an authority, we are happy with the support we are getting from the highest office in the land. We are going to ensure that we sustainably utilise our wildlife for the benefit of Zimbabweans in line with the president's vision."