In Zambia we are calling the world and our own country to action to celebrate and conserve our beautiful and rare biodiversity! On 14 May, the herds will gather in Lusaka to celebrate wildlife conservation in Zambia. 
After the success of last year's first EleFest, the 2016 festival line-up has expanded with exciting new international acts, including Mokoomba, an acclaimed Zimbabwean Afropop band currently touring the US. Mokoomba will share the stage with several household names of Zambian Afrojazz and soul artists who are trumpeting their support for the conservation of Zambia's wildlife, including Maureen Lilanda, James Sakala and the Elect Band, Wezi Heartsound, Mumba Yachi and Kapiri Mposhi 4.0.
These ele-gends of the Zambian music scene are currently working on a surprise collaboration about our wonderful wildlife. All epic talents in their own right, never before have they sung together and all the more reason for this important cause of highlighting conservation in Zambia. A video will be shot on location in Zambia's breathtaking wilderness of the collaborators performing their inspiring song together. Watch out for this spine-tingler live on stage at the EleFest!
Zambia is home to a breathtaking diversity of rare wildlife and habitats. It is home to the world's largest mammal migration (straw coloured fruit bats, Kasanka National Park), second largest wildebeest migration (Liuwa Plain National Park), one of the world's most important African wild dog strongholds (Kafue National Park) and lion strongholds (South Luangwa National Park).
The elephant population of Zambia is one of the most significant in Africa but their numbers are declining rapidly. Experts have reported that 100 elephants are being killed every day in Africa. Elephants are killed for their ivory tusks, which are used for ornaments and medicine mostly in Asia. It is illegal to be involved in elephant poaching or trafficking in Zambia. If found guilty, elephant poachers can go to prison for five to 20 years.
As well as elephants, Zambia is also home to the most trafficked animal on the planet: the pangolin. It is illegal to capture or sell these animals and people found guilty of this offence can go to jail for five years. Our pangolin population is at threat.
EleFest supports WWF Zambia who have been working to support Zambia's wildlife for over 50 years. WWF Zambia is involved in several different conservation projects in Zambia focusing on mammal species (rhinos, elephants and wild dogs), freshwater, forestry, climate change, energy, community based natural resource management and policy. This work is done through partnerships with government institutions, conservation organisations, private companies and many other partnerships.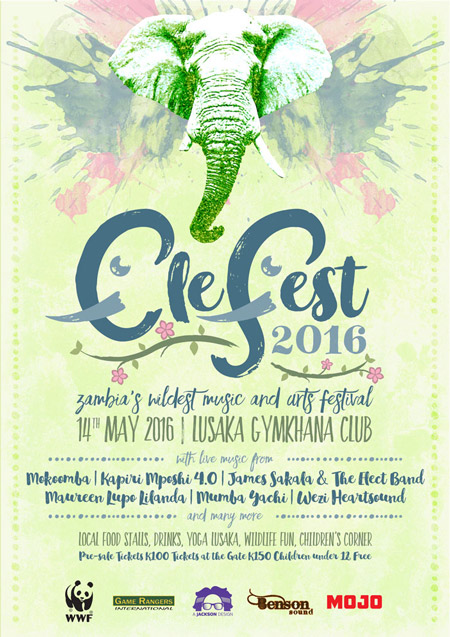 The Department of National Parks and Wildlife under the Ministry of Tourism and Arts carries out conservation efforts in Zambia with the support of many organisations including Game Rangers International and WWF Zambia.
To find out more, join the EleFest 2016 event on Facebook, Twitter and Instagram.