After a bitterly cold winter full of hard labour and more fencing work than any of us care to remember, spring has definitely sprung into life here at the Karoo Ridge Conservancy. Arguably the best time of year here at the conservancy, it has been thrilling to watch and welcome all number of wonderful new arrivals onto the land.
The gemsbok dropped their young about seven weeks ago and more recently we've been gratefully spotting newborn Ankole calves hidden away in the long grass before wobbling up on their spindly legs to join the herd.
But before we plough into thoughts of summer and all the exciting times ahead, we are going to share with you some super special beasts who have brightened up our cold winter days.
With the night-time temperatures plummeting through the winter in the Great Karoo, the usual ground-dwelling, nocturnal animals prefer daylight hours for their foraging, and frankly who can blame them? It is always a thrill to see these animals in the light and these sightings bring a special warmth to the long winter months.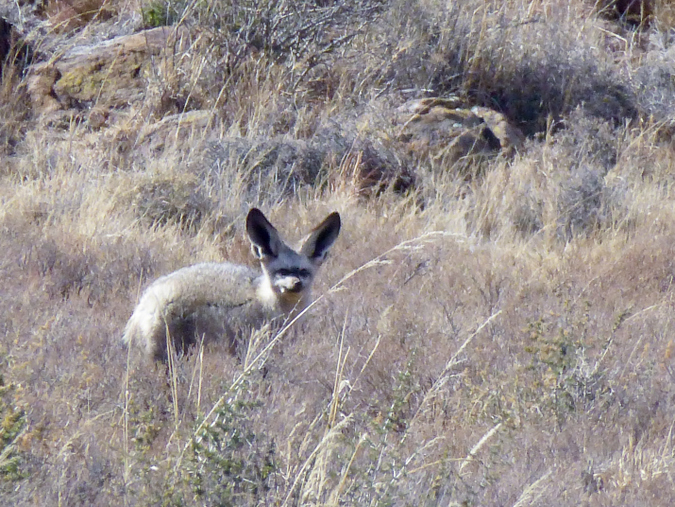 Bat-eared foxes are most often seen foraging at night or in the early morning during the warmer months, but in winter they are out while the sun is still above the horizon. They have generously big ears which they use for locating their food, and these wonderful appendages can hear 10cm below the surface, allowing them to pick up on any movement, be it of beetle larvae, small rodents or reptiles.
They live in small family groups with a strong paternal influence: It is dad who accepts suitors for his daughters and decides when it's time for sons to move out and create their own families!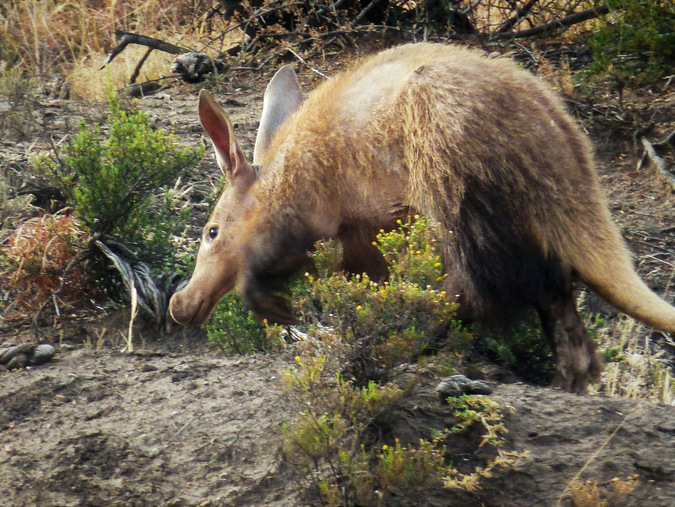 Aadvarks are nocturnal, only coming out after sunset in the warmer months from their burrows to forage. They do all the ground-dwelling animals a favour by leaving satellite burrows dotted all over the place which are then adopted and revamped by others.
In winter they will come out during the day to feast on the harvester termites which are active from mid-morning to mid-afternoon.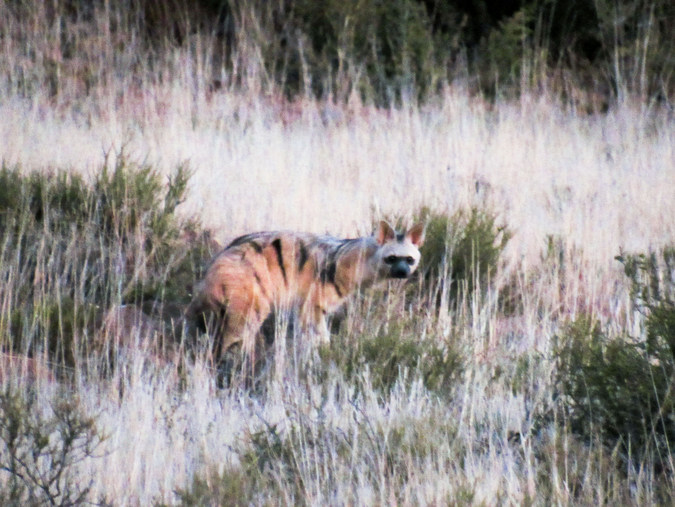 Then there is the aardwolf, not necessarily known by many people. They look like smaller versions of a brown hyena and in some areas are persecuted by man because of the mistaken belief that they prey on livestock.
In fact, the aardwolf mainly feeds upon termites, in particular snouted harvester termites – which explains their daylight foraging in winter, when the termites are active. They also eat maggots, grubs and any other soft bodies insects. Sometimes, but rarely, they will feed on small mammals, birds and carrion.
To catch them courting is really something special: The male 'pronks' like a springbok in front of the female until he gains her undivided attention. Once he has her attention and the deed is done they will remain as a pair, holding a territory with their offspring by scent-marking on grass stems and actively chasing intruders away.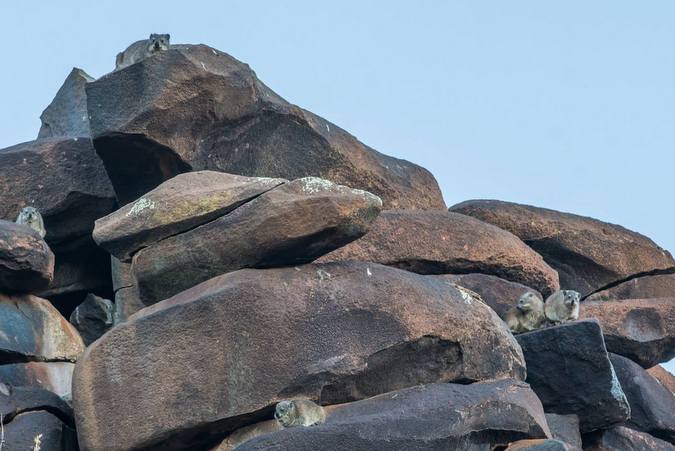 Down at the water's edge, we have been setting a camera trap which monitors our river system populations. As we've moved towards the end of the dry season we have been happily surprised to capture dassies (rock hyrax) coming down to the river to drink in the evenings.
These little chaps are usually only seen hopping high up on the rock ledges or snoozing in the sun, so these special sightings have been a real thrill and certainly bring a new meaning to sundowners on the conservancy.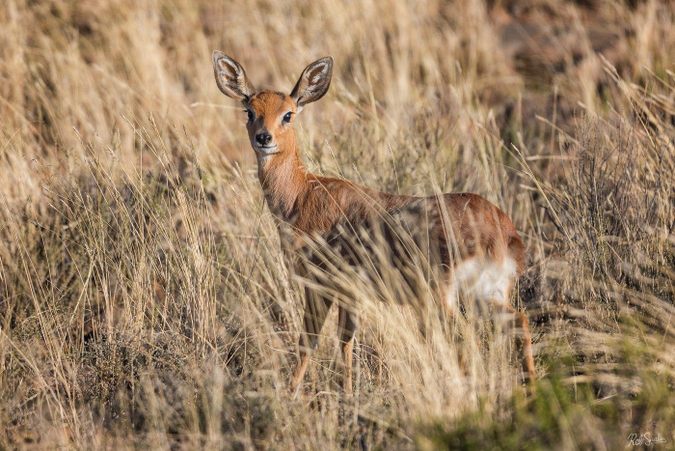 So all in all it was one very busy winter, keeping the animals warm and fed and ready for spring; working hard on land rehabilitation and erosion control; and of course let's not forget the epic task of strengthening the boundary fence… but we are getting there!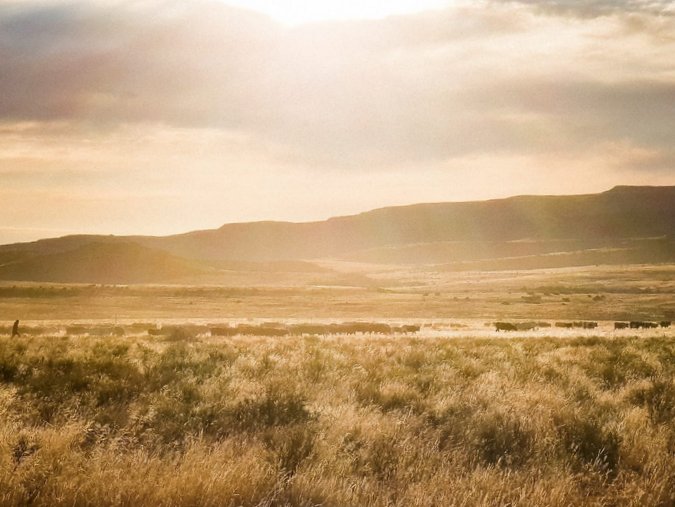 And we are thrilled to announce that we will soon have two new pairs of hands to help us out. Education, training and youth development has always played a strong role in our founding ethos and our long-term aims for the conservancy and we are really excited to have reached the stage where we are now able to open two posts for Nature Conservation interns. We are looking forward to welcoming Ashleigh McDonald and Siyethemba Princess Mfekayi in the New Year.
Training of Nature Conservation students is undertaken by the National Parks body as well as the Provincial Reserves, and we are honoured to be considered as a worthy establishment for this process and are looking forward to mentoring these young ladies.
In addition to this programme, we are very proud that the conservancy is the custodian of a Nature Conservation bursary at the Cape Peninsula University of Technology. The bursary is awarded annually to a student who shows passion, understanding, dedication and sincerity for their subject and covers the second- and third-year fees for the recipient.
We are now gearing up for the busy summer months ahead and our eco-lodge for visitors is fulling up fast. We are open year round so if you like the idea of a nocturnal creature safari during the day then you are very welcome to come and visit us next winter! If you'd like to know more you can find us at our website, or on Facebook and Instagram.