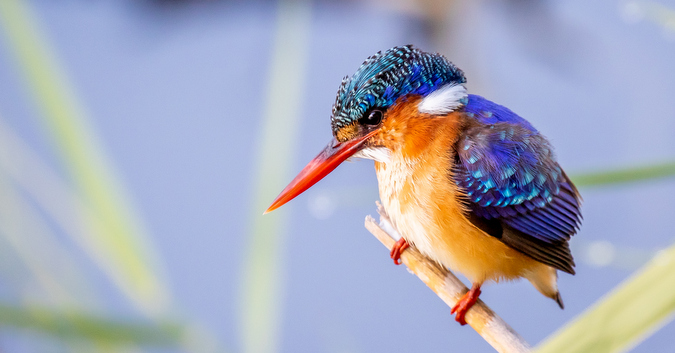 Written, and photographs, by Samuel Cox – Wildlife photographer and Photography Manager for African Impact
For every time I get asked what my favourite photo is, there's at least three other occasions when I'm asked what my ultimate dream shot would be. What photo am I after? What's at the top of my photography bucket list? My bucket shot, as some photographers have begun to refer to it as.
In response, I've always stated that what I love about wildlife photography is the unpredictability of everything – and that being in pursuit of a singular image is pretty much in direct conflict with that. How am I meant to have a clear vision of something when I know full too well that to try to predict nature, or to go out with hopes and expectations, only leads to disappointment?
Having said that, photographers love a challenge and I can list of hundreds of people I've come across who have a checklist of animals and birds that they'd love to photograph. I, of course, am no different. Now, whilst I don't have that particular bucket shot in my head, I know what I'd love to get and for a long time the top of that list was an up-close and detailed shot of a malachite kingfisher.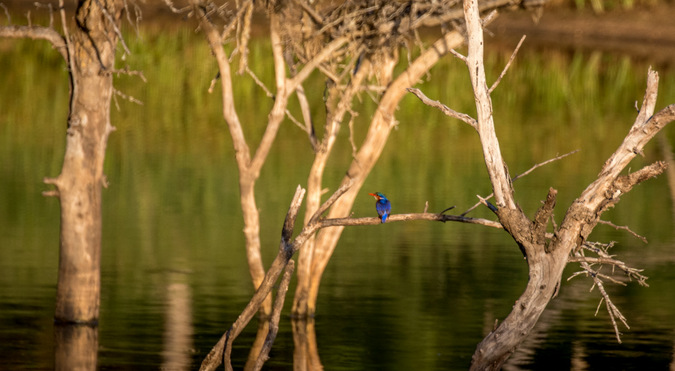 It's a small, dainty and beautiful bird full of vibrant blues and oranges that make them stand out very distinctly… yet, are frustratingly difficult to find. They're often found on the water's edge but, being a bird, like to keep their distance and are lightning quick when in flight. They're my favourite bird but clearly that affection is very one sided, as it took me years just to even see one from afar.
Now, the age-old question: "If you didn't get a photo, does it count?" – well, of course it counts, it's just a painful feeling to walk away from a sighting having not gotten a single photograph. This bird became my unicorn, as I often joked for a long time that they don't exist whilst others often paraded their countless sightings as if they had a tracking device.
When I did finally get my first glimpse of one it was from quite a distance. The blue and orange stood out from a mile away, but the problem with them living near water is that they're often found on stumps and reeds in the water or on opposite banks, so I knew this would be an agonising process of baby steps; getting closer and closer over time until I got something meaningful. The photo was enough to say I had officially photographed one, but the embarrassing "it's the blue and orange smudge" was a conversation I wanted to avoid. Simply put; it wasn't good enough.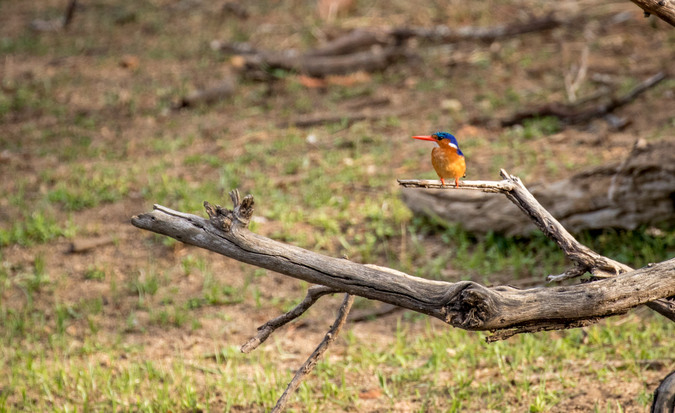 The next sighting, quite some time later, got me closer. The kingfisher was finally on our side of the water, but still frustratingly far away. You can clearly see what it is now but that meant some hefty cropping and an overall bland and boring image.
I couldn't help but laugh about what an ungrateful person I was being, that most people would count themselves blessed with such sightings and yet here I was always wanting more. Typical photographer, I have to say!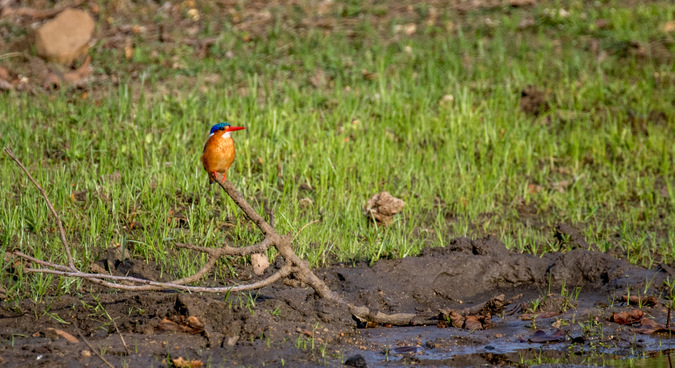 The next encounter was in a different location and we initially stopped to observe an African jacana until I noticed the flash of blue and orange out the corner of my eye. And it was so much closer! It was facing away from us but that's fine as it periodically looked to the side for a nice side portrait.
Could this be it? Well, no. Again, we were ever closer, and these increased sightings were fantastic from a personal point of view, but in terms of what I'd been chasing for years photographically; we weren't quite there.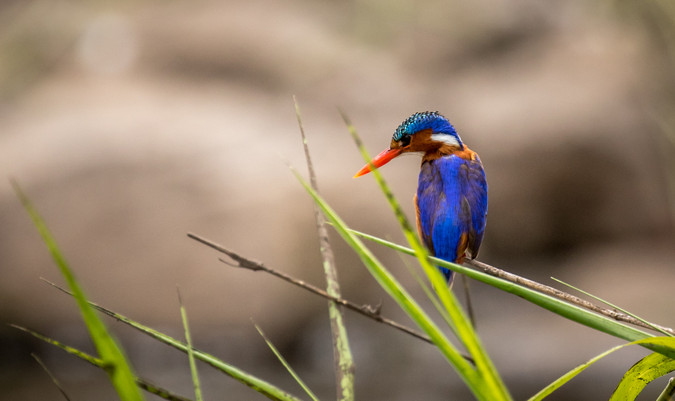 Now, there was one place I knew my hopes could be attained. In the Kruger National Park there's a hide at Lake Panic where they're frequently sighted, but it's a mission to get to and often out of reach from where I'm based. That was until I took some leave with a friend and stayed for a few nights in Kruger, allowing us ample time to visit the hide and get a sighting of that mystical 'blue and orange'.
Upon first arrival there was a plethora of activity with hippos, herons and jacanas plodding about the lake; it's an extremely beautiful and serene place that if you're able to spend any time at, I would highly recommend. However, no blue and oranges to be seen…
We went back the next morning and at first there seemed to be nothing, until I was called to the opposite end to see not one, but two! They danced about a few metres away, fluttering gracefully from one reed and branch to the next. My finger never left the shutter and after a few minutes I knew I already had shots to be proud of.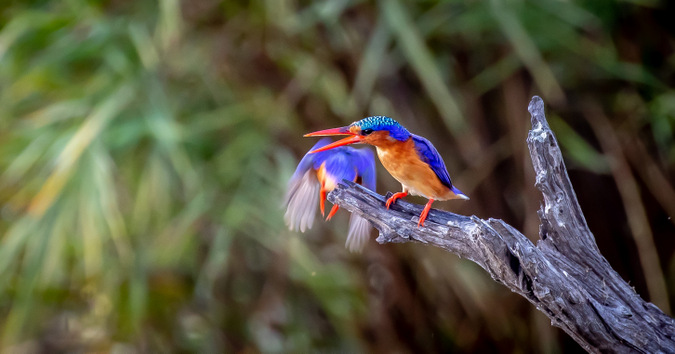 Then, I literally gasped as one flew right next to the hide. Dangling on a delicate branch of reed just a metre-and-a-half away, it sat perfectly in the open and for just long enough to fire off a quick succession of shots… and as quickly as it had arrived, it went.
The moment had happened. I checked the shots on the back of the camera and they looked great. I suddenly wanted nothing more than to get back to my laptop to see them on a bigger screen.
There's little I can compare that satisfaction to, that upon quickly checking the photos taken I knew that this two-and-a-half-year quest had come to an end. I have the close up and vibrant images I had hoped for so long would finally come to fruition. That of a bird that I very much have a love-hate relationship with.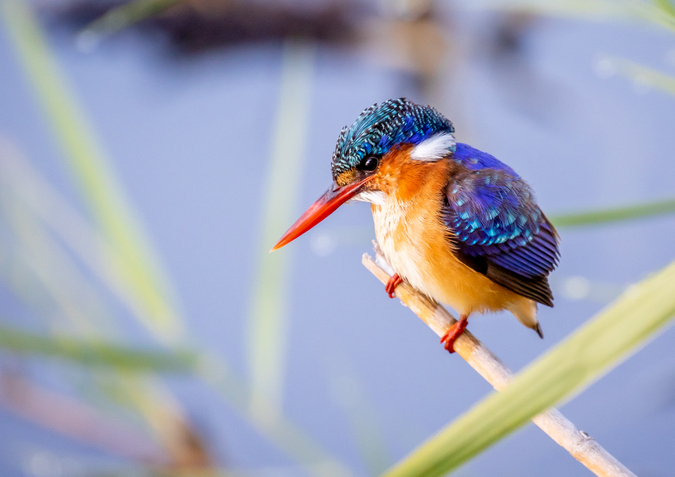 It would sound very clinical of me to say that it's another box ticked as far as wildlife photography goes, but in truth every photographer has goals and aspirations, especially in terms of subject matter. It was a test of patience, perseverance and unrelenting luck… a real testament to being in the right place at the right time, which is the cornerstone to wildlife photography.
Whilst I hope my journey with these beautiful birds isn't over, I can at least sit back without that pressure hanging over me, that it's no longer my unicorn. It's a feeling I believe only those who work with nature can feel, to finally obtain something that gets dealt by nature; and that's what makes it all the more special.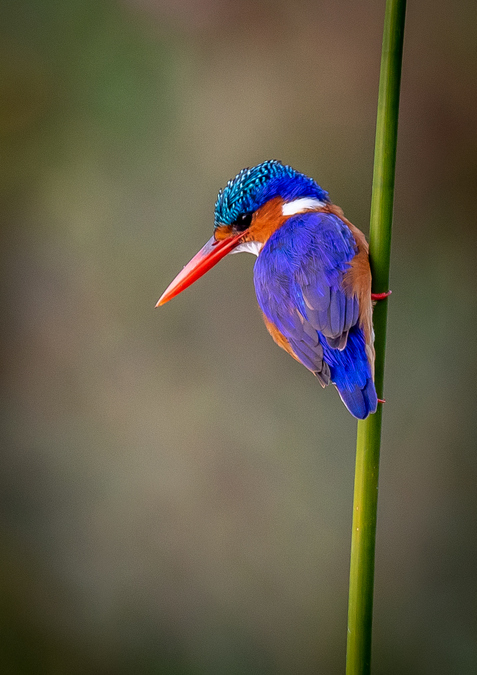 ---
ABOUT SAMUEL COX
Having been travelling to Africa since 1999, Sam's passion for wildlife quickly drew him to focus on photographing the diverse wildlife the continent has to offer. He's now based in the Greater Kruger of South Africa, working as Photography Manager for African Impact where he's working with international photographers and introducing to them the beauty that had him fall in love with the country twenty years ago. His overall aim is to teach photographers the importance and impact their images can have in aiding and assisting important conservation initiatives worldwide. He's seen his images and writing published online with National Geographic Africa Geographic, Wild Card Magazine and Tracks 4 Africa, with printed publications in BBC Wildlife Magazine, Travel Africa Magazine and the Klaserie Chronicle.