I'd heard a lot about white water rafting before my stay in Zambia, everyone I talked to raved about it and the one thing they were always sure to mention was how terrifying it was – awesome, but scary, they'd say! This didn't do much to ease my nerves, and the tempestuous weather the night before didn't quell them either.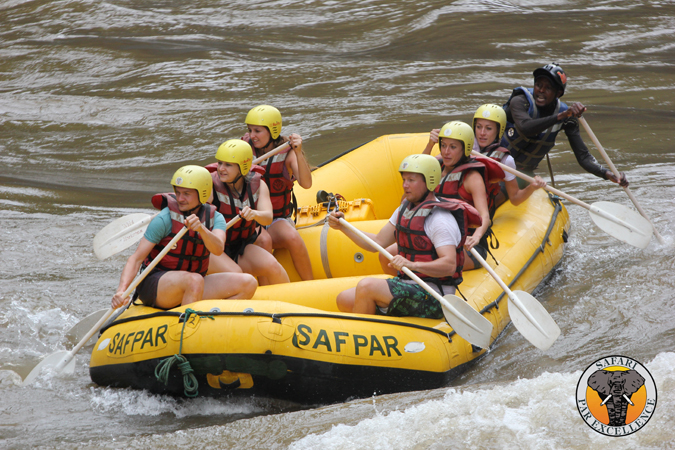 It was pouring with rain when my sister and I woke up in the comfort of our luxurious room at Tongabezi lodge and, being suitably naive we assumed that the rafting would be cancelled due to the heavy rain and thunder storms throughout the night. We leveled that it would only be wise to snuggle back into our lap of luxury in the Nut House at Tongabezi Lodge and drift sweetly back to sleep. I think we were both secretly relieved for the excuse to stay indoors. But our relief was short lived.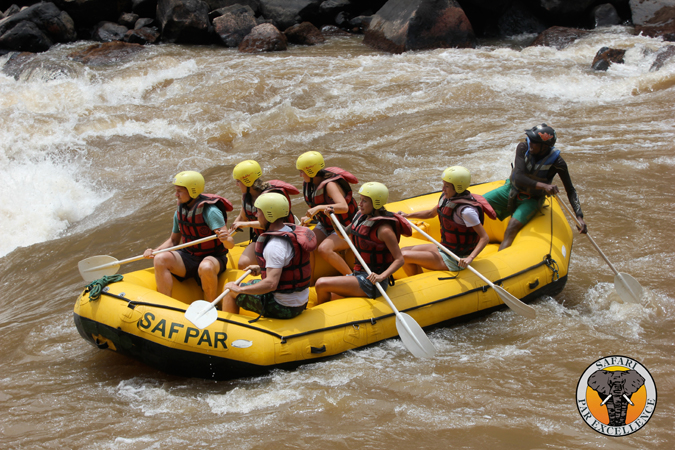 A gentle knock at the door pulled us out of our reverie and, no sooner had we blinked ourselves awake we were up and ready for our rafting experience.
By the time we had reached the waterfront only the rain had subsided, our nerves, however, were still alive and worsening by the minute.
SAFPAR – Safari par excellence was the company that would lead us intrepidly down the raging Zambezi rapids. They made sure we were properly kitted out with a life jacket and hard hat before very enthusiastically sheparding us down towards the water, like little lambs to the slaughter.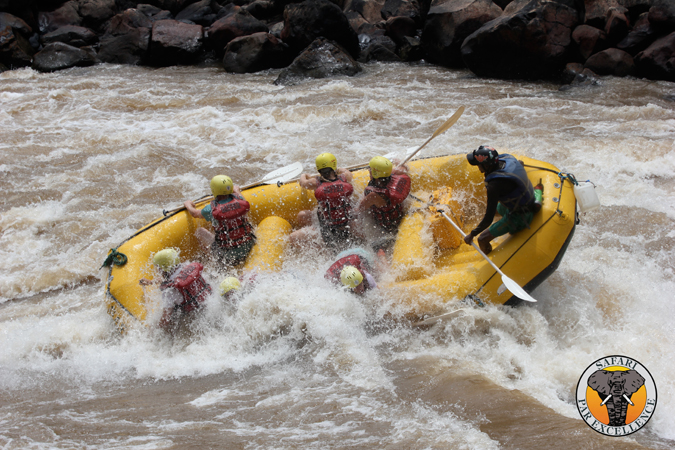 We were then assigned a raft and amongst several other anxious and worried faces we set off. First thing's first, the 'practice' round. Melvin, our drill sergeant and motivational team leader for the morning, took us through some crucial calls to prepare us for the unpredictable movements of the water, these included: "row right" "row left" "DOWN" and then what to do in the event of an "O-S moment" – O-S meaning 'Oh-Shit, we're capsizing'.
So after awkwardly confusing our lefts and our rights we were finally ready for the real deal, team Melvin was heading down Batoka Gorge and there was no turning back.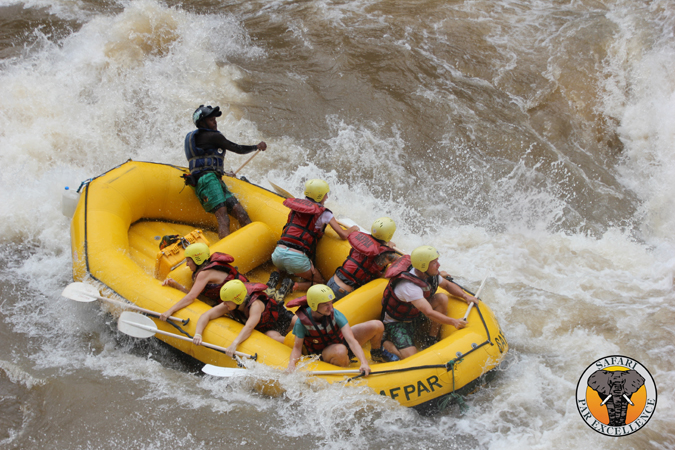 It was carnage out there, the foaming white rapids swallowed you up and spat you out mercilessly, bullying our little bodies to and fro in whichever direction it chose. The rapids were exhilarating and with names like 'Stairway to heaven', 'Gullivers travels', 'the midnight diner' and the 'Gnashing jaws of death', our pre rafting jitters were justly deserved.
With crocodiles flanking the river banks as you sailed swiftly down with the current it couldn't have been a more real experience of a wild African river.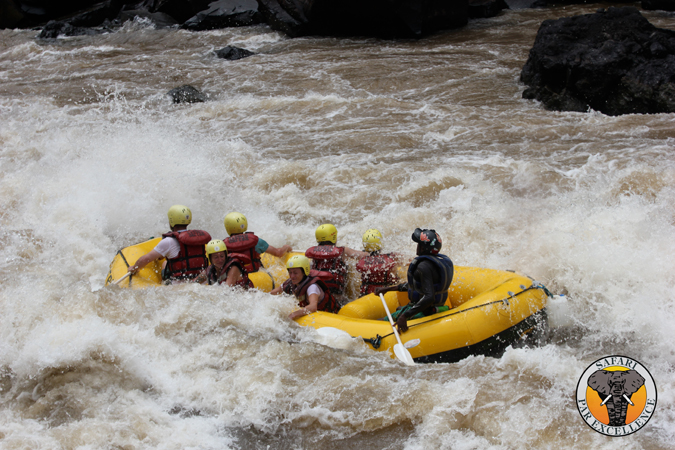 We had opted for the half-day experience, this included 10 rapids and took around 3hours to complete. In retrospect, I would have loved to do a full day trip, we'd become more and more confident and gung-ho after each rapid – so as you can imagine, after surviving 10 fairly hectic rapids, you begin to feel practically a pro, invincible against one of natures most effervescent forces.
Needless to say we lived to tell the tale and have plenty of photographic and even video evidence to show for it, thanks to the brave camera men that sit on the banks and document your embarrassing facial expressions as you face plant into wave upon wave of frothy Zambezi water.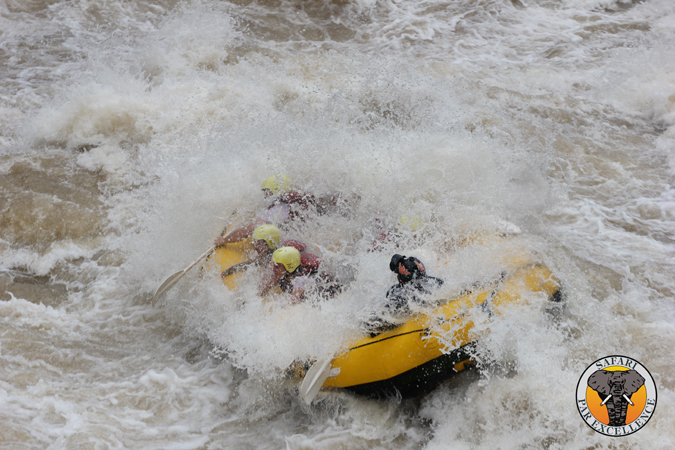 Despite my beginners nerves I thoroughly enjoyed my rafting experience, yes it's true, it is terrifying at times but, with that comes a smorgasbord of other feelings, fun creeps into the equation, elation and fearlessness, and before you know it you're having a whale of a time, you're riding the storm.
That being said I can proudly announce that my sister and I were the only two not to fall out of the raft – and our raft team was the only raft that did not capsize! We must be naturals.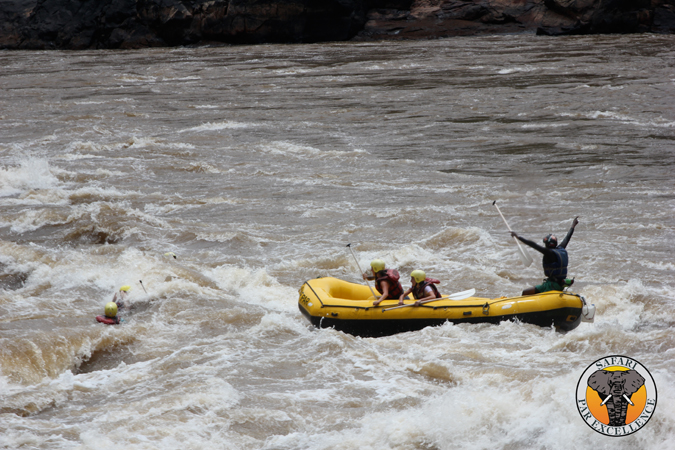 A HUGE thanks to the SAFPAR Team for bringing the vibe and making it possible for us scaredy cats to take part in and enjoy such an 'extreme sport'!
If you're ever in Zambia, or anywhere in the world that allows you the opportunity to experience white water rafting, do it!
httpv://youtu.be/jAmdeFa3DpU
Thank you to Airlink, for providing a seamless connection between bush and Falls – the ideal connection for passengers wanting to combine time in Kruger's bush with some time at the Mighty Falls.