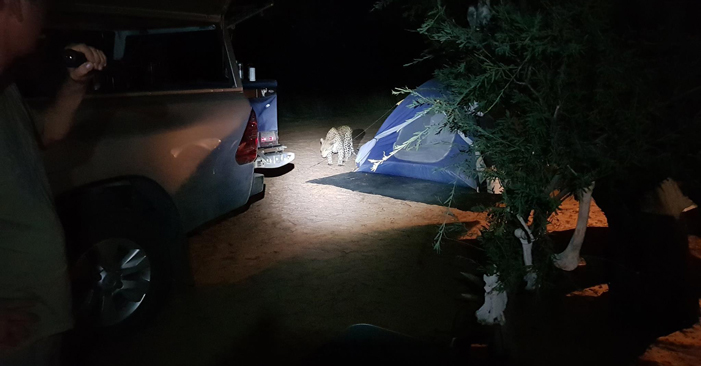 Written by Onne Vegter from Wild Wings Safaris
Yesterday we read the tragic story of a tourist that was attacked by a leopard while she was sleeping in her tent, at Matopi campsite in the Kgalagadi Transfrontier Park. 
It is upsetting to read such stories of when wild animals attack tourists and I wish the lady a speedy recovery. I hope this incident will not reduce her love for the bush and for leopards. I also hope this incident does not scare people off from visiting Africa's beautiful game reserves, or camping in unfenced wilderness camps.
This is very rare and unusual behaviour. Millions of tourists visit Africa's wildlife destinations every year, and thousands of them stay in tents in unfenced camps, and one hardly ever hears of an incident like this. Specifically, it is very unusual for a leopard to attack someone inside their tent. In most cases there is some explanation for the odd behaviour.
While I don't know the specifics of this incident and the leopard involved, it is possible that this leopard may have been old or injured, and by the sounds of it this leopard may also have been habituated. The fact that it seemed to walk around their camp totally unafraid of the campers shows that this leopard has lost its natural fear of humans. That said, the leopard is not to blame. Usually, humans are the cause of such unnatural behaviour by wild animals.
Quite often, though I'm not sure if it was the case here, leopards, hyenas and other wild animals are fed by campers throwing them scraps of meat and bone during dinner or after dinner. Being fed by humans causes wild animals to lose their fear of humans, and they start to associate humans with food. This makes those animals much more dangerous. This is true of leopards, hyenas, monkeys, baboons and all other wild animals that are fed by ignorant humans. It is no coincidence that most animal attacks happen by habituated wild animals, or animals in captivity.
Wild animals are naturally afraid of humans and do not associate humans with food. Most unfenced camps and lodges in Africa do not permit feeding of wild animals, and never have any problems with wild animals trying to enter a tent or attacking a tourist. It is extremely rare for a wild animal to attack someone inside their tent. The most common stories of wild animals entering tents are of baboons and monkeys "breaking and entering" in search of food.
If you are planning a trip to Africa, don't get nervous because of this rare incident. Rest assured that millions of tourists visit Africa's national parks and game reserves every year without incident. Every single day, thousands of tourists are doing bush walks and game drives on open safari vehicles in Africa's big game parks, and many of them stay overnight in unfenced tented camps, without any incidents.
Statistically, the risk of having a car accident on your way to the airport is far, far greater than the risk of being attacked by a wild animal while camping in Africa.