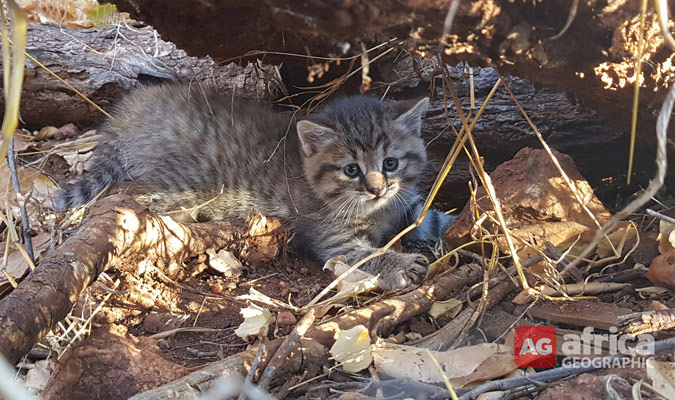 It was the fierce hissing and spitting that alerted me to the tiny kitten hidden under a pile of dead branches on our plot in Hoedspruit Wildlife Estate, bordering the Greater Kruger National Park. At first I thought that the noise was a Mozambique spitting cobra, because we have encountered a few of those in our garden.
I ushered our curious Jack Russell terrier from the scene, and approached again with caution. Again, the fierce hissing and spitting, accompanied by a tiny but resounding 'thump'. Then I saw the fierce eyes staring at me from underneath the dead branches. The tiny fluffball with a mean right jab (the 'thump' that I heard) was a few inches from my foot, safe under a pile of dead branches.
This explained why the ADULT African wildcat a short distance away from me did not hurry off when I approached, after I was alerted to its presence by alarm-calling birds. I had seen this individual wildcat before near our home, and usually it would vaporise into the surrounding bushveld soon after seeing me. Her having a kitten would also explain the slightly 'fuller' look this time – she is lactating.
Not wanting to disturb whatever was going on, I snapped a quick vid and a few pics on my mobile phone and retreated to our veranda about 50m away, to observe from afar. Soon after, I watched mom and kitten' leopard-crawl' away and disappear into a dense copse.
IMPORTANT note about African wildcats and inbreeding with domestic cats:
Having seen many African wildcats in several locations throughout Africa, I was interested in the observed subtle variations in coat shade and striping. Turns out that coat shades vary geographically, BUT also: many African wildcats are inbred with our domestic variety, at least to some extent. I would imagine that those found in this area probably have genetic maladies, bearing in mind the local domesticated cat populations. And so I make no claim as to the genetic purity of this cat and her kitten.
More information about African wildcats here: A Closer Look at the African Wildcat.