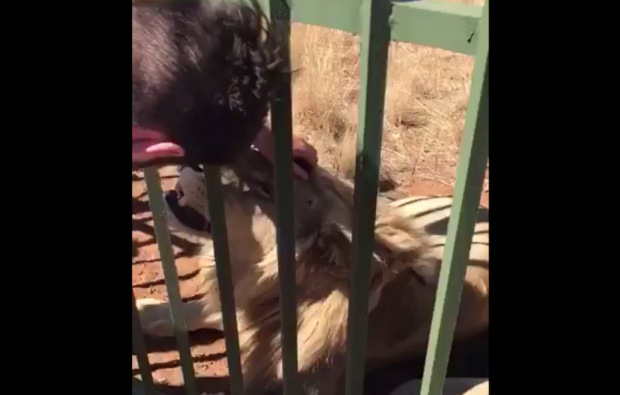 Sourced from third-party site: Traveller24, written by Unathi Nkanjeni
While conservationists in South Africa and around the world urge travellers and tour guides to stop all wildlife interactions, Scott Baldwin, a rugby player for Ospreys and Wales, was caught on camera petting a lion through a fence before it bit his hand at Weltevreden Game Lodge in Bloemfontein.
On Wednesday, 27 September, Baldwin was caught on camera sticking his hand through the fence of the lion enclosure, and petting a lion on its head. The attack has made headlines and a Wales rugby coach described Baldwin's actions as "pretty stupid".
Responding to the incident, the team behind the global documentary Blood Lions have spoken out, saying that the coach calling the actions "silly" and "stupid", can just as well be used to describe Baldwin's (and the rugby team's) choice to visit the enclosure in the first place.
"How many more such incidents will it take before the authorities react?" says Blood Lions.
Added to this, Blood Lions is calling on rugby authorities in charge of teams visiting South Africa to be more responsible about sanctioning visits to predator facilities by their players.
"These facilities play no role in conservation efforts to secure the future of lions and, by allowing players to visit they are promoting the cycle of brutality and exploitation the animals face," says Blood Lions.
Coach Steve Tandy' told a press conference that the lion "did bite Scott but when you put your hand in a fence where there is a lion' then you will get bitten".
"It is probably one of the silliest things I have ever been involved in. Thankfully' he is okay and should be playing again in a couple of weeks," says Tandy.
https://twitter.com/AndyGoode10/status/913879469798166528