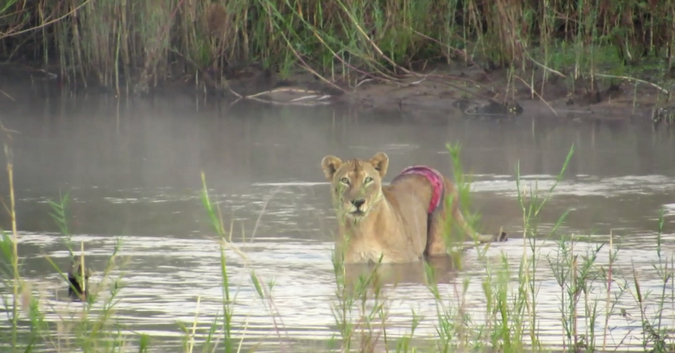 WARNING: MAY CONTAIN DISTRESSING IMAGES AND VIDEO
A month ago images surfaced of a lioness who had been discovered with a snare around her waist in the Kruger National Park. The Facebook group against wildlife snares, Enough is Enough, released a statement saying that after darting the lioness they were able to remove the snare and treat her wounds with antibiotics. They found that she was lactating, and two tiny cubs were discovered close to her.
At the time of writing they were unsure as to whether she would recover from such a deep wound.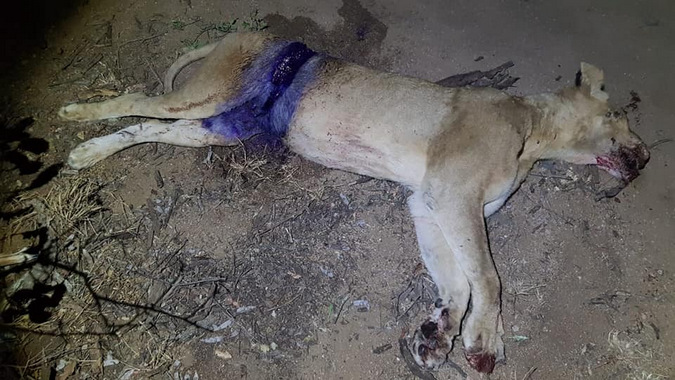 Now a recent video taken by Dean von Brughan Tours has emerged of the same lioness, along with the following statement from Dean von Brughan:
"On Sunday morning, I stopped on a small lookout loop on the S3 (Sabie River Road) in Kruger National Park. At first my guests and I were unable to spot anything and right before I turned my key this lioness caught my eye. We were so excited to see her standing in the river staring directly at us with such intensity. She slowly moved her whole body into view and we were shocked to see such a huge injury on her back that could only have been a snare.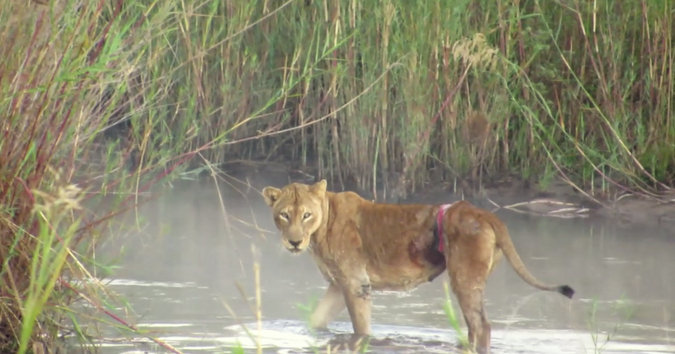 "Even though it was getting dark, I still decided to try and record her as to see if the snare was still around her waist. After reporting it to some rangers who were walking the fence-line and to the park, I was assured she had been tended to by a vet and that she is healing."
Watch the video of lioness below (WARNING: Not for sensitive viewers)