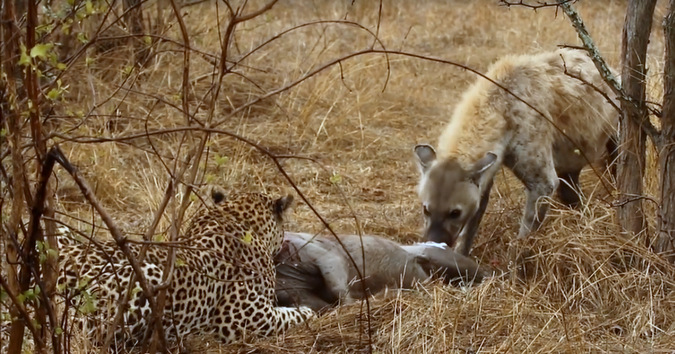 Written by Joffers McCormick
This was a sighting of a lifetime, and not one I will easily forget.
It happened while out on a game drive at Singita in Sabi Sands Game Reserve in South Africa where we heard the vocalisation of a warthog and knew straight away that there must be a predator in the area. So we set out to find the warthog and instead came across a leopard at a termite mound. Upon closer inspection we spotted the warthog at the base of the mound trying to reverse into a hole to escape from the leopard.
However, the leopard had a strong grip on the side of the warthog's face and managed to pull it out of the hole. The vocalisations from the warthog also attracted a hyena into the area and this is when it got serious…
The hyena and the leopard started to fight over the live warthog and from the video below one can see the strength of the hyena as it dragged both the leopard and the warthog through the bush!
The leopard was not willing to release its hard-earned kill, that is, until the second hyena arrived on the scene.
The leopard backed off to prevent any injury and had to take a back seat and watch as the hyenas fed on its kill. It didn't take long before the hyenas decided to leave the area with their kill to feed elsewhere, away from the leopard.
The leopard waited for a few minutes before it started to follow the scent of the kill in the hopes it would get another chance to feed.
This was something difficult to watch, but it shows the circle of life in the African bushveld – one animal dies in order for another to live. I will never forget the incredible interactions that took place among the various species that day.
WARNING: Not for sensitive viewers
Leopard and spotted hyena kill warthog

NOT FOR SENSITIVE VIEWERS!!This was one of the most incredible sightings that I have witnessed during my guiding career. Orange the world class tracker that I work with stopped me when he saw tracks of a male leopard. He went on foot in search of the animal whist we continued down the road to look for any further sign of the leopard. We then stopped and heard vocalization of a warthog and spotted the leopard at a termite mound. We approached the termite mound to find the leopard trying to extract the warthog from its burrow. The scene that unfolded next was a once in a lifetime experience- the interactions between the hyena and the leopard was something extremely special to see. This video was filmed on the 11th of November 2017. #singita #oursingita #mysingita

Gepostet von Joffers Photography am Montag, 13. November 2017