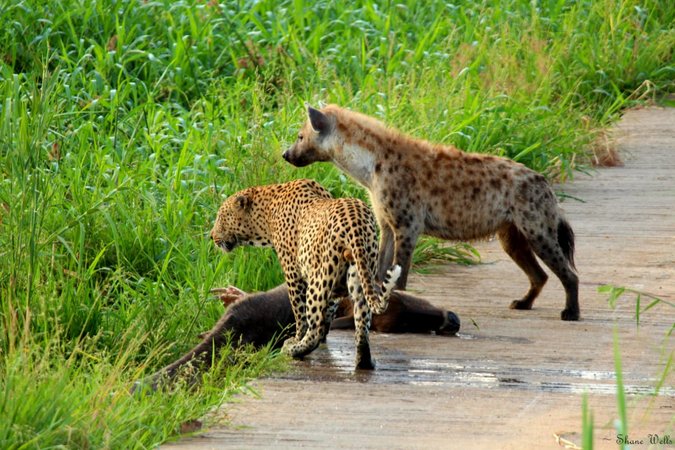 Written by Emily Whiting
It was another beautiful morning at Klaserie Drift Safari Camps and our guests were busy enjoying breakfast at a waterhole when I got a call from a fellow guide. One of our favourite male leopards, locally known as the Pale Male, had been spotted just a few minutes away at the river.
Firing into action, we climbed onto the game viewer and headed out to find him. In spite of our best efforts, however, the furtive feline managed to evade us. We stayed a while to search in the reeds and, on closer inspection, discovered the carcass of a recently killed female waterbuck. At more than double the size of a male leopard, the waterbuck was a mighty feat for the leopard. But here was the evidence, right in front of us!
Determined not to miss him a second time, we left early for the afternoon drive and sat in a shaded spot on the bridge overlooking the carcass. Too heavy to lift, the leopard had been forced to leave it out in the open and was a little more wary than usual.
We waited. Slowly but surely, he emerged from the reeds.
Cameras clicking into action, we watched excitedly as he began feeding once more on his prize. Abruptly, he began to dig vigorously into the abdomen of the deceased waterbuck. Pushing his face right inside, he emerged with a glorious prize – a fully-formed calf. Knowing he would soon lose his kill to scavengers, he cleverly slunk away to stash the calf in an unseen tree for later. As fascinating as the scene was, it reminded us of nature's terrible brutality. Life is often difficult and fleeting for those who are not strong enough to survive. Buoyed and saddened in equal measure, we finally tore ourselves away, wondering who might pay the waterbuck a visit during the night.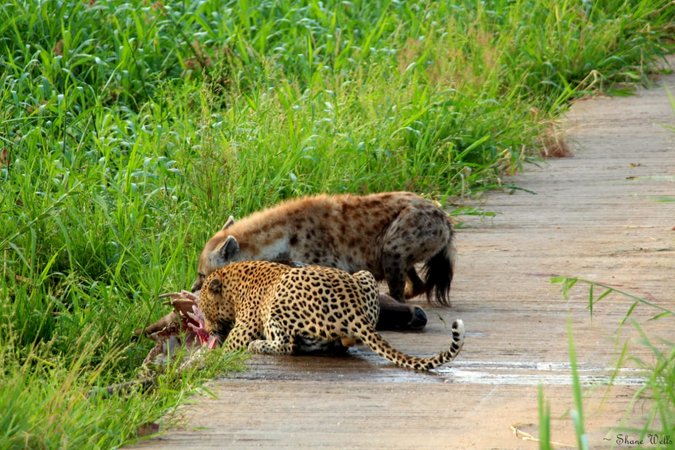 Anticipation high, we returned the next morning to discover our leopard still busy with his hard-earned meal, although this time he wasn't alone. A single female hyena was quietly sharing the carcass.
With no objection from Pale Male, the predators sat side-by-side as they feasted. Normally, a hyena will call in her clan members when a kill is located. However, these two unlikely friends appeared to reach an unspoken agreement. If the leopard chased off the hyena, she would call for support and soon the leopard would be overwhelmed and lose everything. If the hyena prematurely alerted her clan, she would be forced to share her find with many more mouths.
Thus, they chose to remain silent and tolerant of one another, each benefiting from their accord. A wonderfully weird interaction between different predator species that is seldom seen in the bush! In awe of this special moment, we sat motionless and without a sound.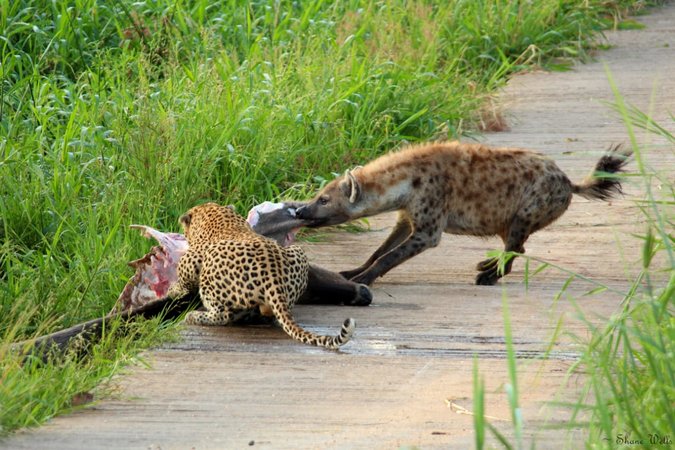 Eventually, however, the bubble burst. Another hyena located the carcass and, outnumbered, the leopard bolted. The scavengers erupted into a cacophony of laughter and excited trilling and they battled for the spoils.
With much pulling and tugging, the waterbuck was soon dragged across the bridge and out of sight into the thick bed of reeds. We soaked up the last of the action, burning the sounds and sights into our minds so that we might never forget until, finally, everything became quiet.
Yesterday's expectant waterbuck, who had come to the river on a hot day to quench her thirst and sooth her aching pregnant body, was now nothing but a memory. Somewhere in the bush, her unborn calf dangled from a tree, perhaps fortunate to have never known how cruel life can be.
Watch the video below, by Emily Whiting, of the leopard and the hyena together at the waterbuck carcass