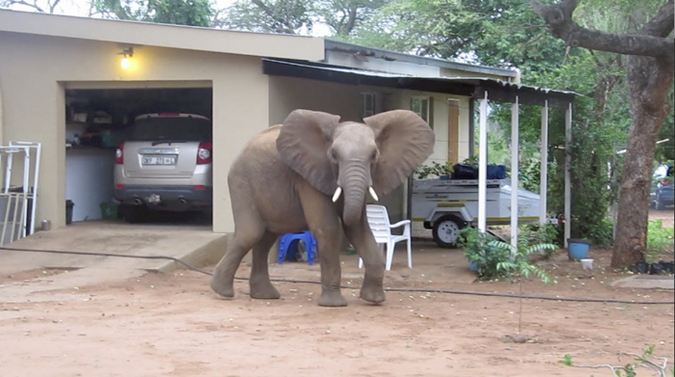 Kruger Stories written by Linda Oosthuizen
As residents of the Kruger National Park, we don't really worry about major crime; unlike people in the rest of South Africa. I have lived in our beautiful game reserve with my husband and our boys for almost five years now and the only break-in we have had is a troop of vervet monkeys who raided the fruit bowl.
Yes, there are trespassers in our garden, but they only come in the form of baboons, impalas, squirrels and other critters we call our neighbours. And, now that marula season is here, we have had some interesting encounters with elephants in our garden!
Elephants looove marula fruit. I have seen them rush to a tree with a lot of fallen fruit the same way they would hurry to a waterhole when they are thirsty. We happen to have two marula trees in our garden that drop a lot of fruit. I have made jars and jars full of marula jelly, but I just could not keep up with the marula tree's abundance!  So there have been piles of fruit lying around. Too much for an elephant to resist!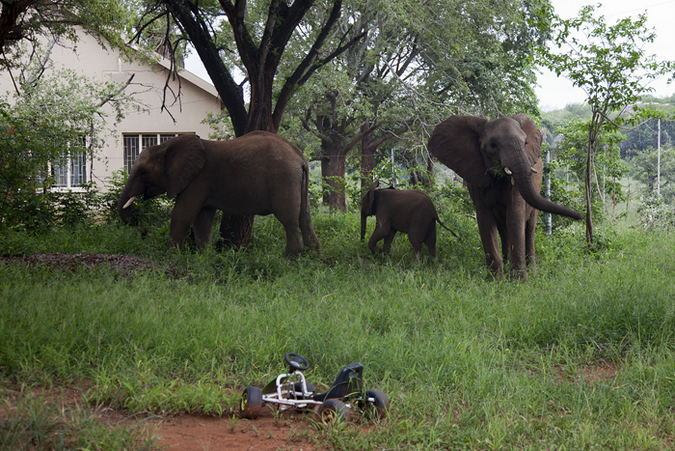 A few weeks ago I had to fetch my husband Steven from the bus in town – he had been in Pretoria for his studies – and since I left in a bit of a hurry, I had forgotten to close the gate behind me…
While he was away I had noticed quite a few elephants walking past our front gate – they could obviously smell the sweet, ripe marula fruit in our garden. So there was no surprise when Steven and I got back home to find two elephants at the front gate… and one inside! I really could not blame them.
"You can have your marulas, I don't mind. Just leave my veggies please!" I told the elephants. I have a little veggie patch in our garden and some of my spinach and all of my onions have already fallen victim to a few elephants in our yard.
The commotion was a bit too much for the young elephant bull, so after another trunk-full of the juicy fruit, and a bit of encouragement from my husband, the 'Marula Clean-up Crew' left our yard. Steven closed the gate behind him so the kids could come outside and play.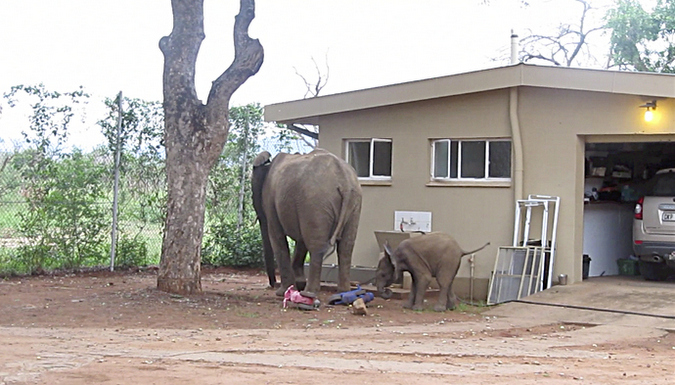 That evening we had planned to have a braai. When it was time to light the fire, I followed Steven out our back door, but inadvertently bumped into him as he stopped dead in his tracks.
Right next to our braai there were three elephants munching away on the tall grass at the back of our house. Our own personal Kruger Garden Services! I had to laugh. With all the marula fruit in our garden, this was bound to happen. Or maybe the elephants just wanted to join in the fun of a good old Kruger braai. Who knows!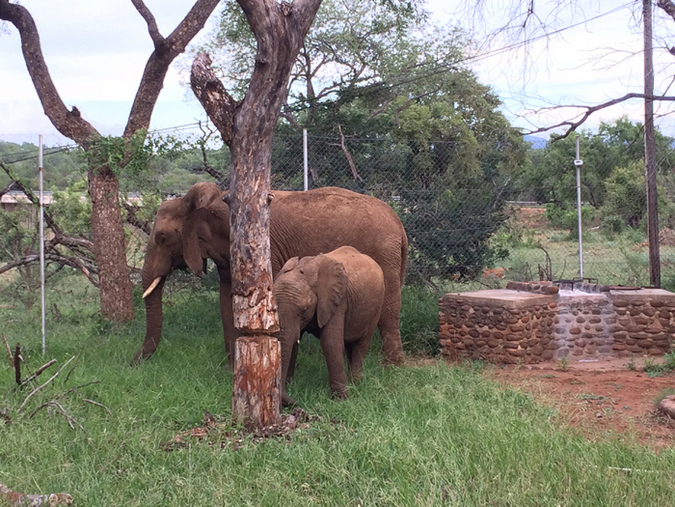 Steven quietly went back inside and closed the gauze door behind me to keep our curious kids inside.
"Olifant aaien?" Alex asked me. Which is Dutch for "Can I go pet the elephant?"
"Better not my lovie, elephants don't really like to be petted." I whispered back from my relatively safe spot at the door.
The next morning, I slept in a bit while Steven took the 'early shift' with the kids. I was slowly waking up when I heard an elephant scream close by. I shot out of bed like a 'Jack-in-the-box' and opened the curtains. Three more elephants in the yard! This time it was a cow with a young calf and a youngish bull. The morning shift of the 'Marula Clean-up Crew' had arrived.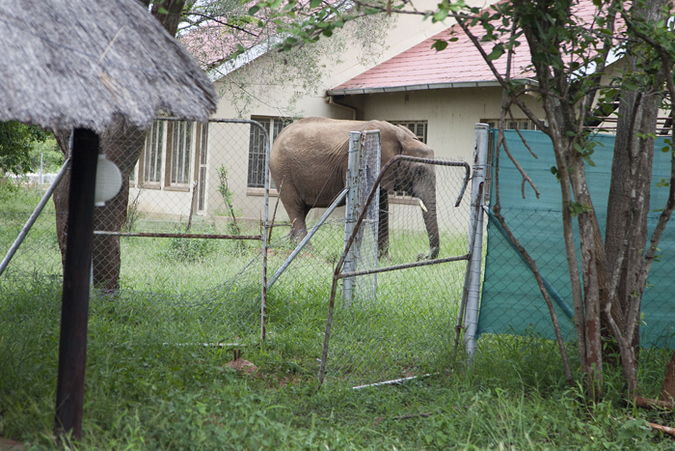 I grabbed my camera and quickly walked to the lounge, where the kids were having breakfast.
"Mama kyk, olifant!" Alex said as he took a bite of cereal. I suppose the kids were used to having elephants in the yard by now. Just yesterday afternoon they were at the windows with their faces pressed up at the glass looking at them, and this morning they were quite happy to stay at the dining room table and eat their breakfast while the elephants were enjoying theirs.
Amazing to think that this is their 'normal'. They don't know anything else but this! The Kruger National Park is their backyard: elephants come and play, bokkies walk past every day, monkeys are naughty, and we are not allowed to touch the tortoises and snakes. What a wonderful way to grow up.
Watch footage taken from a camera trap of the elephants eating the marula fruit (© Linda Oosthuizen)
I softly opened our front door. The cow was hoovering up the marula fruit with her trunk faster than you can say 'hoovering'. Her baby was also enjoying the marula feast and was shoving the ripe fruits into her little mouth. Mum was in such a hurry to eat all of the marulas; she almost tripped over the kid's scooters that were strewn about under the tree.
Both of the older elephants picked up my movement and gave me a bit of a display. Nothing to get your adrenaline going early in the morning like an elephant that takes a few quick steps towards you, ears flared out and all!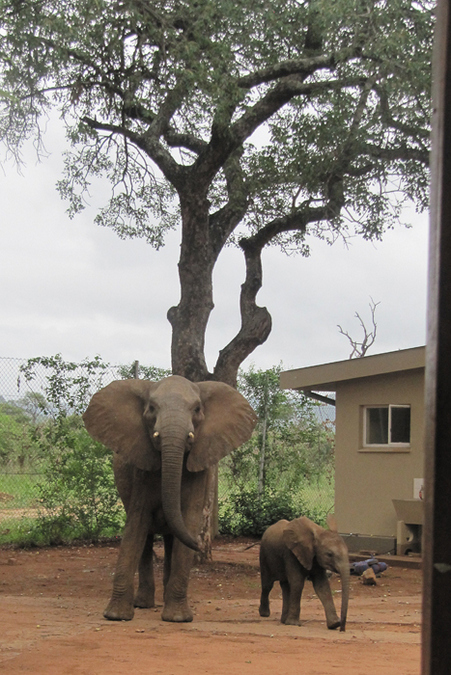 After making short work of all the fallen marula fruit, the three elephants retreated the way they came in… through the half broken gate at our lapa, leaving some party gifts in their wake. The grass in the garden next door was also very tall and in need of some mowing, which looked like their next job.
Thanks Kruger Garden Services for sending your 'Marula Clean-up Crew'. I would have this kind of trespassing over the serious city criminal kind every day!
Watch the 'Marula Clean-up Crew' in action below (© Linda Oosthuizen)