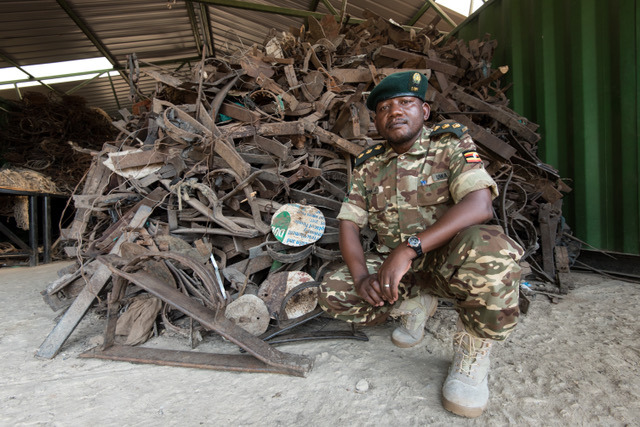 Press release by Tusk
"Every creature in this world has a purpose and a positive one. We should strike a balance living in harmony with them. These resources must be protected!" Julius Obwona – Tusk Wildlife Ranger Award Winner 2018
The annual Tusk Conservation Awards, in partnership with Investec Asset Management, celebrate extraordinary people, whose work and lives might otherwise go unnoticed outside their fields. Their work with wildlife and communities in Africa safeguards the future for us all. The Tusk Wildlife Ranger Award gives international recognition to the men and women who face danger every day to protect Africa's wildlife. Rangers often work for little reward, risking and even losing their lives to protect the world's wildlife and its fragile ecosystems.
Julius Obwona joined the then Uganda National Parks in 1995 as a ranger, rising through the ranks to become Assistant Warden and then Warden in Charge of Law Enforcement. Much of his operational experience was gained when the Lord's Resistance Army were very active in the Murchinson Falls Conservation Area. Julius worked with the Ugandan army to counter and remove the rebel group. Julius now supervises over 300 staff.
Since 2014 Julius has trained over 600 rangers, now widely deployed throughout Murchinson. He headed up the creation of the Marine Ranger Unit and was integral in planning the location of the seven new Ranger Posts. This is even more impressive, considering that in 2013 there was only one working vehicle in Murchinson and all operations were done on foot.
Over the past 18 months his leadership has led to the prosecution of 720 suspects involved in wildlife related crimes, 620 being successfully convicted. Fourteen were notorious, heavily-armed elephant poachers. His efforts have led to major reductions in elephant and bushmeat poaching. Julius and his teams of rangers have confiscated over ten metric tonnes of snares, reducing the three elephants a day formerly being seen in traps to around three a month.
Julius has shown exceptional leadership qualities, investigation acumen and intelligence gathering skills. He has developed a remarkable ability in working with poachers and local communities, to help break the poaching cycle whilst still promoting livelihoods, and such is held in high esteem by everyone he works with.
"Julius is a most deserving candidate and receipt of such an accolade will help cement his standing as a future leader in fighting wildlife crime," said Lt Gen Ivan Koreta, Uganda People's Defence Forces (UPDF)
The Duke of Cambridge, Tusks Royal Patron says: "These awards which mean a great deal to me personally, play a huge part in our mission to preserve Africa's precious wildlife for its people. It is vital that we recognise the dedication of these unsung heroes and the bravery of rangers risking their lives, day and night, on conservation's frontline. We all owe them a huge debt of gratitude."
To read more about Julius' incredible work visit tuskawards.com.
httpv://www.youtube.com/watch?v=F3jSN6Dw1mw&authuser=1
About Tusk
For almost thirty years, Tusk has pioneered successful conservation action in Africa. From the plains of the Serengeti to the rainforests of the Congo Basin, we're working to build a healthier, fairer and more productive continent. We do this by protecting wildlife, empowering communities and advancing the frontline in the fight against the illegal wildlife trade.
Founded in 1990 and under the Royal Patronage of HRH The Duke of Cambridge since 2005, Tusk has supported local partners and communities on the ground with over £40 million of investment.
Joining forces with over 80 project partners in 19 countries, we know that the key to sustainable conservation is supporting the expertise and initiatives of local communities. Together we provide greater protection for more than 40 threatened species and work to secure the precious landscapes they depend on.
More than 6,000 local people are employed through Tusk's partner projects, while more than a million others benefit from greater security, infrastructure, healthcare, and the wider livelihood options that they present.
Over 100,000 children currently attend schools and education centres supported by Tusk, and our Pan African Conservation Education (PACE) programme has already reached over 500,000 schoolchildren in 33 different countries.