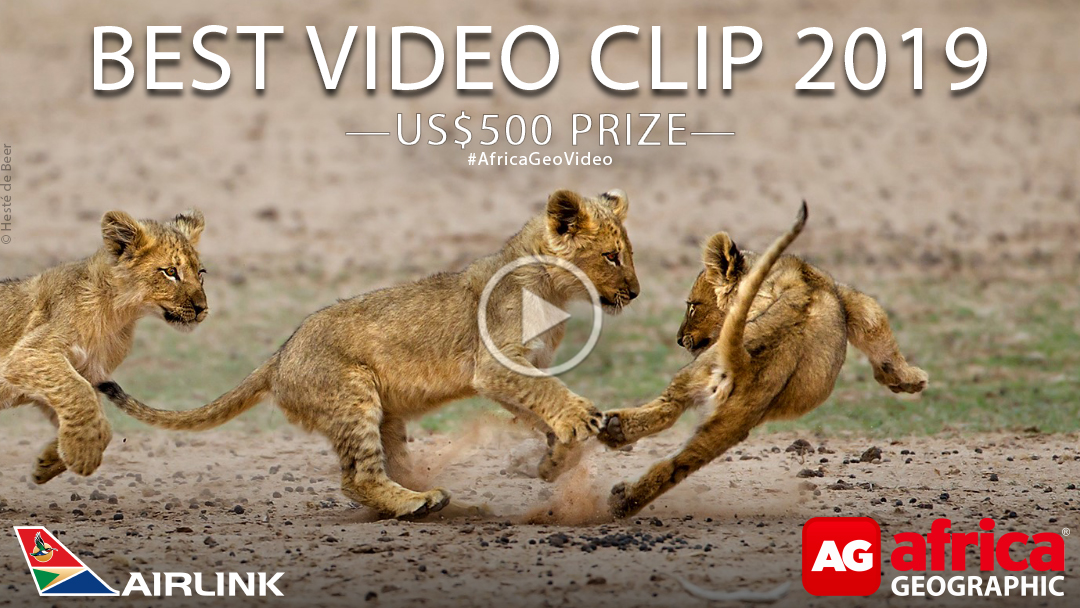 The Africa Geographic BEST VIDEO CLIP 2019 competition, is proudly sponsored by Airlink.

Our Best Video Clip 2019 competition has now closed for entries. Over the past six months we have received some epic video clips that have left us amazed and astounded, and made judging quite the challenge!
After much deliberation the judges have now selected the Top 6. One of these video clips stands the chance to win $500 and be crowned 2019's Best Video Clip!
The winner will be announced on Tuesday, 31st December, 2019.
Take a look at our Top 6 Best Video Clip entries below – in no particular order.
• Dwarf mongoose closeup. Filmed in Kapama Game Reserve, South Africa © Ebenezer Rhode
• Painted wolves (African wild dogs) chase hyenas under game vehicle in epic battle. Filmed in Klaserie Private Nature Reserve, Greater Kruger, South Africa © Elly Gearing
• A honey badger hunting geckos in the bark of a fallen camel thorn tree. Filmed in Kgalagadi Transfrontier Park, South Africa © Johnathan Hollard
• Baby elephant tries to drink from muddy water, but has not yet mastered his trunk. Filmed in Mashatu Game Reserve, Tuli Block, Botswana © Peter Reitze
• White rhino mother and calf, filmed in Kenya © Tissanee Deja-aur-arie
• Funny moment as a warthog scares a pride of resting lions, filmed in Sabi Sands, South Africa © Wild Wings Safaris