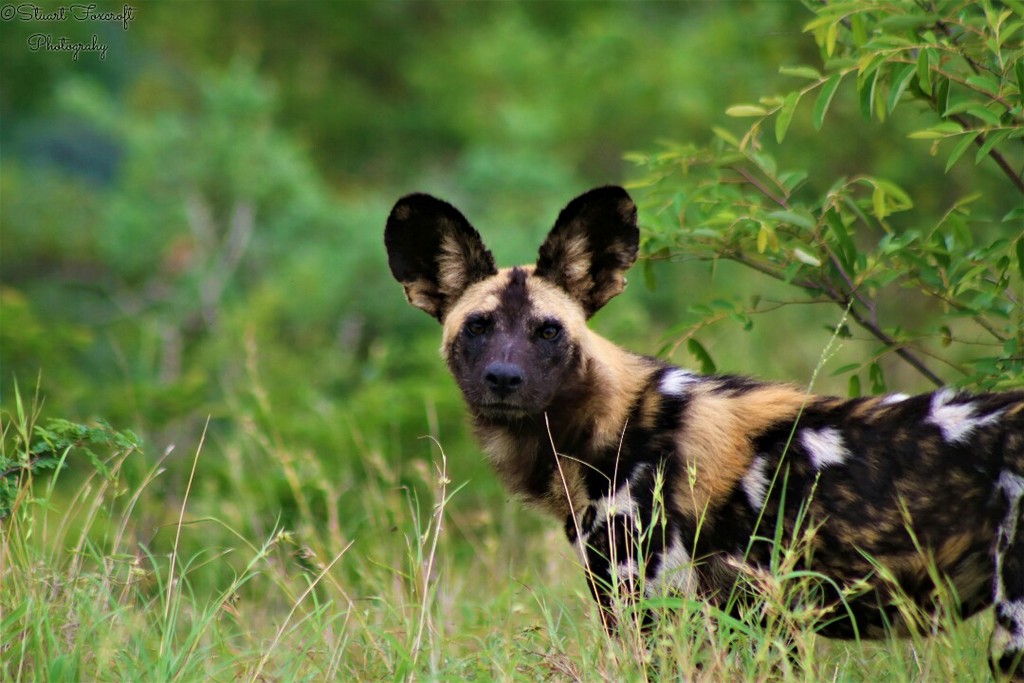 SPONSORED CONTENT by Claire Birtwhistle/Rhino River Lodge
Manyoni Private Game Reserve in KwaZulu Natal reintroduced painted wolves (African wild dogs) to the reserve in 2014. It's been a rocky road for the pack since then, however Manyoni has been determined to do whatever it takes to look after them and ensure their long-term success. After all, with less than 400 painted wolves estimated to be left in South Africa, it is vital to protect every individual of this endangered species.
This is why the Manyoni team recently went through enormous efforts to rescue the alpha female, and then the alpha male, after they both suffered from serious leg injuries on separate occasions.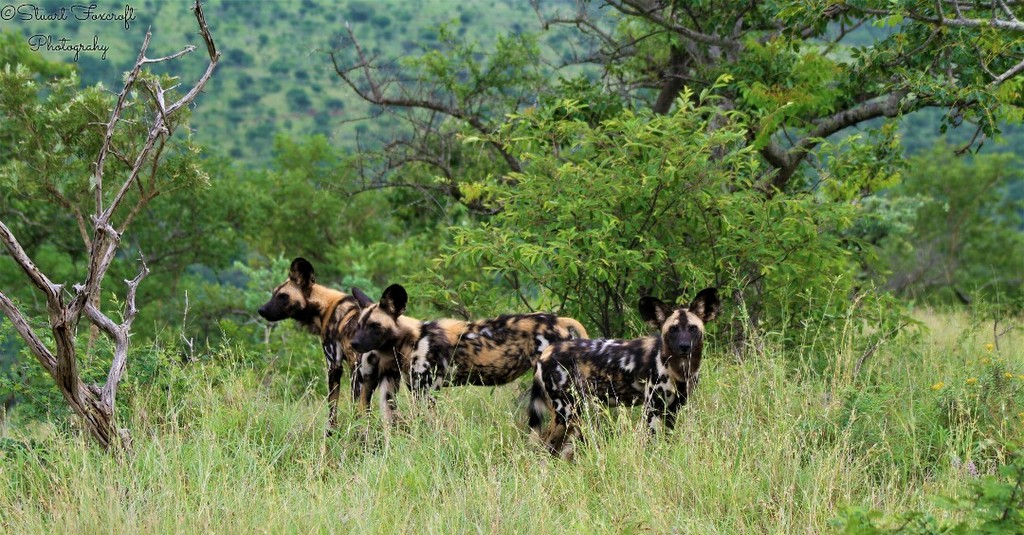 The alpha female was spotted in March this year with a badly injured back leg. She needed urgent veterinary treatment, however, as painted wolves are highly intelligent and have a tight-knit social hierarchy, the rest of the pack were protecting her and would not let the team anywhere near her. After days of repeatedly trying and failing to get close enough to her to dart her, the decision was made to try and dart her from a helicopter. This is no easy feat considering that wild dogs are small targets and can move very quickly through long grass.
After an hour of suspense and no communication on the ground to air radio, the helicopter returned and to everyone's relief, Dr. Mike Toft, the veterinarian, climbed out the helicopter with the female in his hands. After assessing the injury thoroughly, it became evident that the leg was too badly broken to be treated and needed to be amputated to save her life.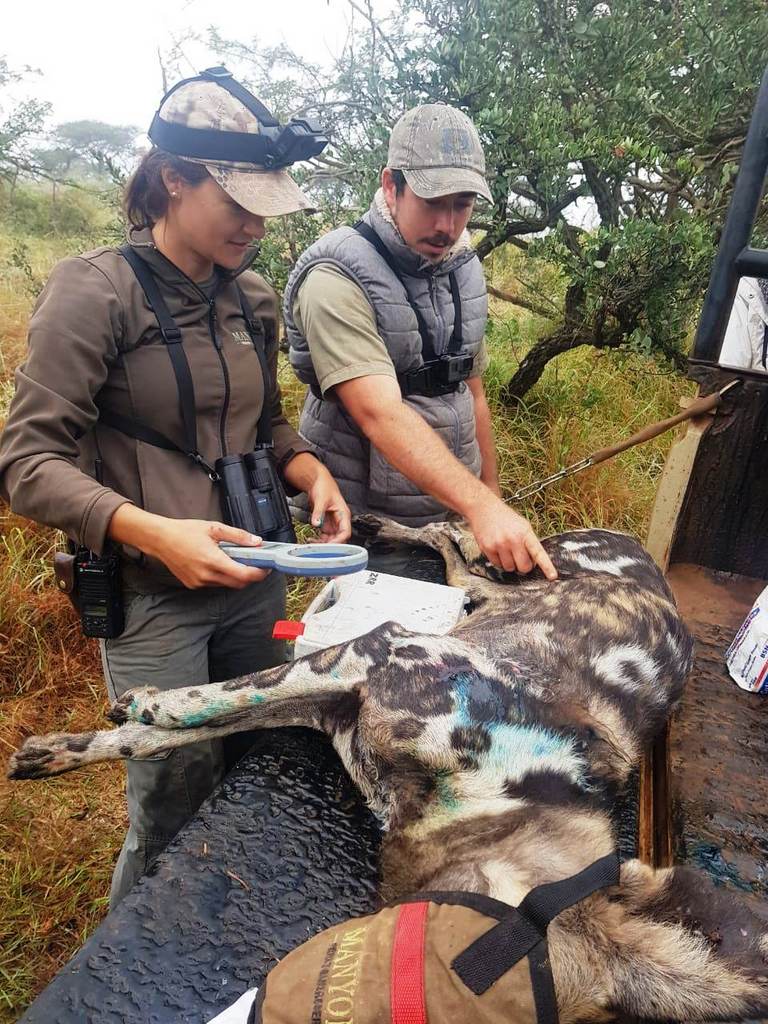 After her surgery, she was placed in a holding boma (outdoor enclosure) with some food for 48 hours to recover and allow the team to monitor her progress. Fortunately, she awoke quickly and started feeding immediately, and it didn't take long before she was up on her three legs and moving around.
A couple days later, she was released back into the reserve and rejoined her pack quickly. Since then, she has managed to efficiently keep up with the rest of her pack mates, showing no distress about missing a leg.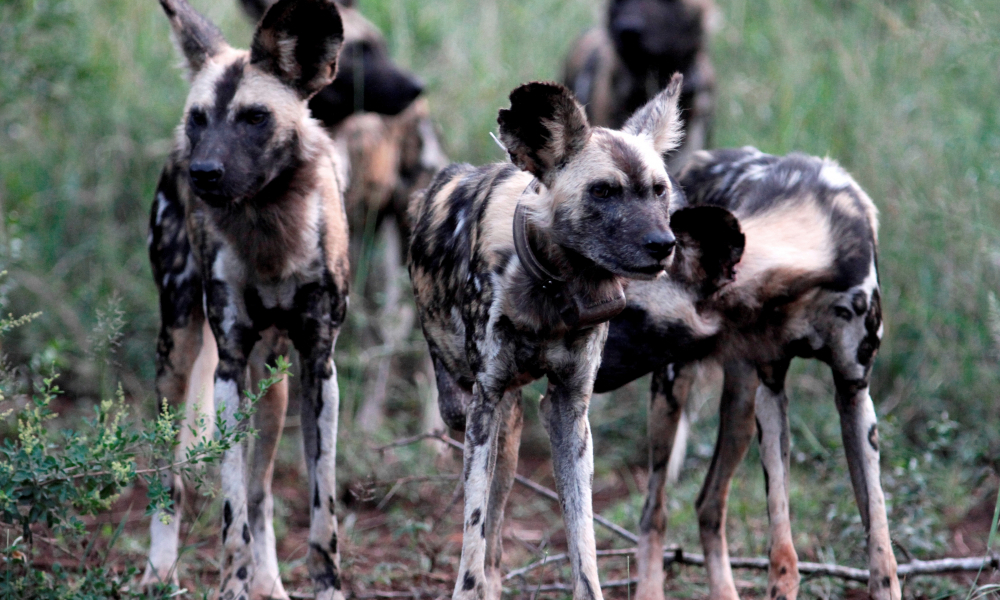 Things were looking up for this pack of painted wolves for a while, until three months later when the alpha male was seen walking with a severe limp due to a serious injury to his front right leg. Once again, the Manyoni team sprang into action and quickly responded by attempting to capture the male and treat the injury. However, he didn't make things easy for them and disappeared into an old underground warthog burrow located in some of the reserve's steepest and most challenging terrain. At this point his condition had deteriorated hugely and the chance of him dying was significant. Thus, the team made the daring decision to dart him within the warthog burrow – quite likely the only time something like this has ever been attempted! The dart was successful and after the drugs took effect, Dr. Mike Toft was able to pull the painted wolf out of the deep hole. He then had to be carried to a more accessible area where he could be airlifted.
It was found that the alpha male had been injured by a snare that had severed all the muscles around the leg and the decision was made to amputate the leg in order to save his life.
After a long surgery, he was placed in a boma to recover before being released and rejoining his pack. Just like the alpha female, he was able to quickly adapt to getting around on three legs.
Watch the video for all the action (© The Bigger Picture Films):
These stories are just two more wonderful examples of how resilient painted wolves can be!
In the video below, filmed by Ranger Stuart Foxcroft, you can see the pack members all together, playing and relaxing in the dry riverbed, looking happy and healthy despite their recent hardships:
There are also plans in place to introduce some new wild dogs to the reserve which will help with boosting the population and ensuring genetic variety.