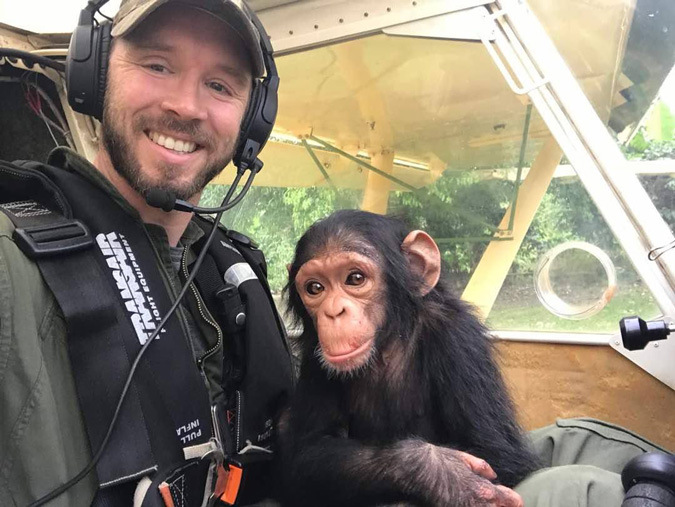 ***Please note: Chimps and all wild animals make lousy pets. Please, do not be tempted.
Written by Ayo Gospodinova
Meet little Mussa. He was recently rescued from poachers who killed his family for bushmeat. Now he is safely recovering at the Lwiro primate sanctuary, Centre de Rehabilitation des Primates de Lwiro (CRPL), in the Democratic Republic of Congo. However, Mussa is just one of the few lucky chimps to be saved from the hands of poachers.
Around 3,000 great apes – orangutans, gorillas and chimpanzees – are being killed or removed from their natural habitat each year, according to a UN report. The research also found that more than 22,000 apes had been either killed or smuggled between 2005 and 2011.
Adult chimpanzees are murdered for bushmeat, while the orphaned young are sold to zoos or as exotic pets. Others are used in the entertainment business such as in circuses or theme parks. A poacher may sell one baby chimpanzee for around 20-50 US dollars, but often the chimp ends up in the hands of a middleman and the final price can be up to several thousand dollars.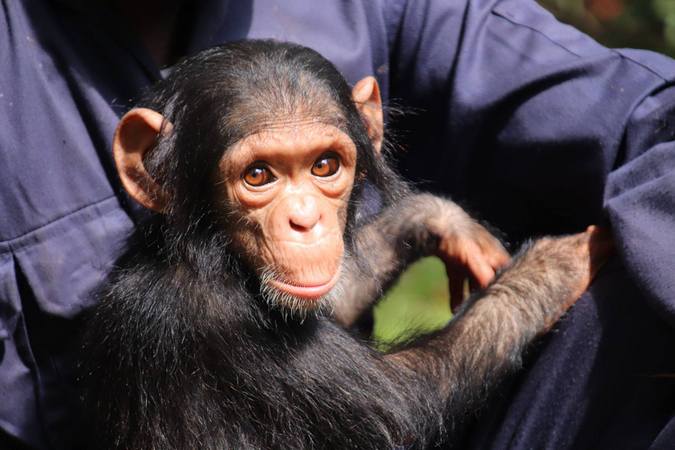 A BBC investigation also exposed a number of chimp farms in Guinea, the Ivory Coast, the Democratic Republic of Congo and Liberia.
All of this comes at a terrible cost: the dramatic decline of the chimp population.
This could have been Mussa's fate had the rescue team not intervened.
After seeing a photo of him on Whatsapp, a team from Virunga National Park investigated as to where his exact location was. In just two days they managed to locate and confiscate him. Chimp mothers are incredibly protective, so it's highly likely that he came into human contact soon after his mother was shot in front of him.
Such a terrible experience, followed by captivity in a cage and possible torture, can deeply stress a chimpanzee. Some fall sick immediately, while others begin to display stress-induced behaviour, such as pulling out their own hair. A lot suffer from wounds and bruises.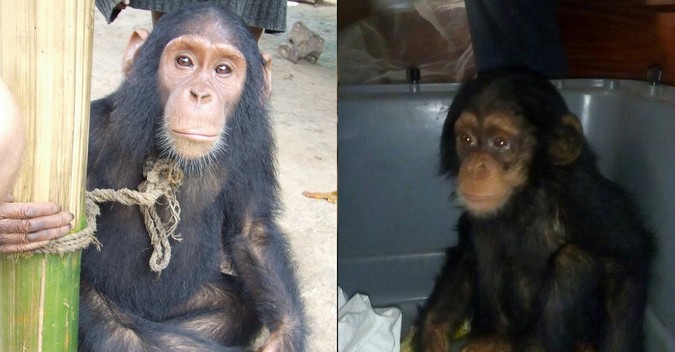 As babies, chimpanzees look incredibly cute and innocent, but when they grow up they can become extremely strong and aggressive, and as such they make terrible pets. They can live up to 50-60 years in captivity, but because they are no longer small and cute their owners have no option but to euthanise them.
Luckily Mussa is now safe and recovering incredibly quickly. The sanctuary is optimistic that he will be able to return to the wild, and had the following to say about his condition:
"Mussa is doing well. He is happy. We have given him all the necessary tests and overall he is healthy. He has the typical wounds around his waist from the rope he was attached to. The rope was too tight and so it cut his skin. Around 90% of the chimps and other primates we rescue have these wounds. He also arrived dehydrated and malnourished, as it can be seen in his slightly swollen eyes. Mussa also has some parasites that he is being treated for.
He laughs and plays, and he has settled in with his new surrogate parents and the other babies with which he has already been integrated.
Currently at the sanctuary we have 80 chimps and 100 other primates – many of whom will one day, we hope, will go back to the wild.  Several will not because of physical and mental trauma."
Read about chimpanzee tracking in Mahale Mountains National Park in our feature story: Magical Mahale: Meeting with chimps