Original source: Bush-boundgirl.com
In every bush-loving family there is the safari story. That legendary tale that gets told again and again around the campfire to new friends on full moon nights, when buffalo-shaped bushes shift in the wind, casting shadows that look like stalking lions…
This is our family's story, set on a night just as I have described, in the beautiful Moremi Game Reserve in Botswana, at a campsite called Third Bridge. As it's name suggests, the camp is accessed by a bridge – a rickety bamboo crossing surrounded by reeds that filter the water, making it pure and perfect for drinking – an essential stop for filling up water tanks. The water collects in a clear pool which is wonderful to swim in (But beware of crocodiles and don't say that I told you too!)
Anyway, back to the story … I was about eight years old on this particular bush holiday. The motto for our trip, as suggested by my brother (who is two years younger than me), was 'We walk on the wild side, we laugh in the face of danger, hahahaha…' (from Walt Disney's The Lion King) These words were fully embraced by us three barefoot bush hooligans and chanted repeatedly, whenever we remembered to do so.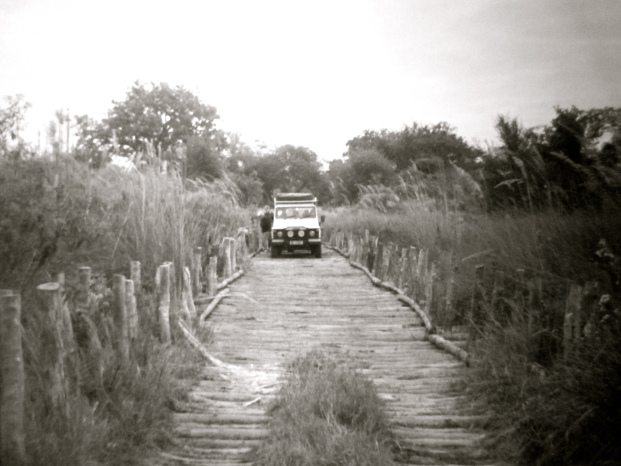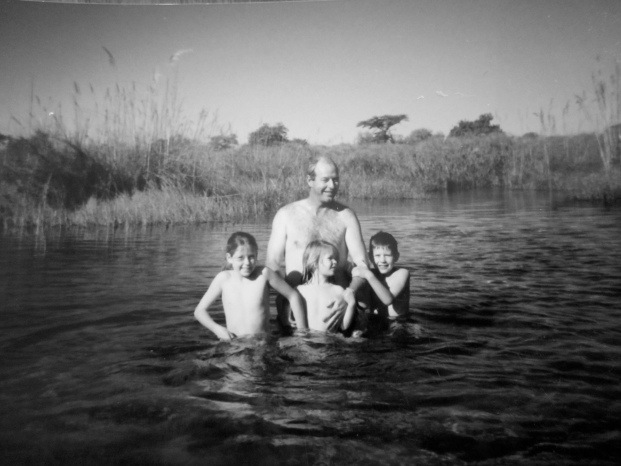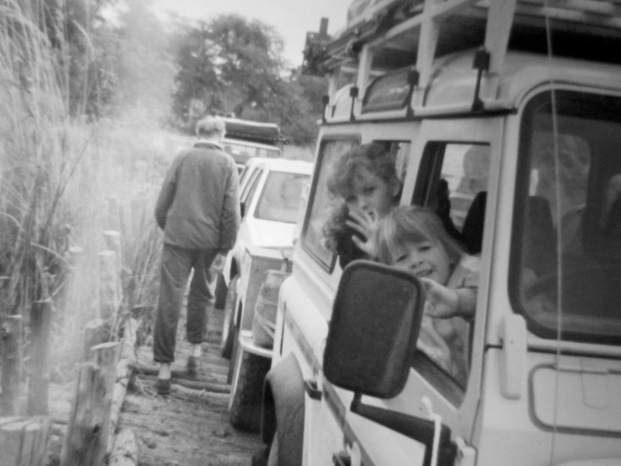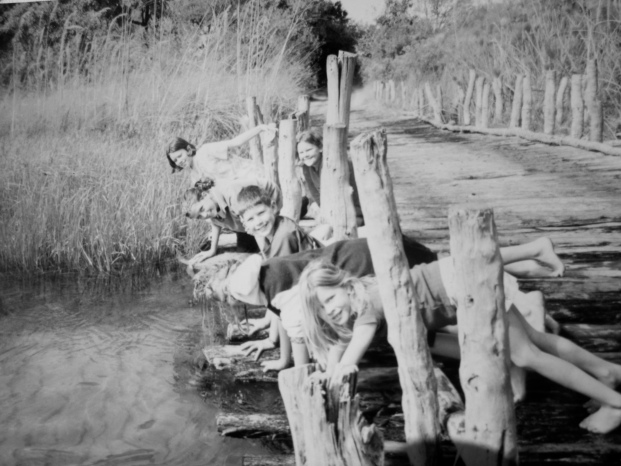 One night, exactly like the one I've already described, Dad had been telling us a bedtime story – the spine-tingling true tale of the man-eating lions of Tsava, and their sorry victims, which occurred during the construction the Kenyan-Uganda Railway in 1898. While we were listening, the resident Third Bridge pride of lions began roaring. As the roaring got louder, our circle of five camping chairs got smaller and smaller. I even remember taking off my gumboots so that they didn't melt in the hot coals. Lions walking across the bridge and roaring was an almost nightly ritual at Third Bridge (My favourite sound in the world!) But, that night, Mum had a 'funny feeling' and we were sent to bed earlier than usual.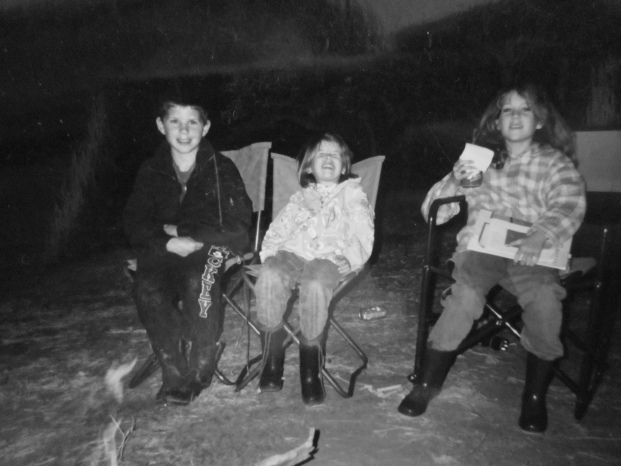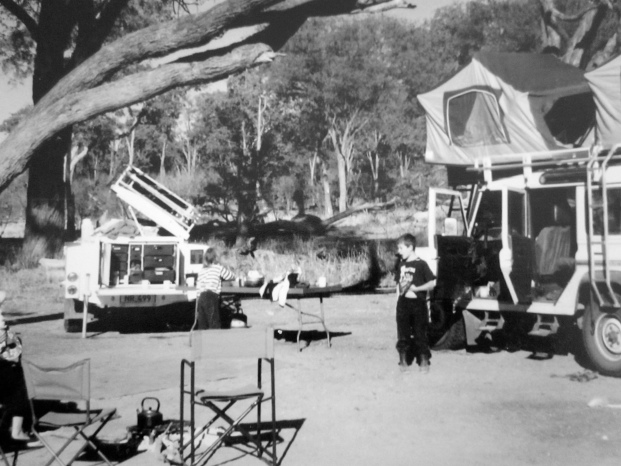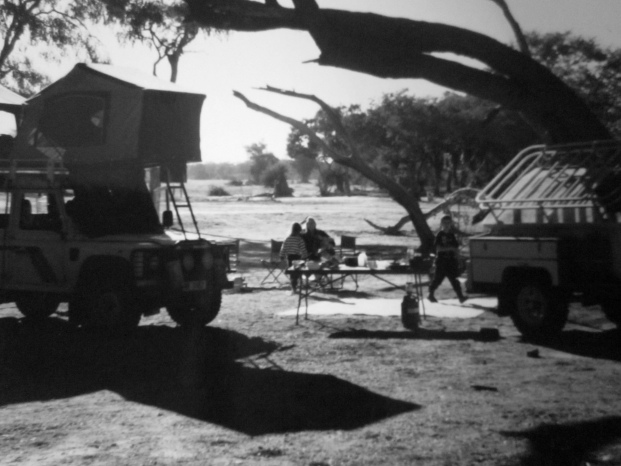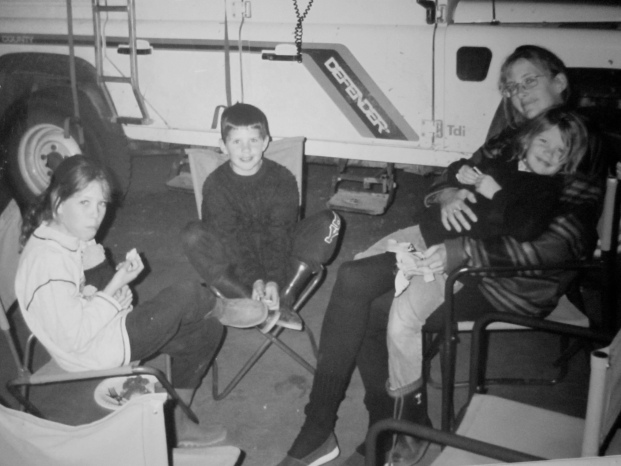 Lying in our rooftop tent (We had two tents, one for our parents and one for us kids) we listened to the lions. In an excited whisper my brother would ask, 'Dad, do you think they've reached the bridge yet?' 
And then there was a thud and the whole Landy bumped sideways. My brother Caiden, taking the role of protector over his sisters, whispered, 'It's ok Rach and Beth, that's just dad rolling over.'
I tried to go back to sleep but something was wrong, perhaps it was because the bush had become silent. But I must have drifted off to sleep eventually because I suddenly woke with a torch shining in my eyes and my dads voice, unusually tense, 'Caiden, Rachel, Bethany, are you all here? Answer me … Caiden? Are you ok Beth, Rach? You are all here … Ok… ok good.
'Stop shining the light in our eyes Dad!' we groaned.
'Yes, we are all fine' I said, 'what's going on?'
I could hear my parents talking and my Mum's voice was full of panic. What I couldn't see from my little cosy tent was blood smeared all over the side of our Landrover, which was also a bit dented.
A little later, Dad came back in, 'Come into our tent guys' We wriggled our way through sleeping bags and blankets and huddled, the five of us, in one tent, peering out through the mosquito net windows over our moon drenched campsite. Then I saw something, a hyena? It was chewing on our rope swing. But as my eyes became more accustomed to the night, I saw it was a lion. Shadows began to emerge from all corners of our camp –  there were nine of them in total, nine lionesses in our little camp. I started to cry out in nervous exhilaration but was quickly told to 'ssshhhh'.
'Dad, do you think the lions could climb up the ladder and tear open our tent?' asked my little sister Beth. 'No love … well, they could but they won't, we are safe up here.'
But all I remember thinking was, 'all that stands between me and the lions is a thin layer of mosquito net!'

For an hour we watched as the lionesses playfully pulling our camp to pieces, tugging the washing off our line, chewing on our rope swing, and eventually, exasperating my dad enough to make him throw his takkies at them, trying, in vain, to prevent further damage to our camp.  I squeezed Mum's hand as a large lioness strolled right underneath us, almost touching the Landrover. It was an incredible night, almost a dream. When the big cats finally tired of our camp and moved on it was with takkies and torn up clothes hanging out of their mouths.
The next morning, we surveyed the crime scene. As well as the blood on the Landrover, there were drag marks into the bushes and it was clear that an animal – probably an impala or lechwe – had been killed against the vehicle. Yet, the lions had been very playful, and didn't really seem to have been in a hunting mood, could it have been a leopard perhaps? But would a leopard have hung around if there were so many lions nearby? It was difficult to tell by looking at the tracks as there were lion tracks everywhere. Perhaps, now that I know a bit more about tracking I could have worked it out, but at the time it was a mystery.
I could then understand why my parents had been so frantic, counting us and shining the torch in our eyes. They had heard the thump against the vehicle, shone a torch and seen the blood and thought it had been one of us kids who had fallen and been killed. What a horrific, nightmarish thought for any parent! From that night on, for the rest of the trip, and many trips to come while we were still kids, Mum would stay up at night 'keeping watch' through the tent window.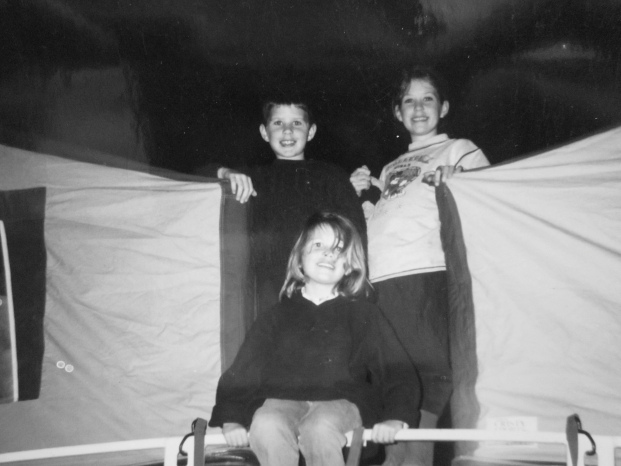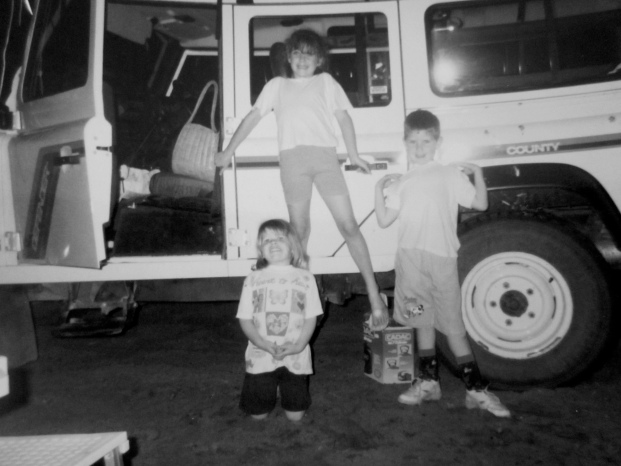 Being so closely surrounded by these incredibly powerful cats was an amazing experience that has remained very close to me – my first really wild encounter with the King of Beasts (or should I say 'Queens') Perhaps the best part is that I got to share it while 'walking on the wild side' with my special family.
Do you have a favourite family bush story? Please email me : rachielang@gmail.com, or tell me about it in the comment boxes below.
To comment on this story: To protect you against trolls & misinformation, we only permit comments in our app. See how to DOWNLOAD OUR APP below.

---
HOW TO GET THE MOST OUT OF AFRICA GEOGRAPHIC:
Download our APP (mobile phone & desktop) to receive travel discounts, comment on our stories, make safe donations and network with others like you. Find out more here.

Subscribe to our newsletter to receive our best stories in your inbox weekly and for travel discounts. Subscribe here.
Travel with us. Travel in Africa is about knowing when and where to go, and with whom. A few weeks too early / late and a few kilometres off course and you could miss the greatest show on Earth. And wouldn't that be a pity? Search for your ideal safari here, or contact an Africa Geographic safari consultant to plan your dream vacation.
---